US corporate boards are increasingly turning attention to environmental, social, and governance (ESG) issues. ESG is an organization-wide endeavor for those companies rising to the challenge, and CIOs won't be left out.
"I think the CIOs are the dark horse of ESG," says Nicola Acutt, vice president of ESG at VMware. "No one's paying attention to the role of the CIO, but it's going to be critical."
Acutt, whose ESG organization is part of the Office of the CTO at VMware, received her current title in December 2020 in conjunction with VMware CEO Pat Gelsinger's announcement of Agenda 2030, a set of 30 goals in the areas of trust, equality, and sustainability that the company wants to achieve by 2030. At the time, Acutt said 2020 had shown that VMware's past approach to corporate responsibility was "no longer sufficient in an interdependent and unpredictable world."
2020 was defined by crises in public health, social inequity, and the global economy, Acutt says. With ESG issues top-of-mind for business leaders and investors, organizations need agility and strategic foresight to act on ESG issues.
"At the surface level, we can think about the CIO role from a data perspective. A huge piece of ESG is about data," Acutt explains. "But the role of the CIO is actually much bigger than that. The CIO has a strategic role and opportunity in ESG in supporting that board-level agenda."
A cornerstone of the CIO's responsibility in ESG is data security and privacy as well as data availability. Resilience is another key component.
"COVID has, in many ways, upended all sorts of ways of living and working, and we're not going to be going back to the way it was," Acutt says. "The future is distributed. From a CIO perspective, how do you enable that?"
VMware's Agenda 2030 is focused on driving the following outcomes.
Trust
The company believes security is an essential foundation. Acutt says VMware approaches innovation from a foundation of digital ethics and stewardship, focusing on intrinsic security, privacy-by-design, and transparent business practices. The aim is to build and protect trust among VMware employees, customers, partners, shareholders, and communities.
Equity
Technology will play a critical role in building an equitable digital future that is accessible and inclusive, Acutt says. VMware's diversity, equity, and inclusion efforts will play a key role, but digital workspace technologies will also play a part. For example, she says, enabling a distributed workforce, beyond restrictions created by the pandemic, can help provide equal opportunity, inclusive leadership, and increased flexibility.
"What we found during COVID was actually this distributed model has enabled us to advance our diversity and inclusion goals," she says. "We can attract great talent in a more distributed way."
A distributed workforce model also makes the business more resilient.
"Making sure software engineers can be productive while being remote is a No. 1 topic," she says. "I think resilience has shifted from being about just your infrastructure resilience to the resilience of your business model."
Acutt also notes that VMware is creating partnerships with academic institutions and nonprofits with the aim of closing the digital skills gap in marginalized communities.
Sustainability
Before stepping into the vice president of ESG role at VMware, Acutt spent five years as vice president of sustainability strategy, also part of the Office of the CTO. She believes sustainability is core to both the company's values and its future success. As a global corporate citizen, VMware has an opportunity to innovate for a more resilient world by reducing or eliminating the carbon footprint of digital infrastructure across its customer ecosystem, supply chain, and operations, Acutt says.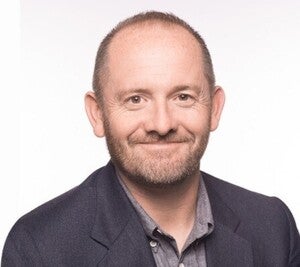 "Thinking about a decade is really a very powerful thing to do because it allows us to really embed our thinking in decisions that we make as we head down the road," says Jason Conyard, VMware senior vice president and CIO and one of Acutt's strategic partners in the business. Much as security must be a consideration from the very beginning of an IT project rather than tacked on as an afterthought, Conyard says ESG issues must be given the same consideration by the IT function. "We really need to think about how we're going to enable ESG throughout everything that we do so we can change all our behaviors," he says.
Reducing the carbon footprint of datacenters
One of the ESG issues that Conyard is especially focused on at present is reducing the amount of carbon that a data center generates.
"We've put a lot of effort in, over the years, not just thinking about virtualization, but also looking at the utilization of our virtualized resources and how do we drive out those systems? How do we drive out systems that may be occupying space or resources that are not optimal?" she says "Thinking about energy, this is something we work very closely with our real estate team on as well — where our energy comes from for heating and cooling."
All that helps illuminate why VMware's ESG function sits within the Office of the CTO: From a strategy perspective, VMware sees a focus on ESG as a risk-mitigation effort, yes, but also as an engine of innovation.
"We actually see a lot of opportunity to have a greater impact by putting it in the innovation hub," Acutt says. "We're in R&D, we're in the heart of the that innovation engine. That brings a very different framing to my agenda and to my goals."
For example, VMware has spent the past several years developing a proof-of-concept community microgrid at the company's headquarters in Palo Alto. It's a system of generators, batteries, and electric loads that can be operated in a controlled, coordinated way.
"It's renewable energy-powered," Acutt says. "It's two very big batteries that can sustain two of our critical buildings in the event of a power outage or an emergency."
Acutt believes the focus on ESG at the board level is here to stay, and that CIOs can gain a step by focusing on the issues now.
"The best thing to do for a CIO is to pay attention," she says. "Be proactive and reach out to the person responsible for ESG or the equivalent. Depending on the nature of your business it might be more on the environmental side or the social impact side or the governance side, but you will find people working on those topics."