Enterprises are trying hard to remain unabated as the unprecedented lockdown in India takes its toll. To get a better understanding of the challenges posed by the COVID-10 pandemic and the measures taken against it, CIO India conducted a two-part survey on 'Business Continuity Amid Coronavirus' with top IT leaders. The first part, conducted 9-11 March, captured the initial responses of IT leaders when coronavirus had just started affecting businesses in India. The second part of the survey, conducted 23-25 March, reveals the current scenario of the business world.
In both parts of the survey, the majority of Indian CIOs (35 and 37 percent in parts one and two respectively) saw sales bearing the brunt of the impact. Production has now overtaken supply chain as the second most-hit, whereas IT and finance are the least affected.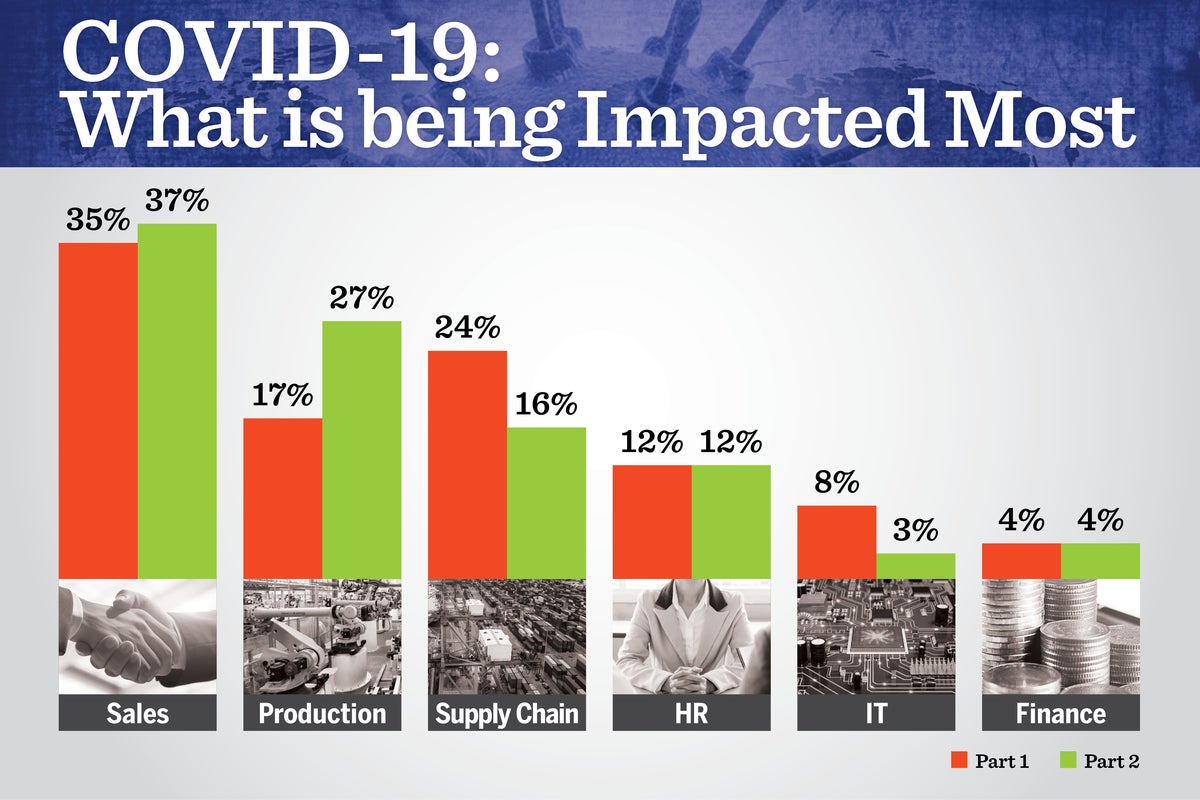 Highlighting the grim situation for sales, Anirban Sinha, Head of IT at L&T Metro Rail (Hyderabad), says they are witnessing a 30 percent decline in ridership.
"Our ridership was 4 lakh, and now it has come down to 2.8 lakhs in the last couple of days. Over the years we have only seen our ridership increase. This is the first steep fall we have ever had. Passenger density has come down as people usually want to avoid crowded areas at this time of crisis."
Echoing the impact of travel restrictions on sales, a CIO from the hospitality industry says cancellations in the wake of travel restrictions have seen occupancy rates come down like never before.
"We have seen many cancellations in the last couple of months. International travelers have got advisories on travel and domestic travelers are also reluctant. We have seen a lot of last-minute cancellations of business conferences too, as they have also been given mandates about avoiding crowds and travels."
Clearly, while online sales in sectors such as retail can provide an alternate channel to some businesses, there are limitations to how far IT can help businesses that rely on peoples' movements like the transport and hospitality segments. While IT continues to do as much as possible to help by deploying tools that enable sales to engage remotely with customers, there are cautions on setting realistic expectations on these tools being effective substitutes in all cases.
Jins Varghese, VP-IT at IT/ITeS company Campus Management, highlights the human aspect of sales that are harder to overcome. "Sales happen over person-to-person meetings. Big deals that involve a lot of money can't happen over a skype call. Productivity tends to reduce when it's not face-to-face. And now that all kinds of travels are discouraged, it's going to hit both the top and bottom line."
CIO-Corporate IT at Essar Group, Subhash Shelke agrees. "Virtual communication tools are at our disposal, for sure. But it doesn't help when you need people physically present. In our line of business, we need someone physically present to check our equipment and hardware errors. A virtual tool wouldn't help in these cases. And these are instances that cannot be managed remotely." He estimates that every 15 days, the company might face an INR 5 crore loss as a result of travel restrictions. "High-cost projects are running which involves a lot of in-person interactions. And when people become unavailable, the costs are bound to increase and hence resulting in huge losses."
Jai Prakash Sharma, executive VP-IT at InfoEdge, argues that now that COVID-19 is here, businesses should focus on getting past it. Hence virtual tools, even though not 100 percent effective, wouldn't seem like a bad option under the circumstances. He believes that this is the time to take advantage of the situation and make the most of virtual tools for business continuity. "Visiting customers has become near impossible now, and therefore our sales are affected. Alternatively, we have started using virtual tools to communicate with clients with whom we had earlier planned face-to-face meetings".
"These tools have been there for a while, but we have started making real use of this at this time of crisis", concludes Sharma.