There are many reasons why companies consider a move to the cloud. Apart from cleaning up data centres, some companies also see it as a vital part of their digital efforts as a whole. If you no longer have to spend time and effort on maintaining and managing your on-prem environment, you free your people to work on other, more strategically important projects.
That's one of the main reasons why Eneco Group – a sustainable-energy company based in Rotterdam – has a cloud-first strategy, a major component of which is the migration of their enterprise databases. The main reason for the move is to free up DevOps staff to focus on new projects, according to company CIO Mario Suykerbuyk. The ultimate goal is to better serve all Eneco's 2 million customers with new and enhanced applications.
Oracle, Eneco's database supplier, has a different approach to the cloud than most other providers. It offers a full compute and software stack, from IaaS all the way up to applications like CRM, ERP, and HRM. One of the vendor's more interesting offerings is the Exadata Database Machine running on OCI (Oracle Cloud Infrastructure).
The Exadata server platform was built from the ground up to run Oracle enterprise databases, and the on-premises version of the platform is based on the same technology used in the cloud. Exadata's design is meant to provide a smooth transition to the cloud, and that's what Eneco worked with Capgemini and Oracle to accomplish.
Moving dozens of databases to the cloud
Eneco uses no fewer than 54 Oracle databases, accounting for more than 100TB of data. Until recently, these were all on-prem, on Exadata systems. Thirty-two of those 54 databases were transferred to OCI in nine months without any significant problems. Seven of them disappeared into the wastebasket because they were no longer current and 15 databases remain on-prem — at least for the moment.
The migration of Eneco's databases is part of the company's cloud-first strategy. For many organisations this is more of a buzzword than something that's being actively pursued. At Eneco, though, it seems like they're really sticking to it: In addition to using Exadata on OCI, they have been working on Okta's cloud-based IAM (identity access management) platform for a while now, and are hosting SAP HANA on Microsoft Azure.
Suykerbuyk said he has a "Microsoft unless" policy when it comes to the cloud. In other words, Microsoft is chosen unless there's a good reason to select another provider. This means, in turn, that there must have been a good reason to host the company databases in OCI. It was not a complicated choice: "We already had Exadata on-prem, so it made most sense to choose Oracle's cloud," Sukerbuyk said.
Running Exadata on-prem and in the cloud
A study presented by Accenture at Oracle OpenWorld in San Francisco last September suggests why it wasn't such a hard decision. Since Exadata was purpose-built to run Oracle databases, performance of the software on the server platform is unparalleled, compared to running the databases on other systems, according to Accenture. Also, migrating between (nearly) identical environments is always more appealing than between two different ones. You don't have to significantly repurpose applications, for example.
However, choosing Oracle as a provider didn't mean Eneco had finished its cloud journey. The location also had to be chosen, and there were three sites to choose from: Amsterdam, London and Frankfurt, with Amsterdam being the most obvious choice for the company in terms of location and therefore latency. London was certainly not an option because of Brexit and the uncertainty involved with that, so the choice was between Amsterdam and Frankfurt.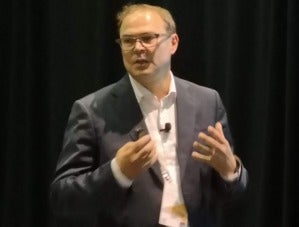 Perhaps somewhat surprisingly, at least at first sight, the final choice fell to Frankfurt, not Amsterdam. There are several reasons for this choice, Suykerbuyk told us. For example, there are three interconnected data centres in Frankfurt, which is desirable for DR (disaster recovery), among other things. Amsterdam only had one at the time they made the decision, which would make DR hard if not impossible.
At least as important as the number of available data centres, however, was the fact that Frankfurt was already a so-called Gen 2 cloud region at the time they made the decision. Together with London, Frankfurt was the first of these regions in Europe. In addition to improved security, Gen 2 also brings with it the availability of, among other things, the Autonomous Database, which uses machine learning to do tasks usually done by database admins, without human intervention.
Latency a factor in choice of data centre site
It wasn't all good news though, since Suykerbuyk had to make a tradeoff on latency. The distance from Eneco to Frankfurt is greater than to Amsterdam, so the latency is higher as well. Even though Capgemini can use an Oracle Fastconnect dedicated connection, via Equinix infrastructure, of 1Gb/s for a latency of 7ms (one-way, i.e. 14ms roundtrip), for some applications this isn't fast enough. "Some applications need to do a lot of handshakes, so the total time that customers have to wait when using the app can be up to three seconds. That's not acceptable," Suykerbuyk said. This latency is the main reason why 15 databases are still running on-prem.
Since the conversation we had with Suykerbuyk at OpenWorld six months ago, however, a lot has changed. In mid-November, Oracle announced that it had also opened a Gen 2 cloud region in Amsterdam as part of its strategy to have 36 such Gen 2 cloud regions worldwide by the end of 2020. This will enable Eneco to migrate their 15 remaining latency-sensitive databases, some of which, for example, are used by applications on customer devices.
While Eneco's use of Exadata on-prem made the move to OCI a relatively obvious choice, one aspect of the company's migration strategy departs from conventional wisdom. Where we usually hear that starting small and focusing on non-mission-critical workloads is the sensible thing to do, Suykerbuyk has a bold, fundamentally different view. "If you start small, you run into limits after a while. I would rather run into problems at the beginning of a process than at the end," Suykerbuyk said. "If something goes wrong, I prefer it to be something big." In other words, for Suykerbuyk, starting big is a better strategy than starting small.
Not all databases migrate at once
At Eneco, though, it's not just about starting big, or the volume of data being migrated. The company also has to consider that the data and applications involved are mission-critical. Data has to be immediately available to customers when they use the apps the company makes available, for example. In total, no fewer than 19 mission-critical applications use the data in Eneco's databases. Nine of those applications have migrated to OCI. When the latency issues have been solved due to the upgrade of the Amsterdam data centre, the remaining ones will be migrated as well.
In the end, perhaps partly because of the concept of starting big, Eneco, Capgemini (the consultant and integrator) and Oracle pulled off the migration while triggering only one ORA-600 message, which generally indicates a low-level and not necessarily critical error. Otherwise, nothing went wrong, according to Suykerbuyk, stressing that this was largely due to the partnership between Eneco, Capgemini and Oracle. It was much more than a customer-supplier or customer-client relationship — there was real personal trust among the people involved, Suykerbuyk said.
Such a "real" partner relationship is crucial to the success of this type of project, according to Suykerbuyk. That's why he presented Eneco's migration story during OpenWorld together with Marjolein Holsboer, group account executive at Capgemini.
Partnerships are key to migration success
Two Oracle specialists were continuously available during the migration. The existing ties between Oracle and Eneco, but also between Oracle and Capgemini, certainly helped. This sort of migration was still fairly new for everyone involved, so the three parties involved needed to work together to figure out the best system, when it came to deciding who did what in terms of support.
In addition, the importance of interoperability between Oracle's and Microsoft's cloud environments, as announced last summer, should not be underestimated. "That's a nice added bonus. It's a good thing that both organisations have started working together in this way," Suykerbuyk said. Eneco is standardised on Office, so there's a connection to Active Directory in Azure, and the newly established collaboration between Microsoft and Oracle facilitates the integration of Active Directory with OCI.
Eneco is now poised to take another step in its cloud strategy with the opening of the cloud region in Amsterdam and the migration of its remaining 15 enterprise databases. This will not only allow Eneco's data centres to be cleaned up and optimised, but crucially will also free up people to work on applications that are important for Eneco's customers. At the end of the day, that's what's important — without end users, there is no Eneco.