With PM Modi announcing a nationwide complete lockdown for 21 days to stop the spread of the COVID-19 pandemic, Part 2 of CIO India's survey on 'Business Continuity amid Coronavirus', conducted 23-25 March, shows that 96% of organizations have rolled out working from home, a significant rise from 19% just two weeks before.
And as India's confirmed COVID-19 cases cross the 1000-mark and infection cases cross 700,000 globally (as it stands today), enterprises have completely halted all work-related travel. It took less than a fortnight for restrictions on travel to hit 99% from 87%, according to the survey results.
Interactions with vendors (partners) are also bearing the brunt of the COVID-19 lockdown as restrictions jumped to 95% last week from the 38% mark revealed in the first part of the survey conducted 9-11 March.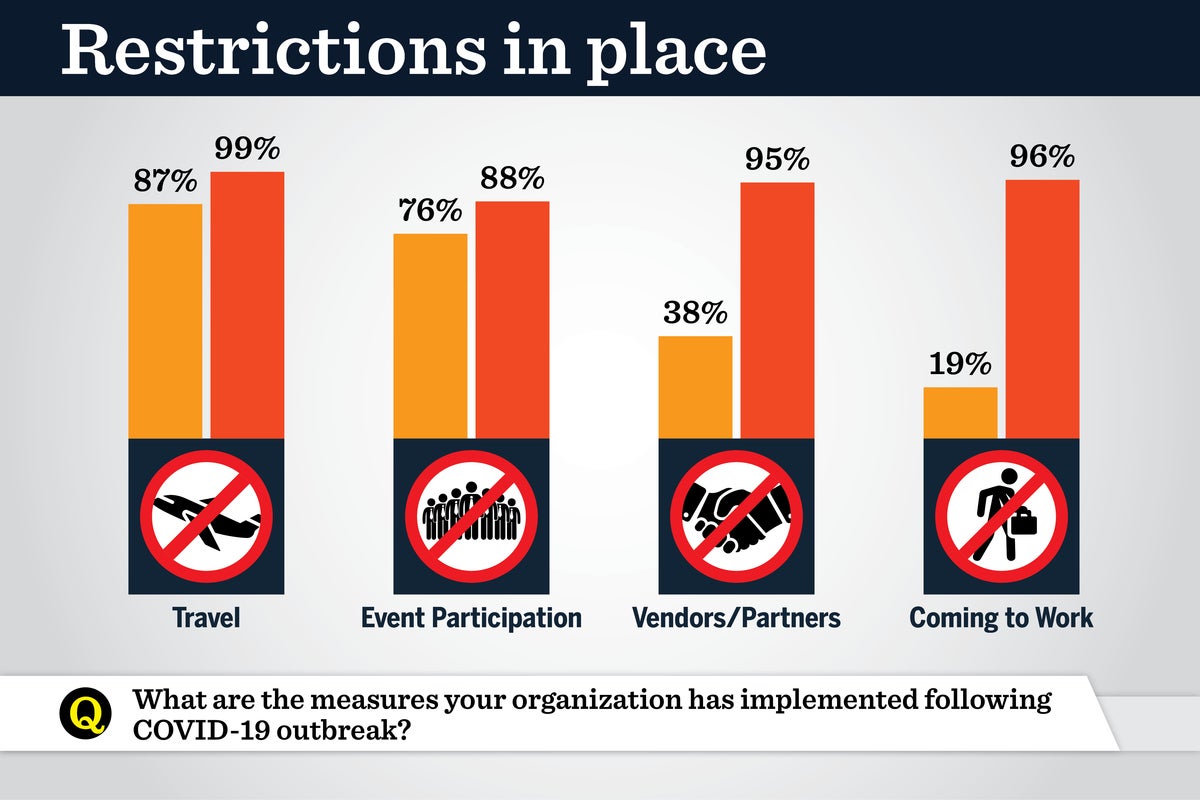 Similarly, 88% of repeat respondents observed that participation in events is also approaching a complete shutdown. However, this will change as enterprises shift direction towards virtual events and webinars.
Though WFH is the need of the hour, CIOs caution that remote working can be more challenging than it appears. Here's what they had to say:
The first challenge is to provide remote solutions at scale and at short notice. Umesh Parshetye, CTO at ASK Investment Managers, says, "Companies that have already adopted the virtual collaboration channel won't face much loss and can continue to maintain the same amount of productivity. However, it's going to hit hard on companies that still depend only on face-to-face communication. It's going to be difficult for them to adopt the digital way of communication at a short notice."
A CIO from the hospitality industry, who chooses to stay anonymous, agrees with Parshetye. "Organizations that don't practice work from home culture are the ones in crisis now. Safe remote working involves a lot of user behavior analysis and security tools to ensure the productivity of users are taken into account. However, organizations that have been practicing remote working culture are at an advantage here."
Parshetye expresses confidence to keep business functions going at ASK from an IT standpoint with the help of SASE (Secure Access Service Edge). "With this solution implemented, all one needs is internet connectivity. With qualitative security measures in place, our mobile workforce can access our internal applications anywhere anytime. Sixty percent of our employees are capable of working remotely. Today, we are managing with very less number of people having to come to office," he says on a positive note.
However, Jai Prakash Sharma, executive VP-IT at InfoEdge, cautions that the biggest challenge might not be adding remote working tools, but connectivity in itself. This could be a real concern as everyone turns to remote communication across India, choking bandwidth. "Even if the employees are equipped with data cards and other safe tools to work remotely, the connectivity and bandwidth available at their homes or other places are very questionable. The productivity doesn't reduce directly, but certainly, collaboration gets impacted because you are ultimately depending on virtual means of connectivity," he argues.
A CIO from an IT/ITeS company who wishes to stay anonymous says that virtual communication tools have limited use and work only for corporate support and people working in an environment where there are no restrictions on data handling. "In certain lines of businesses, such as ours, customers wouldn't be satisfied if everything was to be done remotely. In such scenarios, the only possible solution is to work closely with the customers to find out the best way of delivery," he concluded.