As a heavily insured nation, it's no surprise to see intense competition within the insurance market in Singapore, from bleeding edge start-ups to established players, and everything in between. Despite representing less than 1 percent of the global insurance market, more than 50 life and general insurance providers currently operate in the city-state, creating a heightened need for differentiation.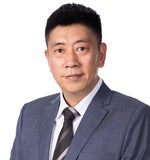 As executive vice president and head of Business Transformation and Technology at Etiqa Insurance in Singapore, Dennis Liu acknowledged that digitalisation was required to stay ahead of the chasing pack. "Digitalisation is changing every industry, particularly insurance," Liu observed. "We're seeing more companies offer products online, which has not only eliminated the cost of the middleman but made the industry more transparent. This has subsequently forced insurance companies to become more competitive in pricing but to also prioritise customer satisfaction and innovation."
Transforming from a traditional insurer to a digital insurer
Liu—who joined the business in 2014—is charged with using technology to improve operational efficiencies, in addition to enhancing customer experience through product and service innovation. This is alongside building data analytics competencies and growing online capabilities to position Etiqa as a leading digital insurer. "My role has kept changing, from head of IT to driving the digitalisation and transformation of the company," he recalled.
"My greatest career achievement has been changing Etiqa from a traditional insurance company into a digital insurer. This was a business with manual processes, housing outdated products and processes with miserable brand awareness and customer satisfaction. Now the majority of business processes are automated and we have become a customer-centric and innovative company, ranked as top brand improver in Singapore with ever-growing customer satisfaction," Liu said.
During the past 24 months, Etiqa has rolled out innovation projects using artificial intelligence (AI), chatbots and robotics process automation (RPA), backed by integration with third-party services such as MyInfo and PayNow. "This helped kick-start our transformation," explained Liu, who was recently recognised in the inaugural CIO50 ASEAN awards. "This includes a flight-delay auto claim with real-time payment from integration with PayNow."
At Etiqa, AI-powered straight-through processing (STP) of insurance claims and real-time flight delay claims enabled automated processes, eliminating time-consuming and costly manual processes as a result.
Etiqa also uses API and customer data integration for real-time flight delay tracking, as well as automatic immediate assessment and instant approval for travel delay claims. This helped improve customer experience, while releasing employees from taxing manual work.
"Chatbots integrated with Google Assistant and WhatsApp Business have also helped enhance customer support," Liu added.
Becoming the first digital insurer in Singapore to integrate MyInfo—a government online portal—customers are no longer required to submit documents for verification, designed to save time and reduce the cost of inputting data.
Operating as the insurance arm of Maybank Group, Etiqa most recently deployed mobile applications to provide customers with the option of insurance self-service.
"We are continuously enhancing this by applying AI and other technologies to exceed customer expectations," Liu added. "We have also invented several products and introduced value-added services to insurance offerings such as emergency home assistance and flight status services."
In 2020, Liu is prioritising competency in AI and data analytics, as well as overhauling microservice architecture and applying the power of devops to delivery teams. Wider business agenda items include building channel capabilities while improving internal efficiencies and customer experience.
"There are always challenges faced by technology leaders such as insufficient IT resources, budget or talent," he said. "But the biggest challenge is identifying the most valuable business needs and delivering that quickly."
How Etiqa quantifies the business benefits of digitalisation
Classified as an enabler, Liu and his team measure the success of technology by how many back-end staff are relocated through improving operating efficiency. Other key metrics include net promoter score growth, customer retention rates, market share expansion and the acquisition of new users.
"Technology is always changing through new solutions based on business needs and market conditions," Liu added. "We have kept refreshing our technology stack and have progressively rolled out new offerings to replace outdated processed using an agile approach. When we decided to replace our core system for general insurance, we started by launching new products into a new system, while migrating and running off existing products one by one. The process took three years to fully migrate to the new system, without large investments or impact to the business."
From a business standpoint, Liu said Etiqa has made significant progress in transforming into a lean organisational structure, one in which employees are more broadly skilled and flexible. Instead of functional departments, the business operates in self-managed work teams motivated by a desire to improve processes and eliminate waste.
Approximately 50 percent of back-end processes are now automated, with 30 percent of employees redeployed from operations to sales or technology divisions.
"We need people to be agile and collaborative, dare to think out of the box and try new things without being afraid of making mistakes," Liu said. "Not only do they have a good idea, but they are dedicated enough to make it happen. We work together with HR to promote this lean start-up culture and organise ourselves into multiple cross-function scrum teams."