When Standard Chartered bank announced full-year results last month – including a 2 percent overall increase in operating income, to US$15.2 billion — it said one of its key strategic priorities was to "transform and disrupt with digital." One of the bank executives responsible for that transformation is Mohamed Abdel Razek, appointed last October as regional chief information officer for Africa and the Middle East (AME).
The bank has made significant steps in enhancing its digital offerings over the past two years, including the rollout of digital banking services in nine African markets and the launch of SC Keyboard, a bank service that allows customers to access financial services through social media accounts. It has also been beta testing a virtual bank in Hong Kong called Mox, which offers customers a numberless physical bank card designed to reduce risks of losing personal information, and which can be read via an app.
Razek joined Standard Chartered in May 2015 as global head of the Technology Operations and Collective Intelligence & Command Centre (CnC) and head of technology for Malaysia – Global Business Services. Before joining Standard Chartered, Razek worked for British American Tobacco between 2007 and 2015, where he held a variety of senior positions in Malaysia, the Middle East and North Africa. Razek has also worked for Schlumberger, where he held regional and global technology management roles in Europe and the Middle East.
In this edited Q&A, Rezak talks about progress for digital banking services and how he handles the CIO role.
Can you explain the structure of your virtual bank in Hong Kong, and digital banks in general — what services do they offer?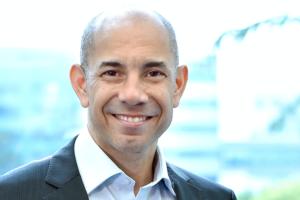 Looking first at Africa, our nine digital-only banks are fully operational. Our unique digital offering has been designed based entirely on input from our clients. To date, we have digitised over 70 of the most popular banking services, including account openings.
Additionally, for the first time ever at Standard Chartered, client onboarding is fully digitised and takes less than 15 minutes. A client can open a new account entirely through our SC Mobile app anytime, anywhere – from the comfort of their own home or while on the road, thanks to the accessibility and ease of our solution.
We are continuing to focus on innovating our products and services for the platform. For example, we have pioneered the digitisation of small ticket management products, offering clients in Kenya, Ghana and Nigeria the opportunity to buy General Insurance and Mutual Funds. This has led to a two-fold increase in the bookings of these products. We also launched online Mutual Funds through the SC Mobile App in Nigeria and Kenya, providing a mobile-first, self-directed mutual fund channel for customers.
In 2019, we launched SC keyboard in key markets to further enhance the user experience with the bank in Kenya, Uganda, Ghana and Tanzania. A first for Africa, the keyboard-based banking solution allows clients to transfer money in real-time, pay utility bills and instantly check balances from within any social or messaging platform.
Moving to Hong Kong, in March of 2019, we began building out virtual bank called Mox. Developed in partnership with PCCW, HKT and Trip.com. Mox embodies the combined power of a well-trusted international bank, Hong Kong's telecom leader and Asia's largest online travel agency. While we are currently in the beta testing stage, we have begun introducing Mox to generate awareness and excitement prior to the full public launch later this year, where everyone in Hong Kong will be welcome to sign up and become a customer.
When was the first digital bank launched and what has been its performance so far?
Our first digital bank was launched in 2018 in Côte d'Ivoire. Since then, and as mentioned above, we have rolled out another eight digital banks across key markets in Africa. This includes Kenya, Uganda, Tanzania, Ghana, Zambia, Botswana, Zimbabwe and Nigeria. So far, they have been huge successes.
In 2019, we saw an increase of over 150,000 accounts as a result of the digital bank platform, whereas in markets like Uganda and Tanzania we have increased customer acquisition by three times. Account funding rates for most markets are relatively healthy and customer feedback has been positive.
What is your day-to-day role, as chief information, regarding monitoring the digital platforms, and how is it done?
My day-to-day role varies across platforms, however, the activities I carry out ultimately service the bank's overarching digital strategy. A key mandate that I fulfill is project and delivery governance, as well as investment dollars management. I also regularly service the bank's digital transformation by managing integration and testing current platforms/systems. What's more, I oversee governance around new technology adoption, including API governance and cloud governance.
On the regulatory field, I play a large role in regulatory engagement at the bank, including responding on multiple regulations, such as data, cybersecurity, digital and open banking, to name a few. I'm also a key contributor to the bank's people management function, as I aid in building team acumen when employing new talent or the development of current talent.
An essential element to the role I play at the bank is the integration of tech project teams with product owners, as well as reach out to regulators for meetings to discuss new tech and adoption. On this end, I will request specific meetings for specific technological advancements to be discussed, such as O365, and migrating an application to cloud technology.
What has been the role of big data and/or artificial intelligence in the development of the new products and how have you managed to marry the new technology versus old ways of doing business to create products that resonate with your clients?
Clients experience is key – in fact at Standard Chartered at the heart of our business is being client obsessed to meet their needs through digital innovation to ensure we create a greater user experience. Looking at Artificial Intelligence, it can assist in transforming the infrastructure of market players in multiple ways – from predictive market reconnaissance models to improving operational efficiencies through intelligent reconciliation systems.
At Standard Chartered, we have used multiple tools to analyse client needs, as well as matching products to personas. We have then taken the products to clients for testing and validation. Our view has been to augment old technologies with new ones to give clients a superior experience. We also use AI in client identity validation to ensure we have a robust Know Your Customer (KYC) process.
You also said that you launched eight digital banks across key markets in sub-Saharan Africa in less than a year, digitised your wealth management offering for the digital bank platform, and grew accounts by over 150,000. How does having the digital banks change the way your IT department works?
It alters our dynamic and enhances the focus of all units across the bank, not just IT, to providing clients with a superior experience. What's more, we've reinforced our commitment to providing our clients with world-class and state-of-the-art offerings. Our digital banks serve as a testament to our robust workforce, as we have some of the most-skilled personnel to manage and oversee these advanced technologies.
Given the complexity and intricacy of our systems, our digital banks call for increased dynamism in resilience, cyber, data and organisational capabilities.
How critical is artificial intelligence and big data in your day-to-day business and product innovation?
We largely use big data and artificial intelligence when analysing our clients' behaviours and creating patterns to predict future trends or necessary products. Through this approach, we are able remain proactive and service client needs more efficiently. We are also use big data and AI to personalise product offerings and provide consumers with a specialised experience.
Moving forward, we will be integrating AI and big data throughout our operations. We aim to ensure the efficiency of our business model, continuously provide consumers with world-class offerings and maintain our stature as a leading banking institution.
Of course, and as mentioned above, as we continue to leverage AI across banking operations, we also know that the human element is key to providing exceptional services. In line with this, we will also continue to invest in our people, who play an integral part in what we do. As our operations evolve, the skillset required also shifts. This is why we continually roll out internal training programmes for Standard Chartered employees, aimed to ensure they are well equipped with the necessary skills to excel in an increasing digital world.