Just over two-and-a half years ago, Opher Yom-Tov became chief design officer at ANZ Banking Group, the first bank in the world to create this role.
His remit? To apply human-centred design (HCD) to solve tough problems and build compelling experiences for customers and staff.
"A bank, like any other company, whether they sell shoes or computers, at the end of the day, they have customers," he tells CIO New Zealand. "ANZ is no different from any company or organisation that provides a product or service.
"The better we can design things that our customers actually want and need, the more successful we will be and the happier they will be," explains Yom-Tov, who has worked in some global major brands including Apple, Microsoft, Pfizer, P&G, NASA and Intel.
Based on these experiences, he shares the opportunities and challenges for organisations adopting human-centred design.
He stresses the importance of involving staff from across divisions to work with design teams in order to maximise benefits from applying human-centred design in various areas of the organisation.
Defining human-centred design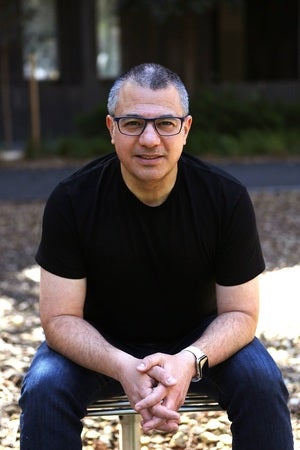 "Human-centred design is a way of solving problems," he says at a recent Trans-Tasman Business Circle forum in Auckland.
"It is an iterative approach to solve the right problems in the right way, starting with people."
"The first line, iterative, suggests we are not going to get things right the first time," notes Yom-Tov. "The focus of human-centric design is making sure you are solving the right problem. There are multiple ways of solving the problem, in which case we have to experiment. And finally, if you don't understand what people want, it will all be for nought."
He tailors the definition for an internal banking audience.
For the head of risk, human-centred design (HCD) is "a risk management methodology that enables us to visualise and validate our future plans before we invest.
"For leaders, HCD is an approach to collaborating that inspires our people to do their life's best work and bring their whole selves to work."
According to Yom-Tov, embedding design in the organisation is the big challenge.
"I work incredibly hard at ANZ and outside to help reframe what we mean by design."
The challenge includes defining 'design' in the context of HCD.
"People often gravitate to aesthetics or visual design when they hear the term," he says.
"While visual design is incredibly important and if done well is unbelievably powerful, the term extends to other areas such as interactions and services."
Design, for instance, could encompass an airplane flight, which he describes as "an incredible choreography of things to get together before you get a simple experience."
Another domain of design that is so removed from visual design is around systems and "wicked problems" such as climate change.
"There is no single organisation, no single individual that can tackle that issue alone," he says. "It will need a collaboration of networks of cooperation among organisations and individuals."
Human centred-design: A team sport
Human centred-design borrows from different disciplines, such as anthropology and psychology, to understand how people feel and what is most important to them, says Yom-Tov. "It is a team sport."
"It is a way of working together to actually combine different disciplines to all solve the problem, to all go out and spend time understanding, developing ideas and bringing their ideas to solve the problem."
In the context of an organisation like ANZ, he says there are three areas to consider in building this cross-functional team – desirability, viability and feasibility.
"If you think at a very high level, if you want to solve any problem, you need to consider the desirability of the solution," he states. "Will the people want it? You need members who understand people, like anthropologists, marketers or front-line staff.
"You need to worry about the feasibility," he says. "Can you deliver it? Is it legal? You need people from technology and risk and legal and process and security."
On viability, he states, "will you actually make money? Does it support your organisational objectives? You need people from finance who understand the business model."
The paths to foster human-centred design
Yom-Tov likens the bank's 'design journey' to climbing four mountain peaks, with a key question for each destination.
First is the mountain of change. He asks, "Where are you on your design change journey?"
He says there is a place called the "oasis of awesome" where an organisation can read customers' minds, staff are incredibly loyal, products are best in class, and ideas come from anywhere inside and outside the organisation. It is where "you make lots of little bets that have massive payoffs.
"It is quite easy to recognise organisations that are already at the oasis of awesomeness," he says, "but it takes a journey to get there."
The second peak is the mountain of sponsorship. "Do you have someone in the organisation who is an active visible and fearless sponsor of design to make sure you have enough air cover protection? Where does your design sponsor sit in the hierarchy?"
At ANZ, the design sponsor is Maile Carnegie, group executive, digital and Australia transformation.
"She had her own journey in design," Yom-Tov says of Carnegie, who has worked at Google and also spent 20 years at Proctor and Gamble in roles including managing director Australia and New Zealand, general manager for Asia strategy, marketing and design roles based in Singapore.
"She shone the spotlight on design as a strategic tool and ensured we have focus and support in the organisation."
The third peak is the mountain of understanding. He asks, "Does your organisation understand that design is more than 'lipstick'?
"Where does the appreciation of design live in an organisation? Is your organisation still thinking of design as purely visual or does it truly understand how to capitalise the power of design and apply it to systemic strategic problems to solve?"
At ANZ, for instance, the executive team had suggested applying human centred design to their annual budget cycle.
The bank assembled a cross-functional team, with members coming from finance, product, technology, and design, to discuss the budget cycle spreadsheet and calendar of events.
"We spoke to 150 participants and we learned everything about personal and organisational motivations in order to understand what is required for an effective collaboration," shares Yom-Tov. "This is leadership applying design to solve a problem that on the face of it does not seem to be a design problem."
The fourth peak, he says, is "the most challenging of all", the mountain of design mastery.
He says the bank is competing with a lot of organisations in attracting and growing world-class designers. The bank took time to understand the most valuable skills designers need and distilled these to 25 shared and specialised skills.
They then had the 160 designers map their levels of mastery for every single skill. "It is an eye opener to see the depth of skills that are actually required to be a good designer to solve problems.
"We are trying to create great masterpieces," he says. "Our masterpieces should be problems we solve for customers, the products that they are enthusiastic to buy."
When asked about the future of design in organisations, Yom-Tov says he wants design to "become invisible…that it just becomes the norm."
When a new CEO comes in to restructure an organisation, "I'd love for them to get to the point where a design function is just a given," like HR, finance, technology, and marketing.
Show me the ROI from human-centred design
Forrester analysts Ryan Hart and Benjamin Brown note that design thinking can be applied to virtually any internal or customer-facing initiative.
For organisations that apply design thinking, the potential benefits are massive and wide ranging – higher labour savings, risk reduction, greater customer satisfaction, and increased revenue are just among these.
In fact, they estimate design thinking can deliver a return on investment of 85 per cent or greater.
Customer experience professionals can use design thinking to inexpensively assess the potential of different project directions, help teams identify opportunities, brainstorm ideas, and test proposed hypotheses.
"By saving money instead of spending it on dead-end projects, companies can divert investments toward more promising efforts, including opportunities discovered during the design thinking process."
On the organisational side, when adopted at scale, design thinking can have a profound impact on the way teams work.
"Design thinking teaches employees to first and foremost empathise with customers and colleagues alike to put them on a path to innovation through experimentation," they note.
The Forrester analysts advise organisations to calculate the ROI of their design thinking initiatives as part of a broader, more persuasive business case to support and scale a human-centric way of working.
"Ultimately, the end goal should not be a 'scaled design thinking practice' but happy, loyal, and profitable customers and employees."
Design thinking for government agencies
Government agencies across the globe, meanwhile, are also looking at human-centred design to build better services.
Gartner forecasts that by 2023, 60 per cent of government agencies will have human-centred design techniques integrated into their digital service design process.
"Gartner considers human centred-design and its associated techniques as essential capabilities for all government IT areas, because they will be a mainstay of future citizen service design as the line between digital and physical continues to blur," says Dean Lacheca, research director at Gartner.
He says government CIOs and their leadership teams need more than just a passing understanding of HCD to find the opportunities and the impacts of adopting this approach.
From a technology perspective, HCD is encapsulated as an ISO standard1 and has formed part of improving the user experience of hardware for many years, Lacheca writes in a recent report.
He notes human and social services organisations have been using HCD outside of technology for some time.
Employment and job agency departments are using human-centred design techniques to explore how digital technologies and platforms can be used to reimagine how the job ecosystem operates. Income and company tax agencies use HCD to reimagine the way government services are delivered.
"An outside-in perspective on how people engage with these processes has allowed some government organisations to transform the citizen experience to be almost frictionless," says Lacheca.
"HCD is all about delivering better outcomes for the users of government services. Direct citizen research, user segmentation and analytics are vital inputs into the process, but they take time," he adds.
"Government CIOs must work with business leaders to ensure that the adoption of human-centred design is supported by an effective, agile, and iterative approach to delivery."
Human-centred design is not just for corporations
"Having strong disciplines around human-centred design really pays for itself when you are in fast-changing ambiguous environments," says Liz Maguire, director of Five Points Digital consultancy.
Maguire has used HCD extensively over the years to support new digital developments.
"Design thinking helps us put things in perspective," says Maguire, who was most recently head of digital and transformation at ANZ Bank in New Zealand.
"Human-centred design helps organisations better understand the actual customer needs that they are trying to address and shows them whether the proposed solution really does address that need," she says.
"It also helps ensure that any biases or assumptions you are carrying into the project don't negatively impact the end result by making sure you are designing your digital tool with the customer in mind."
Maguire says she has seen lots of examples where feedback from HCD goes against the "conventional wisdom" of the people building the change.
"I think that discipline in listening to and actioning what customers tell you is something that ensures you're building digital solutions that customers will use."
"You don't need to be a big organisation to use HCD, it's very easy to get going," she points out. "You also don't need to limit your HCD work to technology change, it's just as useful for other strategic change across your organisation."