As domestic and international flights come to a screeching halt due to the COVID-19 crisis, Adelaide Airport's technology team is facing new challenges around setting up and supporting remote teams of workers.
To deal with the crisis, the airport, which processed 8.5 million passengers in 2019, has split its 187 staff into 'green and blue' support teams with half working from home and the other half working across the airport precinct.
"We've got coverage remotely and on-site so if there was an outbreak at the airport and the blue team were impacted, they would have to self-isolate for 14 days," Neil Bray, head of IT at Adelaide Airport told a CIO Executive Council webcast last week.
"Then we would have the appropriate mirrored skills sets [that are required] in the green team so they can support the business going forward."
A third red team is made up of critical airside operations staff who are an interface between the airport, airlines and ground handlers. These staff are working across the airport terminals and apron where aircraft are parked, fuelled, loaded and boarded.
It was crucial that the airport assessed where skills gaps were likely to be across the precinct as a result of this new working environment.
"We did some on-the-job cross training where we brought people from our airport coordination centre down into another centre that runs CCTV and building access control, and we skilled them up very quickly," Bray said.
"So we really did a very quick skills assessment gap and [worked out] where we were lacking any succession planning and then skilled people up. It's not ideal, but the way the team operates, the way they set their roster up, they make sure that for anyone who is offsite, there is a mirrored capability on site."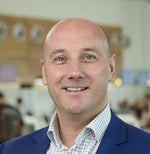 Ensuring Adelaide Airport's call centre staff could handle an influx of calls from customers about flight schedules and cancellations, self-isolation and social distancing was also a challenge.
"We are running an old PABX system that the airport coordination centre uses to take calls so we had to bring in another switchboard so we could route calls directly to the team. It was a bit of a challenge but we managed to get over it," said Bray.
Adelaide Airport was already well prepared
Adelaide Airport is regulated by the stringent Civil Aviation Safety Authority (CASA), so standard operating, crisis and risk-management policies and procedures had to be built into its technology practice. This meant that the airport already had the processes in place to ensure its could mobilise staff and technology quickly. Business continuity planning procedures are also tested every six months, which helped to ease the transition.
The airport ran a 'work from home' session a few weeks ago, giving staff 24 hours' notice. The technology team monitored systems and surveyed staff to determine how they adjusted to new arrangements in preparation for a remote working scenario.
Bray realises that remote working can be lonely for staff who can be working 10 to 16 hour days without the formality of an office environment. He and his team are making sure that they do daily virtual stand-ups and Microsoft Teams meetings to make sure people are keeping themselves safe.
Projects put on hold
Like many other organisations, Adelaide Airport has put a stop to discretionary spend and many of its technology and infrastructure projects have either been deferred or put on hold.
This is unnerving for some staff and the airport will shortly deploy a cross-functional team that enables business units to think about internal processes that can be improved during this hiatus. From an IT perspective, this means identifying manual processes that can be automated.
"We're not looking to spend any money so it's about what we can utilise across our existing technology stacks and what can we utilise from our current internal resources without having to go to external contractors," Bray explained.
"Nobody knows how long this is going to go on for. We are planning between six and 18 months as a business. That's a long time for a business to stand still so we are going to put together some process improvement initiatives that will keep people engaged."
These include providing self-service functions across its IT helpdesk, including having staff use an IT service management portal for tasks like password resets.
"From an infrastructure perspective, we are looking at how we can automate network and server builds – things like that. We have three datacentres across the airport terminal so we now have an opportunity for the team to look at the technical debt that we still have from a hardware perspective, what we can rationalise, what we can power down and get rid of," he said.
Adelaide Airport was also running Skype for Business on site and recently completed a deployment of Microsoft Teams in just two weeks. Microsoft is retiring Skype for Business on July 31, 2021.
The two-week deployment of Teams wasn't without certain risks.
"We are rolling it out as 'self-service, zero touch' so to get Teams up and running with all the video tutorials and stuff like that has been a challenge in itself," Bray admitted. "But across the business people have been championing it."
He added that rolling out a collaboration solution in such a short period of time with zero training means that the team has had to pull back on change management activities.
"But I think the business is seeing the benefit and once we integrate Yammer, I think the whole collaboration piece for us will improve dramatically."