Early on in the year, the University of Auckland began preparing for various business continuity scenarios.
Jason Mangan, the university's chief technology officer, used this time to test the capability of his division for full remote working.
Thus, his team of over 400 staff worked from home for one day in mid-February, without adjusting or rescheduling any of their meetings.
"Part of the quick preparation was to ensure that everyone's identity and access management records were checked and updated, and to gather information around our staff's mobility posture," says Mangan.
Through this, they identified only 20 recorded issues, such as access to certain databases, and these were remediated.
"One thing we knew if we were going to be in a lockdown situation, we were going to be in a position where our staff would be able to work remotely," he says. "We had confidence we were well-placed to support the university under this scenario, if it eventuated."
The lockdown became a reality when New Zealand stepped up to Alert 4 due to the coronavirus.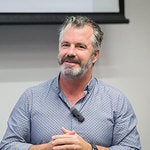 In an exclusive interview with CIO New Zealand, Mangan discusses how the ICT and digital team supported the en masse transition to virtual learning and remote working.
It is a major undertaking, as the University of Auckland is the country's largest university, with more than 33,000 equivalent full-time students.
He shares a key insight from the migration – the importance of digital equity – of ensuring staff, teachers, and students would not be technologically disadvantaged in the new digital environment.
Business continuity planning before the lockdown
Mangan says key to the success of all their activities is being able to pivot quickly across all teams and focus on new priorities.
Just over a year ago, the university restructured its IT services and renamed it 'Connect'. What used to be teams coming from different faculties and divisions are now working similarly to a shared services environment, with customer service teams assigned across the university.
He says their transition to Connect has made it easier for them to respond to the impact of COVID-19. "As we are all in one organisation now, it probably provided a better platform to react holistically and in a much more organised way than it would have done previously."
As the COVID-19 unfolded, Mangan says the university considered the initial impact to more than 2000 students who may not be able to travel back to New Zealand, to the full execution of the business continuity plan.
"Within Connect, we set up a working group with 10 streams of activity early on to ensure we would be able to quickly pivot to emerging needs and changing priorities."
These streams are: people, health, and wellbeing ("focused on our people and teams"); teaching transition and support; research support; student and staff provisioning; student and staff channels support; service management (this includes transition to and return from remote working); cybersecurity; service capacity and assurance; collaboration; new capability build; and value stream support (this includes BCP resourcing to support rapid priority changes).
"Our primary objective has been to support the continued delivery of teaching, learning, research, and administrative outcomes through enabling technologies; and to assist our staff and students through the transition from onsite, to remote delivery," states Mangan.
He says all ICT and digital staff are working remotely, but they have also identified a small number of team members who could be called on to go onsite for certain issues.
Why digital equity is a critical component of online learning
"A particular concern around the required move to remote teaching and learning was digital equity," says Mangan. "How can we make sure that personal or social circumstances are not obstacles to achieving educational potential? Not all of our students have computing equipment or network connectivity at home."
Under normal circumstances, these students would be able to use the university provided technologies, such as the Information Commons. These are student-centred facilities that provide study spaces, computers and access to information resources.
"In order to ensure that we were able to provide a solution for this immediate digital equity gap, we worked quickly to enable a pool of 500-plus laptops that could be loaned to students along with mobile wi-fi routers to provide network connectivity," he explains.
They also reached out to the students to see who would like to take up the offer of a loan laptop. The laptops were distributed prior to the lockdown, while some were sent via courier afterwards.
Agenda: Enable work from home, learn from home
In the transition to remote teaching, Mangan says a foremost concern is staff mobility, as all university staff shifted to teleworking.
"With the very short timeframes that we were all working with as a country, we had the challenge to rapidly enable the mobility of 5,500-plus staff from working onsite to working remotely. A key focus for us here was to ensure that our teaching and research community were as well equipped as possible, both from a hardware and software lens, but also from a capability lens.
To support this rapid shift, he says the team quickly set up Connect kiosks across the university campuses in 10 locations. "We had to ensure that staff have the hardware and software to work remotely, in whatever context that may take – teaching, research, and administration."
He says the kiosks were very popular and effective, and helped reduce demand in the staff service centre. They also provided all university staff with cloud meeting and collaboration technologies, with a specific focus on the teaching community.
A new VPN capability was introduced to provide for 10-times lift in capacity and also integrate with their two-factor authentication capability. They also provided staff with desktop computing devices, loaning the equipment for some of them to use at home.
The university also announced a week of non-teaching to allow the teaching staff to get ready for remote delivery of classes. Midway through that week, the lockdown was announced.
"We scrambled really to get everyone in a position where they can work remotely, productively, with a big focus on our teaching staff."
He says the university is encouraging lecturers to record sessions so these would be accessible to students from home. Mangan says the lectures are posted within the hour of when these would normally be delivered. This provides structure in the students' schedules and allows them to participate in polls and tests that some lecturers run.
Focus on the student experience
Mangan says the Connect team also considered how the shift would impact student experience. "Given the shift from onsite to remote learning, the key challenge we have tackled is how can we support a very rapid change from onsite to remote learning, and ensure the best possible experience for students?"
"During the early days of the COVID-19 event and when teaching was still on campus, we quickly equipped an additional 160 university teaching rooms with audio and visual recording capabilities," he shares. This was done so students who would not be able to return to camps could view recorded class sessions.
They then redesigned the lecture recording service, which supports recording and playback of all teaching content, regardless of room or location. The goal was to ensure students could also stream or download media with improved performance.
"We were able to do this by moving to a hybrid design incorporating a new content delivery network within AWS to host international traffic," explains Mangan.
They also redesigned the transcoding engine to improve file processing times, uploading and playback.
"We also launched and rapidly augmented our FlexIT capability which allows students and staff to access university applications anywhere, from any device at any time, and at scale," he says. Typically, the students only had access to these applications through the computers in various labs across the campuses.
He says the team rapidly expanded their cloud contact centre technology to allow key student and staff support channels to work remotely, and service the significant uplift in demand to these channels. They re-prioritised value stream delivery to support business continuity plan priorities within each portfolio, such as CRM, student management, learning and teaching, and research. Mangan says the team also worked on capacity and assurance, given the rapid change in demand profiles for critical services across the university. "We have leveraged our cloud capabilities across multiple service lines to ensure we can 'burst' where needed," he states. These range from large consumption services like FlexIT or lecture playback to ensuring they have increased wi-fi density in the student accommodation. The team expected greater demand from these areas given the lockdown scenario.
Mangan stresses that it is important to support the teams as they transition to remote working. Thus, twice a week, he holds 30-minute virtual meetings with the wider leadership group within ICT. Every fortnight, he holds a one-hour 'virtual technology all hands' for the whole staff. "We want to keep staff engaged in different activities and give them updates, because things are moving so fast. It is also a great forum for staff recognition."
The ICT team imperative: Continuous upskilling
Part of the shift to Connect was the launch of the IT academy ConnectEd which uses the skills framework function for the information age (SFIA) .
"We have deployed new channels within ConnectEd," he says. "We emphasised to all staff that time should still be set aside for learning and development during our long intermission from campus. We curate our own courses in cloud technology, and we have utilised that now for getting ready for remote working."
"Keeping the fun going is key and we have some great ideas we are working on to connect our people more than ever," he says. "It is a very dynamic environment we all find ourselves in. It is changing by the day."
How education CIOs can help their institutions prepare for online learning
"By 2022, 75 per cent of all higher education institutions will have an online learning strategy and strategic plan that will guide their actions in this arena. The online learning strategy will become as common as an overall IT strategy."
Gartner analyst Glenda Morgan predicted this in July 2019, when the sector had no inkling this possibility could be happening two years earlier, with the rise of coronavirus.
Morgan says developing an online learning strategy before launching online programmes in higher education is critical.
Without this strategic plan, she says institutions run the risk of excluding important stakeholders – including IT – in plans and discussions for these programmes.
This can have serious repercussions, she reports. "By not thinking through and developing an online strategy, institutions may develop relatively low-quality online programmes that are digital versions of online courses."
Some questions educational institutions can ask as they develop their online learning strategy are: What is the institution doing in the online learning space? What are the medium- to long-term trends for enrolment and recruitment of students? Who is your target student audience? What are medium- to long-term trends for funding from both tuition and government? What are the current areas of demand for skills in the communities that you typically serve? What are emerging areas of demand for skills in the communities you serve? What are your institutional strengths in areas of study or expertise?
CIOs, she notes, can act as a catalyst to guide their institutions towards developing a coherent and enterprise-level online learning strategy that links to the broader institutional and IT strategy. "Do so even if you are not directly responsible for online learning."