As the coronavirus pandemic continues to impact enterprises worldwide, some CIOs feel relieved that they elected to give their workplaces digital makeovers. Waters Corp. CIO Brook Colangelo is one of them.
Colangelo migrated the maker of pharmaceutical equipment to cloud productivity and collaboration software before the pandemic hit. The move away from on-premises solutions has proved prescient, and is keeping the company's 7,000 employees, including field sales and service workers, connected and secure as they work from home amid the pandemic.
Water Corp.'s migration to the cloud is central to a digital workplace strategy aimed at improving the employee experience across 100-plus offices, an investment that is facilitating a better customer experience, says Colangelo, who joined the company in 2018 after leading IT at publisher Houghton Mifflin Harcourt for nearly five years.
Remote work keeps staffers connected
Workplace expectations are continually changing, as fewer than one-third of digital workers will select the corporate office as their preferred place to work by 2023, according to Gartner. But remote work has taken on a new shine as the coronavirus crisis has jettisoned employees from offices. And with shelter-at-home decrees taking ad-hoc offices at Starbucks and other public WiFi-powered alternatives off the menu, it's more important than ever for CIOs to empower employees with the tools they prefer to do their work from anywhere.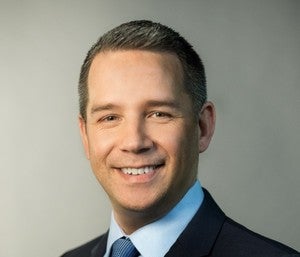 Perhaps nowhere is this more true than at Waters, whose mass spectrometers, liquid chromatography and analytics software are part of a multi-billion market for laboratory technology that helps pharmaceutical companies test treatments — an increasingly critical enterprise as drugmakers scramble to cultivate viable vaccines for COVID-19.
To give employees access to tools that would help them better facilitate sales and field service operations, Colangelo turned to a digital workplace strategy supported by a modified Spotify "squad" model, which included teams of six to eight people working with an agile methodology. A program manager envisioned how to prioritize and design the look and feel of the workplace architecture, while a senior director of infrastructure operations assisted in shaping the implementation, which included the Microsoft Office 365 suite, among other cloud applications. Cybersecurity staffers also weighed in on the effort, which includes multi-factor authentication among other checks and balances.
The squads spent eight weeks identifying challenges and designing the digital workplace before launching a minimum viable product (MVP), and have been tweaking and refining the services ever since. "We were able to mash talent sets and skills to envision new ways of working," Colangelo says.
Cloud adoption ticks up
As work-from-home exploded in March, Waters employees began engaging in 7,000 daily sessions of Microsoft Teams, which enables video and audio conferencing and chat.
"Video and voice [consumption via Teams] has gone through the roof," Colangelo says, adding that Teams and other popular collaboration tools have enabled Waters to eliminate corporate desk phones. Waters' IT also moved lab workers to "cloud-based" desktops and applications, some of which are hosted in Microsoft Azure and Amazon Web Services. These tools help engineers share large CAD files for critical lab work and software development securely.
The squad model was hardly limited to the digital workplace, as Colangelo early in his tenure also deployed a separate team to revamp Waters.com. The squad removed friction to provide customers a better shopping experience online. Colangelo adds that Waters experienced double digit spike in online engagements as the coronavirus began wending its way around the world.
As Waters continues to build instruments, software and other tools that pharmaceutical companies require as they scramble to create drug treatments for Covid-19, Colangelo says it's more important than ever for the company to align its transformation efforts to support the volatile market for laboratory science.
"The word's going to be a lot different, but I'm excited about embracing that change," Colangelo says. "We're optimistic in science's ability to solve this rapidly."
Tips for crafting a digital workplace
To that end, Colangelo offers the following formula for a successful digital workplace strategy.
Think like a platform leader. Focus on getting an MVP out and then continual add value for your customers. "I am focused with constantly bringing new features and solutions to our customers," Colangelo says. With the COVID-19 crisis, Waters has scaled its platforms for wide-scale use.
Adopt a growth mindset. Everything can't be perfect all the time, so you need to learn from issues and build on it. That's what make these platforms better and more widely adopted by users.
Obsess on user adoption. Rather than focus just on hitting a timeline or go live date, leaders need to home in on user adoption. For Waters this included monitoring adoption and tweaking its platform continually to boost that metric. And don't think training must be completed before the go-live date. Instead, consider training to be a part of your follow-on adoption strategy as well. "We have been on the platform for a year and we are offering more training," Colangelo says. "It really helps with adoption."