As general manager of the UN Digital Solutions Centre (DSC) and managing director of Kenya-based Sera Afrika – a consultancy devoted to sustainable economic growth in business and society — Kate Krukiel has firsthand experience in how emerging technology is transforming the enterprise and its relationship with society at large. At the UN, she works to address operational challenges facing the UN High Commissioner for Refugees (UNHCR) and the World Food Programme (WFP). Prior to her current roles, she was UN global technology strategist and the director of strategic partnerships for Microsoft. She has worked in the Middle East and Africa, focusing on private and public sector partnerships with the goal of breaking down political, social, and language barriers in creating lasting technological change in emerging markets. In this Q&A, Kate shares her insights on applications of key emerging technologies including AI, robotic process automation (RPA), and blockchain – technologies expected to drive what has been called the "fourth industrial revolution" (4IR), a tech-fueled, fundamental transformation in industrial processes and a jump in productivity.
What 4IR technologies have been tested or successfully implemented by the UN Digital Solutions Centre and what problems are they solving?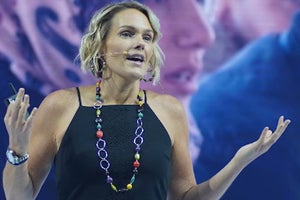 United Nations organisations utilise a Joint Sanctions Checklist to ensure that sanctioned entities are not qualified for UN procurement processes. Updates to the list are cumbersome, prone to error and, while a joint list, updated by each agency. It's a perfect use case for the newly formed UN DSC, with its mandate to offer cost-efficient, innovative technology as shared services across the UN family. Joint Sanctions list checking is a core operational business process that can readily be optimised using robotic process automation (RPA).
This was the first pilot to test collaboration and scaling-up of a solution across two organisations that greatly reduces costs, time and manual work. The bot screens parties with whom the organisations have a commercial relationship, funded partnership or other financial relationship including staff, consultants, contractors or any other cash recipients. The UN DSC is a pilot partnership between UNHCR and WFP, and supported by ICC (the UN's International Computing Centre). The DSC aims to use cutting-edge technologies to address common operational challenges faced by both agencies and, hopefully the wider UN.
Some of the solutions you're considering at the UN DSC include using RPA to automate the sanctions screening process, automation of invoice processing, intelligent software to aid in preparation and review of agreements, and chat bots for internal and external queries to support functions like human resources or finance. What's the approach to deciding which projects get funding priority and what are some of the resources you've been able to secure in order to move forward with your mission?
We are keen to have a working pipeline of both quick wins and longer-term projects. With the variety of needs mapped to discrete technologies, developing impactful solutions that the UN employees value is critical. We work with the board (currently UNHCR and WFP) to prioritize and also look at what needs span more UN organisations.
For instance, invoice automation is something every UN Agency can leverage, so this is something we are working on now. The UN DSC's financial model is also a cost recovery model. The more organisations that we are able to scale solutions for, the lower the upfront costs become. This is a great incentive to innovate and collaborate across the UN. By the way, this is a mandate from the UN Secretary-General on UN reform that we abide by strongly.
Can you give us an example of some challenges and how technologies such as AI, robotics or blockchain can provide solutions to these challenges?
We now have several other use cases to apply similar technologies from time tracking, talent acquisition, supply chain training, digital identity, cash advances and more. We recently hosted the first bootcamp to solicit internal ideas and host a week of ideation and solution design that spanned technologies from virtual reality to blockchain.
Other interesting use cases include talent acquisition and identity. As you know, the United Nations comprises over 60 organisations, and being able to get the right talent, foster that talent and connect to roles across entities and geographies is critical. We are in the process of looking at artificial intelligence to help enable this, make onboarding quicker and ensure that each UN staff member has the best career path for their duration. The UN Joint Staff Pension Fund is piloting a blockchain, biometric mobile app for e-certification and pension payments for UN retirees. This same technology could be used to implement a strong digital identity system from day one of employment through retirement, for cost savings, transparency and ease of use for all employees.
Which blockchain solutions are you considering as a solution for securely storing staff records and streamlining secure inter-Agency transfers? Are you leveraging existing protocols or building in-house solutions?
For the above-mentioned pension scenario we are using a Hyperledger solution. WFP, also, for instance, is using Ethereum for cash payments to beneficiaries. The opportunity is vast for both internal operations and mission critical delivery of services to the world the UN serves.
What are the key lessons you learned from your previous role as UN global technology strategist and the director of strategic partnerships for Microsoft?
First and foremost, that the Microsoft brand opens doors but comes with a moral and ethical code. This helped me develop a strong work ethic and work style that will be with me forever. Second, working across the UN system for 12 years, you understand how we literally speak different languages within different sectors, and then across diverse geographies. Being able to break down those communications from the private sector, NGOs, civil society groups and the UN was critical to my success and enabled me to learn both culturally and technically.
Many jobs are threatened by redundancy in the Fourth Industrial Revolution. We expect that existing jobs will also go through step-changes in the skill sets required to perform them. How should businesses or governments facilitate relevant skills and knowledge acquisition to unlock future opportunities for workers?
What I see today with some of the artificial intelligence technologies coming out to map skills is incredible. Utilize these! We have gone through previous revolutions and we have survived, adapted and created required skills. We will do it again and are lucky enough to have tools, like artificial intelligence to help map and understand the skill sets our organisations have – and then forecast those that we will need.
One critical issue we have across Africa is the lack of available data or even capturing that data. How can we know where to go or what to change if we don't know where we are?
There are two aspects here, the capturing and the availability. We are more than likely capturing a lot of data on the continent but there are very few data standards and methods of making this data available, secure and consistent. This is the most crucial aspect to then understanding where we want to go, based on where we are today.