All enterprises are changing their business models, taking steps to become more agile, and cutting back on unessential activities to survive the fallout of the coronavirus pandemic.
However as Gartner analysts Leigh McMullen and Dave Aron point out, a lot of valuable learning is likely to come from how enterprises manage this crisis. "Use these lessons to accelerate your enterprise transformation," they state.
It is an advice the following technology and digital leaders across New Zealand's public and private sectors are taking heed.
Allan Lightbourne of Tauranga City Council: 'Don't be distracted by technical, short-term thinking'
Like their colleagues across the country, the ICT team at Tauranga City Council had to move fast when New Zealand moved from Alert Level 3 (restrictions imposed due to heightened risk that disease is not contained), to Level 4 (where staff not involved in essential services have to work from home).
"I would say in a lot of ways we were technically prepared," says Allan Lightbourne, chief digital officer of Tauranga City Council. "We have done a lot of work late last year. We have brought the service desk in-house and moved every single person in the organisation to laptops. We had VPNs and Skype. A lot of the things that happened were extremely valuable."
He shares that an area where they fell "a little bit short" was about setting up the home office. "All of a sudden, we now need 650 home offices." Before this, Lightbourne says a lot of the work they were doing was focused on collaboration and mobility. "We are across multiple sites, we have 48 different businesses. How do we break down silos to help our people to connect?"
With the lockdown, the questions they faced were whether staff had internet at home or if they did, maybe they could receive email but could not run a Skype call. "Do we get SIM cards to staff to run into their mobile for internet access?"
His biggest lesson from the past weeks is "not getting too distracted by technical and short-term thinking".
"Certainly, there were a lot of us who spent a week in that mode; heads down, get things running," he discloses. He says now it is time to keep one's head back up again and double down conversations with the wider organisation. "You have got to be really connected with your peers and with senior leadership in the organisation, helping them to think about what it would look like for them."
"The first few days was the hard stuff," he says, referring to the technology that enabled the organisation to move to remote work. "We are now focusing on the soft stuff."
"What is it gonna look like when we get to level 3 as an organisation? What is it going to look like when we get to level 2? What do we need to have in place as an organisation now before we get there?"
He says the ICT and digital team members are comfortable in an agile and flexible environment. They are now working with the other managers and leaders who are shifting to this mode of work. His team produced a series of video clips for the leadership on using their collaboration tools to connect with their staff, such as how to hold a stand-up meeting.
He notes that the experience of working from home has shown staff this could be a more effective way of working. He then asks how this will impact activities like induction, training and project management. "What is it going to look like as more people are semi-permanently working from home? What does this mean for the environment, for support, for the learning and the culture of the organisation?"
In the construction industry, Lightbourne says a lot of builders on day one after the lockdown will ask their inspectors to inspect the sites. "We have a finite number [of inspectors], we really have to figure out how we maximise their time and day."
They are looking at virtual inspections, for instance, for low risk building areas. They are also looking at more e-learning activities for staff. "These could become the new normal. We just have to find ways to do that."
Rebecca Chenery of Watercare: 'Build adaptability and resilience'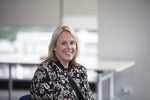 As with many businesses, IT operations are usually behind the scenes at Watercare. This changed during the pandemic. "COVID-19 has thrust us into the spotlight and our people have more than met this challenge," says Rebecca Chenery, chief digital officer at Watercare.
Watercare is New Zealand's largest water and wastewater firm, supplying around 360 million litres of water to Auckland every day. As the organisation prepared for a national lockdown, she states, "Our number one priority as an organisation was maintaining continuity of our essential services throughout the disruption to everyone's lives."
She says the pandemic has shown the adaptability and resilience of the teams at Watercare. "Instead of blame, there has been a really human, unwavering patience and collaboration across our business. We've kept the business informed and the business has given us latitude for things being a bit ropey at the start. We received tremendous backing from the board and the executive team."
Watercare has 1000-plus staff and moving to remote working using digital tools quickly was a monumental shift for the organisation. Before the pandemic, only 30 to 45 staff were connecting remotely. Today, an average of about 700 people are working from home.
Delia Cato, Watercare's digital workplace leader, says an important lesson, which also serves as their team's guiding principle, is that all solutions they put in place are "enduring, not simply band aids".
She says the team had already prepared a Digital Workplace programme before the pandemic. "COVID-19 drove us to deliver our intended future state much faster. We'll be good to go again should the need arise. We now have a proven set of technologies, nimble governance approaches, and capabilities to equip people to work remotely, rapidly."
Adam Gower, head of digital operations at Watercare, says the pandemic has changed the organisation's views about productivity. "We're seeing that our people can do a huge load of work remotely, equipped with the right tools and the right trust-based management mindset."
In the future, he says, "our perspective on how we use physical space and our buildings for in-person collaboration – which will always, always be imperative once it is safe to do so – requires a rethink."
"Our playbook for business continuity planning is now quite different from just over a few months ago," he adds. "We have built an evergreen continuity and contingency planning system using the work and lessons of this experience – from identifying critical roles across the company and how we communicate during a crisis, to how we make business-driven priority decisions, to changing our management systems to make working remotely both supportive and productive for our people. These are all valuable lessons for the post-COVID-19 Watercare."
Jason Cherrington of Optic Security: 'Foster personal connection and team building'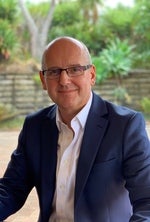 "Clearly, the lockdown measures have necessitated a massive change to the traditionally carefree New Zealand mindset," observes Jason Cherrington, chief executive officer of Optic Security Group.
"Physical distancing and protective clothing such as masks and gloves do not come naturally to us," he says. "Nevertheless, our people have made an immediate and purposeful pivot towards new ways of working."
Cherrington leads a team of 300 across New Zealand and Australia. The company provides security systems to manage physical, personnel, and information security risks. Thus, 50 per cent of their team are technicians on the frontline and installing and servicing customers across the country.
He says the company is now reviewing their office space. "How do we ensure the space we have is utilised as much as possible for personal space, not reduced?"
They are also considering roles that do not need to be in the office, such as business development and sales, and implementing more hot desking where it makes good sense to do so.
"The workspaces of tomorrow really need to foster personal connection and team building, because we've shown that work can happen anywhere, but that we really value the time we do spend together," he explains.
Like the other technology leaders interviewed for this article, he says their implementations before the lockdown are helping them ease into the evolving work environment.
In the several days on either side of the start of the lockdown, he discloses that they posted daily social media updates advising customers of their safety measures to keep staff and customers safe. These included shutting down their offices, initiating work from home arrangements for office staff, and ensuring their field technicians were armed with the right personal protective equipment and safety knowledge. "We are very mindful of keeping them safe as they look after others."
"As an essential service, we have rapidly adapted to work from home for all office staff out of need to carry on, regardless of the circumstances and support customers such as district health boards, telcos, and government ministries."
"It has made us tighter as a team, despite being physically distant," says Cherrington. As work crosses physically into the home, there is now a stronger team ethos that supports and appreciates the staff's families for allowing this "intrusion", he adds. "It goes to show that work and home can coexist in the same space if the right leadership approach and mindset encourage it to happen."
Abinesh Krishan of Potentia: 'Prioritise staff wellbeing'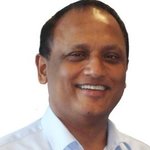 "We naively remain delusional if we continue to believe there is a 'return to normal' option," says Abinesh Krishan, client strategy director at Potentia. "We will burn our wakas on the new shores, and we shall never return from whence we departed."
He believes taking this perspective is critical as businesses prepare for post-pandemic scenarios.
He points out that there will be some downstream impact as organisations recalibrate and operate in survival mode. "The role of the CIO may be affected as they will be involved in tactical programmes of work as market activities slow down."
CIOs are preparing for the next period, when the business has gone through the rough phases, the timing of which nobody knows, he notes. "When the lockdown is lifted, will there be secondary or third waves of the pandemic?"
CIOs must look at the wellbeing and safety of staff and customers, he further emphasises. "How does the organisation ensure IT provides the support, that the work bubble is not compromised?"
Krishan says CIOs can check out emerging tools, such as leveraging their mobile device management capability so that staff can be alerted when somebody comes within two metres.
"You have to collect data in the event of a virus returning," he states. "This will prepare the organisation to quickly contact people, so the business is not affected. IT needs to have that capability."