While desperate customers wrestle over fast-disappearing toilet paper rolls in the supermarket aisles, the suddenly precious commodity has served to highlight the kinds of key supply chain issues CIOs are now facing because of COVID-19.
With the exodus to home offices across Australia all but complete, untold miles of office-scale toilet rolls are lying unused as the home-variety naturally becomes the default option for millions of house-bound teleworkers.
"We're taking toilet paper consumption from work to home during this pandemic," says Gartner Australia retail analyst, and former logistics manager with Louis Vuitton, Thomas O'Connor.
"But office toilet paper is on vastly larger rolls; it's a completely different product which is now starting to create some challenges."
As light starts to appear at the end of the tunnel, businesses are contemplating what the "new normal' will look like. In the case of commodities like toilet paper, the entire market will change forever if we settle on a higher proportion of people working from home more of the time.
Warehouses and supply chains supporting the office market will need to be recalibrated as channels servicing consumers and supermarkets receive priority.
Likewise, as more people cook more meals at home, food suppliers will face disruption to their supply chains as less produce is needed for restaurants, hotels and the like, with more people buying more food at supermarkets than ever before.
Companies trying to fulfil online orders through in-store inventories need to take stock of what systems they have to manage this.
"Is there a distributed order management (DOM) system in place?," O'Connor asks. If not is there a technology option that can be put in place fairly quickly? How much dirty labour-intensive activity is likely to be involved and how can it be minimised through smarter application of tech?
Fashion fail
How retailers respond to COVID-19 depends on which of two camps the crisis has put them in, O'Connor says.
Retailers selling necessities are seeing sharply rising demand, especially for things like groceries. Home entertainment, and to a lesser extent home improvement are also extremely buoyant at the moment.
In the other camp, retailers in 'disretionary' areas like fashion are lying on the canvass.
Thompson notes this group is grappling with troubling supply chain issues, such as reallocating inventory from bricks and mortar to online channels, in turn demanding deeper visibility into channels and better communications and collaboration across them.
Then there's transportation management systems. What technology needs to be in place to route all company orders effectively?
"It's about focussing and understanding first the whole idea of what do our supply chains look like," O'Connor says.
Shane Lenton, CIO with one of Australia's oldest retailers Cue is in the eye of the storm. Every one of the company's 200-plus stores across Australia is currently shuttered. As expected, online sales have increased notably, but nowhere near enough to cover the gap.
"Whilst we've seen some good uptake online and some sales transition it's nowhere near enough to cover shortfall of stores closing," Lenton says.
Thankfully, however, for the past several years Cue (founded in 1968) has been engaged in a major digital transformation drive which saw it develop systems and processes that have been its saving grace during the pandemic.
"We already have systems and platform in place that have allowed us the agility to pivot and adjust as needed".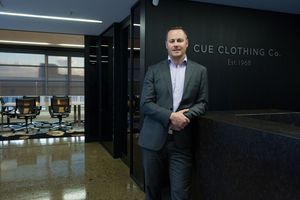 For instance, Cue is able to easily "turn off" stores that aren't acting as fulfilment centres, while also being able to consolidate inventory in each state.
"Thankfully we've been able to access inventory from any of our stores," Lenton ads.
Not something every retailer could claim at the moment.
While Cue appears to be managing the transition to online-only sales better than some might expect, the shortfall created by store closures is creating serious systemic issues for the wider sector, notes Gartner's O'Connor.
"For businesses like this that have closed their stores ecommerce is up but nowhere near enough to make up for the fall."
This has meant many retailers are having to go to their suppliers and cancel every PO for this season, he adds. Meanwhile, many have flagged their intention to accelerate development of systems and processes supporting a single point of inventory.
A key weapon in Cue's armoury for battling COVID-19 is its unified communications retail management platform. Over the past four years the company has worked closely with partners Triquestra and Shippit to develop an 'endless aisle' solution.
"Communicating with supply chain people has been critical during this period," Lenton says, adding that enabling staff to stay connected was equally important.
"The big focus initially for us was mobilising the workforce and having the infrastructure in place to allow people to work remotely."
He explains that many staff simply didn't have computers at home and they used desktop computers in the office, so weren't able to get them working from home using their work desktop computers and USB wifi dongles.
"When this got serious there was a major shortage in monitors, hardware, headsets, laptops and the like."
"We really had to get really creative without spending huge amounts of money."
Not having designers able to work closely together and share ideas has been a particular challenge for the iconic fashion designer.
Lenton notes that Citrix has played an important part of the solution, making it "easier for us to deliver apps and anything that might be bandwidth hungry, on both trusted and not-trusted devices."
Taking stock
Gartner's O'Connor says COVID-19 is forcing retail sector CIOs to quickly take stock of what technologies they currently have at their disposal for the various projects they're undertaking, and to get their short-term priorities right.
"If you're on the discretionary side your job as CIO is to say 'this truly doesn't need to happen right now – we need this cash for survival'. 'We need to maintain continuity to ensure we're in a good place'."
"What needs to be cancelled or postponed? What are you going to accelerate?"
Rohan Penman, CIO with bespoke tea company T2 Tea tells CIO the company last year began the process of overhauling its four-year old website, but has now fast-tracked its developnent in response to COVID-19.
'We're dealing with the impact of losing a channel [physical stores] and having a web channel being a couple of times hotter than it normally is," he says. "We've taken the opportunity to re-frontend. refining our UX and UI and get everything right from a user's point of view."
Having a major web overhaul in the offing before COVID-19 descended wasn't the only piece of good fortune for Penman and T2 Tea. The company also completed a full rollout of Microsoft Teams mid-last year, which meant the current transtion to remote working and video collaboration has been virtually painless.
"My goodness I'm happy the timing it happened wasn't June this year instead of June last year."
"Everyone could pick up their laptops and go home: noone's talking to me about anything."
COVID-19 has, however, left one rather large fly in the IT systems ointment, forcing it to delay the international rollout of a new PoS system. "We were plannig to finish it end of May but with all our stores closed that's been ruined," Penman admits.
Growing talk of restrictions being eased could mean T2's 'click-and-collect' systems and processes get kicked back into gear sooner rather than later, though, with New Zealand for instance indicating it will drop from level 4 to level 3 restrictions next week.
Cue had other projects in the works prior to COVID-19 it hopes will ease its transition to wherever the business and retail sector more broadly is now headed.
This includes enhancements to its ecommerce platform based around video-based 'clientelling and storytelling', which will also incorporate existing and in-development applications of video conferencing, virtual and augmented reality to help customers gain a deeper understanding of products online and make better choices.
"We have been working on solutions we knew the market wasn't quite ready for but with this situation and change in consumer behaviours that will occur we've decided to move ahead," Lenton says.
People's adoption of video has grown significantly, both in terms of tolerance and understanding, he adds, while predicting AR and VR will have a "huge impact" moving forward.
These technologies will also support the rollout of Cue's new international offering to expand sales outside of Australia.
Meanwhile, as Lenton and his team appear to have the supply chain and communications challenges in hand, the fact Cue has large numbers of staff who aren't very good with technology has demanded a fresh vigilance around cyber security throughout the transition.
"Having people who are not necessarily 'tech-native' needing to work a little differently has created some challenges," he admits. "Security has been front of mind for everything we've been doing."
"It's taken a proactive effort around documentation and generally supporting those individuals to make sure it's a smooth transition."
T2's Penman says the tempo of security threats since COVID-19 fully escalated has been truly alarming, judging by the regular updates from its security operations centre (SOC) Triskele Labs. "They think attacks have increasd as much as three-fold."
"Bad actors know people are on VPNs and logged in remotely and might have equivalent vulnerabilities with the range of IoT devices commonly used in the home."
It's enough to send one off the supermarket to make another bulk purchase of 2-ply.