Nathan Rogers doesn't have a background in coding or computer science. He's spent little career time mapping IT infrastructure or understanding system architecture. Yet Rogers, with an MBA and a resume loaded with business development and accounting experience, isn't the head of finance or operations. Instead, he serves as senior vice president and CIO at SAIC, leading the technology integrator's IT modernization and digital transformation efforts.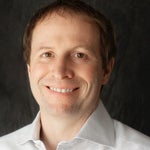 Despite a lack of formal technical training, Rogers contends he has the right stuff to succeed in the modern CIO role. Specifically, his background in orchestrating mergers and acquisitions and years of doing business development strategy exposed him to areas such as business process improvement, optimization and system modernization—all crucial competencies for today's CIOs. "The CIO role is changing, and that's why I was a natural fit," Rogers says. "Some CIOs come in and have to learn the business. I had to catch up on all the technology."
As the top IT leadership position continues to shift away from a pure technology focus to more of a business strategist and transformational role, CIO competencies and characteristics are beginning to align with what's expected from mainstream executive management: deep industry knowledge, robust communication and management skills, and an intrinsic understanding of how to run a profitable business. Many fast-track CIOs have been immersed in this metamorphosis for some time. What's accelerating is recognition in the C-suite and among line of business (LOB) leaders that the CIO is well positioned to not just spearhead technology initiatives but also drive technology-enabled innovation and digital transformation across the entire business.
By the numbers
According to CIO.com's 2020 State of the CIO survey, 91 percent of IT leaders and 59 percent of LOB respondents see the CIO's role becoming more digital and innovation focused. Moreover, 89 percent of CIOs and 56 percent of LOB respondents say the CIO is more involved in leading digital transformation initiatives compared to their business counterparts—a characterization made by only 47 percent of LOB respondents in last year's survey.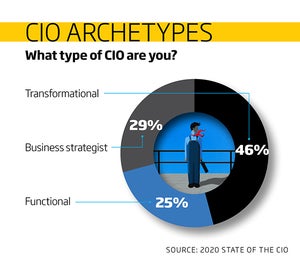 CIOs are also more likely to self-identify as a business strategist or change management leader. Nearly half of IT leaders (46%) see themselves as a transformational CIO, with close to a third (29%) embracing business strategist responsibilities. Only a quarter view oversight over functional areas such as security and improving IT operations as their primary focus.
In this developing incarnation of the CIO role, IT leaders are spending more time on transformational responsibilities (89%) and business strategist work (67%). As part of their increasingly business-directed charter, CIOs are prioritizing efforts to align IT initiatives with business goals (44%), implementing new systems and architectures (39%), and leading change efforts (34%). Also high on the CIO agenda is driving business innovation (34%) and identifying opportunities for competitive differentiation (25%).
As the emphasis on business strategist and transformational responsibilities grows, CIOs continue to devote less time to traditional functional work—81 percent this year, down slightly from 85 percent in the 2019 survey. This reprioritization shows no sign of backsliding: Over the next three years, 78 percent of IT leaders say they will devote more time to business strategist responsibilities while 77 percent will focus on transformational duties. A shrinking 57 percent say their principal focus will center around functional efforts over the three-year horizon.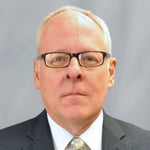 "In the early days, it was all about technology, building systems and creating infrastructure that supported the automation of the business," explains Tom Kuczynski, vice president of information technology at the District of Columbia Water and Sewer Authority (DC Water), an independent Washington D.C.-based utility. "Yet I always thought that understanding the business and understanding how people conduct the business of the business was extremely important to delivering effective solutions to the enterprise."
Taking charge
One of the more significant evolutions in the CIO charter is that IT leaders are now expected to take on a more expansive portfolio, including responsibilities that fall outside of their traditional purview. Nearly all tech executive respondents (95%) say they have taken over some form of management or oversight responsibility beyond traditional IT. On average, IT heads say they now have 4.2 different areas of responsibility on their management plate.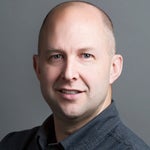 At Carhartt, an apparel company best known for professional work wear, John Hill, CIO and senior vice president, doesn't just oversee IT. Two years ago, he took over end-to-end responsibility for all of the company's business planning functions, from demand planning to supply chain optimization. Hill, who held non-IT executive roles in business development and supply chain prior to joining Carhartt, says his nontraditional executive background was the key to being recognized as the obvious candidate to take over business planning efforts.
Opportunities for expansion
Also in his favor was the fact that a big component of the business planning function involved a migration to SAP's S/4 HANA platform along with wholesale business process transformation. As a result, the business, sales and manufacturing teams involved in the initiative had already been moved under Hill's jurisdiction. "The opportunity is there for the CIO given their position in terms of having direct impact on virtually every process inside the organization," Hill says. "If they're able to get involved in all the strategy conversations, know the business and how to make money, they'll get tapped to do other things."
With the SAP S/4 HANA migration project currently slated to finish on time and on budget by the first quarter of 2021, Hill says the impending milestone cemented his status as an effective leader and influential member of the executive management team. "When you look at the expanding responsibilities of the CIO, it's not a function of the CIO role itself; it's the person holding the CIO role," he contends. "I wouldn't be given the responsibilities if I didn't have the leadership competencies. The CEO isn't going to have someone who doesn't demonstrate strong business acumen take over key business areas."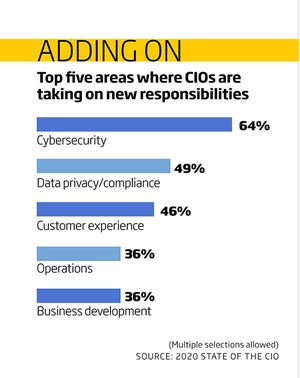 Generating revenue
CIOs are also taking ownership of revenue-generating initiatives, with 36 percent of CIOs participating in and 31 percent leading a team tasked with creating new revenue streams. To support these efforts, CIOs are creating teams focused on innovation (46%), establishing business-case scenarios with defined costs and benefits (46%), and interacting more directly with customers (42%). A third of CIOs are building test labs to evaluate ideas for new products and services that aren't fully baked.
In addition to his CIO and tech-related duties, DC Water's Kuczynski was recently named acting interim president of the utility's Blue Drop affiliate, which markets DC Water products and services to the non-rate payer market with the goal of generating revenue and cost savings to defray expenses for the utility's existing rate payers. "I'm now recognized as a key business leader, not just the IT guy," Kuczynski says. "It's recognition that I don't just talk IT, but that I understand business and how to leverage opportunities within the business to generate revenue to offset the cost of operating the utility."
IT/OT convergence
At manufacturing companies, digital business initiatives (37%), data analytics efforts (24%) and new product development (19%) are driving the convergence of IT and operational technologies (OT)—another area where the CIO is taking charge. According to the 2020 State of the CIO, 89 percent of IT leader respondents see increased collaboration between IT and OT within their organizations. At 88 percent of responding companies, the CIO is directly involved in fostering the relationship between these historically separate factions.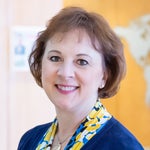 Bonnie Smith, CIO at Lear Corp., is one of those CIOs driving IT/OT convergence. Given the growing profile of automation technologies on the plant floor, the automation, engineering and IT groups at Lear are now completely intertwined, says Smith. "There's a healthy respect on both sides—you can't introduce new technology to the plant floor without ensuring that data is captured properly within the IT systems … and for us, that means getting more tightly connected than it's been in the past," she explains.
Smith just launched the company's first Digital Advisory Council to bring parties from IT, OT and the business together to chart the right course. "Lear's manufacturing footprint is huge, and this will prioritize what technology they want to bring into facilities and help them understand the benefits and costs," she explains.
Owning analytics
Data analytics is one of the more high-profile areas gravitating to the province of the CIO. In addition to being in the driver's seat when it comes to determining and defining business needs to advance data analytics projects, IT is also leading most of the other stages of data analytics initiatives, including researching vendors and products (75%), approval of vendors and products (73%), purchase and budgetary discretion (61%), and data collection (69%).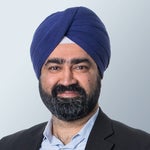 At Rubrik, a cloud data management and enterprise backup recovery company, data analytics is a top priority. This year's roadmap calls for bolstering Rubrik's existing business analytics efforts with artificial intelligence (AI) and predictive models to help its sales and support teams better service customers and target new sales, according to CIO Avon Puri, who is overseeing the initiative. Last year, Rubrik drilled into customer machine logs to predict when clients might run into issues with their backup and recovery services. The plan now is to build on that capability to help the sales team map and predict bookings based on specific goals for filling the pipeline. "By starting to give more nuggets of intelligence to sales reps, they can start to look at trends like, if customer X bought this, then Y as a prospect might be similar," he explains.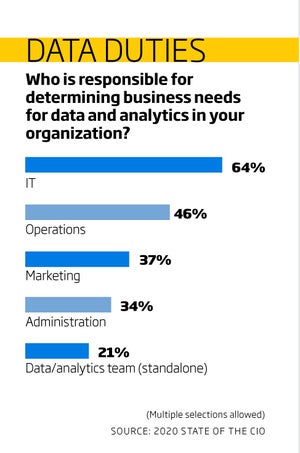 Power of the purse
In another sign of the CIO's stature as a vital member of the C-suite, the IT department is consolidating control over tech spending. According to this year's State of the CIO survey, IT maintains control over more than half (52%) of the enterprise technology budget.
That's not to say functional areas aren't directing budget toward technology: The survey found that the majority (91%) are earmarking some departmental dollars toward technology products and services. Administration, engineering, and risk management and compliance are most likely to cede technology budget responsibility to IT. Finance, marketing, operations, sales and supply chain are likely to share ownership of technology budgets with IT, and human resources is more likely to maintain ownership of its own technology budgets, cited by 37 percent of respondents.
In addition to ceding tech budget responsibilities to the CIO, more LOB functions are leaning on IT leaders for strategic business advice—not just as an implementor. Thirty-two percent of LOB survey respondents say the CIO or top IT executive is a strategic adviser, instrumental in identifying the business needs and opportunities where technology can provide competitive differentiation.
Putting customers first
As part of their new leadership mandate, CIOs are turning attention to external customers, not just internal users. This year, CIOs spent time on direct customer interaction (42%) and assisting in development of the customer journey (38%). CIOs also adopted a customer-centric mentality for product development: More than half (57%) of survey respondents are using a design thinking approach to building customer- and employee-facing technologies and applications. Customer experience is also part of the CIO's ever-expanding portfolio of responsibilities, cited by 46 percent of respondents, and customer experience technologies, including chatbots and mobile apps, is the third-ranked area of investment, at 24 percent.
DC Water's Kuczynski regularly spends time in the field with customers. He has created a customer feedback group that meets every quarter and runs a series of town hall meetings to solicit feedback from clientele. Kuczynski also partnered with the customer service division to create an engagement platform designed to solicit real-time feedback from customers, which is then used to feed future plans—for example, for refining the website or designing a customer portal.
Kuczynski has even crawled around a digester system, which processes waste, and climbed aboard a boring machine working on a tunnel to get a first-hand glimpse into what's involved in the business and, most important, what will best address customer needs. "It's all about a discovery effort to root out things people are interested in having changed or done differently and translating that into IT initiatives," he explains.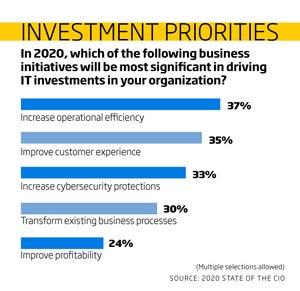 What's on tap for 2020
Heading into 2020, the top CEO priority for IT leaders, cited by 39 percent of survey respondents, is to spearhead digital business and digital transformation efforts. CEOs are also looking to CIOs to upgrade data security (31%) and to strengthen IT and business collaboration skills (29%). As for CIOs' own agendas, the highest-ranked business initiatives for 2020 are increasing operational efficiency, improving customer experience, and increasing cybersecurity protections.
In terms of tech budgets, analytics remains the No. 1 investment, cited by 37 percent of IT leaders. Security and risk management moved up the ranks from the fourth spot last year to the No. 2 technology investment priority, cited by 34 percent of respondents. Customer experience technologies, including chatbots and mobile apps, took a huge leap to rank third this year, cited by 28 percent of respondents, up from 19 percent (and the fifth spot) last year. On-premises enterprise applications, the third-ranked technology investment last year, cited by 26% of IT leaders, is far less important this year, cited by only 11 percent of IT leaders.
Companies will also be investing more in "intelligent" technologies this year. While only 14 percent of firms allocated budget to AI last year, almost a quarter of 2020 State of the CIO respondents (24%) confirmed they are planning to invest in AI and machine learning this year.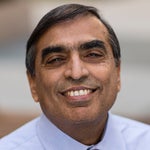 TIAA is looking at robotic process automation (RPA) to cut back on manual intervention in avoiding data entry mistakes. "We're trying to eliminate as much paper as we can and take as much information as possible to prefill forms so customers don't have to fill everything in," says Rahul Merchant, the financial services company's executive vice president and CIO. "We're aiming for efficient processes and to make the experience seamless."
The cybersecurity mandate
Cybersecurity continues to dominate the IT roadmap. On average, State of the CIO respondents are allocating 16 percent of their IT budgets to security-related technologies, and most companies are appointing dedicated cybersecurity-focused executives. More than half of respondents (54%) now have a chief information security officer (CISO), chief security officer (CSO), or other top security executive. CISOs (41%) are more likely to report into the corporate CIO, while CSOs tend to have a direct line to the CEO, at 48%.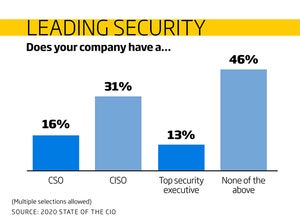 The rising tide of data privacy regulations, which differ state by state, coupled with the ever-changing threat landscape prompted Enterprise Community Partners to appoint a new head of cybersecurity who reports into the CIO. The nonprofit, which brings together nationwide know-how, partners, policy leadership and investment to multiply the impact of local affordable housing development, has increased its cybersecurity budget, but the spike also means there is less money available to fund other capital projects, notes Pradip Sitaram, senior vice president and CIO.
"It's one of the reasons I have a seat at the table and the No. 1 technology agenda item at every executive and board meeting," Sitaram says. He notes, however, that there's a catch-22: While executive support is there, business units tend to see this as an unanticipated burden because they are charged back for the additional cybersecurity capabilities and data privacy controls. Moreover, they view cybersecurity through the lens of IT imposing restrictive controls, which feeds the narrative of IT as a cost center as opposed to a true business enabler, Sitaram says.
Challenges ahead
CIOs are grappling with many of the same challenges they've battled over the past few years. Near the top is striking the right balance between business innovation and operational excellence, cited by 77 percent of 2020 State of the CIO respondents.
The skills gap remains another lingering issue: Nearly half (49%) of respondents are in need of integration and implementation skills to support digital business initiatives, while soft skills such as strategy building (41%), change management (38%) and project management (35%) remain in high demand. In addition, organizations anticipate difficulty finding candidates versed in an array of crucial technical skills, including cybersecurity (39%), AI/machine learning/RPA (31%) and cloud services (18%). Finding legacy technology skills remains an issue for 18 percent of respondents.
"The No. 1 thing that keeps me up at night is the war for talent," says Nimesh Mehta, CIO at National Life Group, who is in need of expertise in areas such as data security and systems and data architecture. To fill the gaps, Mehta is fishing for talent in nontraditional pools—for example, pulling in people with social science and psychology backgrounds to fulfill data analytics roles. He is also committed to grooming internal talent. "We are reskilling our workforce because you have to uplift what you have."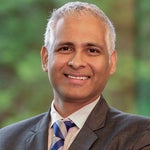 While the talent gap weighs heavy, Mehta no longer frets over the CIO's standing. A tide of digital business projects successfully executed over the past few years has cemented his status as an effective leader and business strategist, he says.
"The executive team has had the time to see how these initiatives can make an impact on the business, and I don't have to ask for an invite to anything anymore," he explains. "Whether it's a meeting about an M&A opportunity or something that has nothing to do at all with technology, they are talking to me about business strategy. The technical conversations come last."