There is a digital payments uprising happening across Africa. A region that traditionally had a heavy reliance on cash, African consumers have steadily started moving away from physical currency in favour of more innovative digital payment systems and new payments tools.
Thomas Pays is part of this cashless revolution.
Since moving to South Africa over a decade ago, he has started – and exited – various ventures including a gaming business, an auction website and even a digital agency. Today, he's the CEO of a technology payment platform called Ozow (originally i-Pay), which he founded in conjunction with Mitchan Adams and Lyle Eckstein. The company operates in South Africa and Namibia and is targeted at any of the business and consumer bank account holders in their regions, allowing consumer to make payments on any smart phone or computer.
We chatted to Pays about how he is using tech innovation to transform the African digital payments landscape.
Why did you get into digital payments?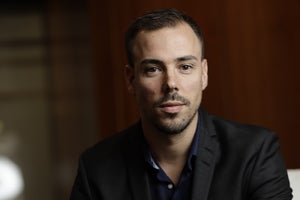 I come from a digital background. Every business I've created has been a digital business. As an entrepreneur, I've always tried to impact as many people as possible and aimed to have the biggest reach possible. When I thought about the evolution of payments over the years – from cash to cheques to cards – it was apparent that there was an opportunity to create something better suited for online payments and transactions. And when I looked into it in more detail I quickly realised that this would be a bigger opportunity, and challenge, than anything I'd ever done before. Ozow wasn't the first business I started so I'd already been exposed to the challenges that come with entrepreneurship. What I've learned over the years is that any new business must address a real need and remove friction for your users. These two elements are important if you want ensure uptake and if you want repeat customers.
What role do digital payment methods play in the economic development of Africa?
For us it's about empowering people with an easier way to pay. Providing something that they would never have thought about or been exposed to before. It's also about ease of access and simplified banking for everyone. If a large percentage of South Africans have never transacted online before, you need to factor these facts into the products you create. In Kenya, M-Pesa is the poster child of a great [mobile-based] fintech company but it was not successful in South Africa. So you need to understand the market. In some rural areas in South Africa, people have to take two taxis and travel for over an hour to buy electricity or airtime.
What tools and technologies have proven an integral part in creating Ozow?
We built all of our own IP in the Microsoft stack and everything is bespoke to Ozow. Our biggest challenge is around scalability. This has been very important for our platform. As a business, we initially started buying our own hardware and we had our own hosting environment. But we're not an Internet service provider so this became a bottleneck whenever we were looking to expand. Every few quarters, we'd have to spend millions buying more hardware. Amazon approached us to help with our scalability issues and that changed our business overnight because cloud offered unlimited scalability. At the beginning of April this year, we had almost 2000 concurrent transactions on the Ozow platform. Without AWS we would not be able to achieve this. Obviously we also have our own private network and private cloud environment for certain things, which is essential in the payments industry where security is of the utmost importance. For us, it's important to focus on what is core to our business and then partner with the best of breed to support us in the areas where we don't have the expertise. We are currently working on some projects using big data, predictive analytics and artificial intelligence. These technologies will enable some of the innovations we'll be releasing later in the year. But I can't share too much because it's a bit of a confidential subject at the moment.
You've been described as a serial "techpreneur". What are some of the lessons you've learned?
I think the most important lesson I've learned is don't let the problem get the better of you. Like an athlete or the CEO of a big enterprise, you need to train your brain to manage stressful circumstances. I wish someone would have taught me this 10 or 15 years ago so I wouldn't have spent so long being consumed by doubt when I failed. The reality is that some things succeed and some fail. It's how you respond to those experiences that is so important. You need to think of every failure as an opportunity to do better.
What advice would you give to aspiring entrepreneurs?
Thomas: In any business – if you're in it for the money, you will fail. Starting a business is a journey of many ups and downs. Unless you have passion and love for what you do, money alone will not provide you with the drive to keep going when things get tough. Entrepreneurs have a responsibility to empower the sectors they serve and if you're not 100% passionate about what you do, you won't deliver. I enjoy solving problems and developing solutions that will have an impact for millions of people, which is why the work I'm doing right now is such a great fit for me.