As one of the largest IT service providers in the world, Capgemini already had the basic IT infrastructure for business continuity in the Netherlands during the coronavirus lockdown, but learned that it had a lot more to deal with, including communications and business processes, when it came time to migrate its 6,000 employees to remote work from home.
The company has six office locations in the Netherlands, with the main one, in Leidsche Rijn, offering around 1,500 workspaces. Only a few staffers have permanently assigned desks, and even on busy days not all workspaces are occupied. That's not because people work from home as a standard practice, though staff occasionally do so, but because most Capgemini employees are located at clients. Most customers prefer it that way, either because their own company culture demands it, or for basic pragmatic reasons such as security
So the company faced a huge challenge when the Dutch government announced the coronavirus lockdown measures on 16 March. Virtually all employees, apart from a very small number who had to work from the office for business-critical tasks, had to work remotely. Not just for the typical day or so, but for an uncertain period of at least several weeks. Above all, it was important that services for the hundreds of clients that the company has in the Netherlands alone could continue without disruption.
To meet that challenge, which it managed to do in a week, Capgemini defined three pillars for the creation of effective and responsible home workspaces: health, processes, and infrastructure.
Staff health comes first
Capgemini says even in normal circumstances they pay a lot of attention to the health of their employees. For example, a so-called ergo kit is available on request for employees when they work at home. The kit offers amenities such as laptop holders, keyboards and headsets to help workers create an ergonomically sound workplace.
Given the circumstances, more was needed when the pandemic hit. Under the leadership of Annelies Hermens, group environment lead, within a few days a lending system for office equipment was set up to provide employees with ergo kits, office chairs, a monitor and even – if they had the space at home — a height-adjustable, sit-stand desk.
A key lesson learned from this program was the need to repeat information about the offer: not all employees immediately made use of it. "You have to keep offering it again and again," says Hermens. "Whenever we brought this facility to their attention again, there always was interest from employees we did not hear from initially." A certain learning curve may have played a role in this — after just a few days, the ergonomic deficiencies of that laptop on the kitchen table come into focus.
For interested employees the company, in collaboration with regular supplier ErgoDirect, made it possible to purchase ergonomic aids at an attractive price. In addition to physical and software aids (such as the standard implemented Work & Move software of the same supplier),- Capgemini also provides a daily bulletin with tips on the importance of moving around sufficiently during the workday and on the correct use of ergonomic tools.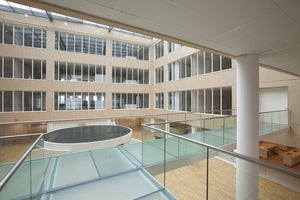 After the initial period of coming to grips with remote work, the focus shifted from ergonomics to the importance of general vitality and health in the new working environment.
"Phase 1 was ergonomics, Phase 2 was 'How do you keep it up?'," Hermens says. "The question 'How are you doing' is central to this: how do you take care of yourself, how do you stay in contact with others, how do you get through this period?"
For many people, certain things turn out to be difficult: setting limits, taking the time to take care of themselves. Truly relaxing is challenging when working from home for a long period, when work and private life can blend to the point of becoming indistinguishable. To help employees deal with this challenge, a webinar was created for them as well as their partners, both live-streamed at several different moments and as an on-demand video.
'Everything liquefies under pressure'
Ronald van den Berg, Capgemini Netherlands' chief operations officer, points out that what was remarkable was not just the fact that it was possible to continue services with 6,000 employees working from home, "but also the flexibility of our customers." Many customers are large companies and government institutions, where working from home had never been an option, mainly due to privacy and security issues. However, "under pressure everything liquefies," as Van den Berg puts it. Security issues aside, the experience of a variety of companies has by now conclusively demonstrated that remote collaboration is possible and an effective alternative, even for these up until now reluctant customers.
For Capgemini, everything for which face-to-face interaction was previously seen as a prerequisite is now done remotely: intake interviews with customers as well as onboarding new employees. This turned out to be surprisingly feasible in practice. In many projects, working remotely is even rapidly proving to have benefits. For example, productivity sometimes increases; meetings become shorter and more efficient, partly due to necessary new ground rules (no talking over each other, the use of a moderator). As a result, many meetings that used to take place in person can now take place virtually, from project team meetings to management meetings with business units, to agile development team stand-ups.
Attention to business processes, communications and the overall impact of working remotely on employees remains crucial, Van den Berg says. "Everything is about communication now." There are people who struggle with having to work in the confines of the same location as where they live, but issues also arise for people with families with young children, or a partner who works on the frontlines of COVID-19 care. Sometimes people work in shifts, alternating care for the children, which adds an extra level of intensity, just as working alone remotely takes its own toll. "Communication is key to keeping an eye on people," says Van den Berg. Programmes have been set up to support people who need help. For example, a rapid response team is available to assist where necessary.
A key lesson learned in the migration, though, is that many people show independent initiative to meet the challenges of a new situation. The younger employees in particular appear to be very inventive in, for example, linking up different tools. At the same time, management has a natural tendency to direct and control more as the physical distance increases. "That creates an area of tension," Van den Berg says. "Finding a balance between staying in control while continuing to encourage creativity and sharing initiatives is an important concern for the company."
Safeguarding infrastructure at home
Since Capgemini already had IT infrastructure in place to enable staff to work from home, the big difference from the normal course of business for the tech staff was above all scale. "Technically, there were no real challenges," says Lout van Montfort, managing director of cloud infrastructure. Minor adjustments to the infrastructure included "increasing the capacity here and there a bit," Van Montfort adds.
This also applied to customer support: Capgemini uses a parallel infrastructure by default, with a separate managed VPN and a redundant connection to each customer. Just as it did internally, the biggest effort for clients involved providing information, including publicly accessible webinars, to help clients' employees adjust to working from home wherever possible. One example is Eneco, the third largest energy company in the Netherlands, which could continue providing services thanks to its employees working remotely.
Security, though, is an issue, even where there are no major concerns regarding the security of connections while working remotely. "The risk is about when people return to the offices," Van Monfort says. "They do not stem from using other networks than usual or from specific attacks, [but] from an enormous visible increase in the amount of phishing activity." The assumption is that using this route, malicious parties will use these unusual circumstances to install trojans, which will only be activated when employees return to the office workplace. Capgemini is already working to set up services to prepare for this, so that internal networks can continue to be secure in the future.
40,000 laptops for India
Though Capgemini's IT infrastructure in the Netherlands allowed it to focus on employee services, communications and processes, this was not the case everywhere. Of the company's 270,00 worldwide staff, no less than 120,000, most of them developers, are in India. Forty thousand of these employees worked on desktops – and needed laptops as soon as possible. The company collected all the laptops it had available internally around the world, purchasing the rest, to equip everyone for remote work just before a lockdown came into effect. The company also faced infrastructure challenges for working from home in areas such as software licensing, bandwidth and firewalls, requiring it to focus on scaling these up quickly.
Back in the Netherlands, even with infrastructure in place, some Capgemini customers were forced to come to a standstill after the lockdown measures were announced, though "the IT activities rarely really shut down; that would be a risk no company can afford," Van den Berg says. In these cases, Capgemini's focus is on continuing to help these companies to make the necessary adjustments to continue business.
This is nowhere more evident than in the retail sector, where the most visible effect of the pandemic measures is that the move to "digital" rapidly became even more urgent than it already was. As Van den Berg puts it: "Amazon has 100,000 vacancies." For everyone in sales, maintaining the supply chain is crucial; Capgemini provides these customers with 24/7 support to help guarantee the supply chain stays operational.
Because governments worldwide took a similar approach to the pandemic – including social distancing and lockdowns – the effects on business generally were also comparable. Van den Berg confirms that a familiar picture emerged in consultations with European COOs. The retail and hospitality industries have taken especially big hits, for example, with supply chain issues affecting just about every sector.
Interestingly, Capgemini's geographical coverage allowed it to observe that in those countries in Europe with the highest COVID-19 infection rates — Italy and Spain – the crisis seemed to spark exceptionally high motivation to overcome challenges, resulting in a more limited impact on the business of its clients than in other countries.
Lessons learned mean change in the future
Perhaps the most important lesson from an operation that Capgemini in jest refers to internally as "off-shoring at home," is that with the new way of working, a new mentality arose as well — from the younger employees coming up with creative solutions, to customers who are open to remote work as never before. The need for communication and cooperation was and is widely acknowledged.
All signs point to a lasting change. This applies not only within Capgemini, but also to its customers, where there's a growing awareness that more change is possible than was thought, and that there are advantages to this forced transition — for example, less time lost due to travel and commuting.
Of course, not everything is inherently suitable for this new way of working. Workshops, for example, benefit from a certain creative energy that is more easily evoked when the participants are physically present. The new normal is expected to be a fusion of both old and new ways of working, but for now Capgemini's business continues unabated, even as its offices lie empty.