Conn's HomePlus CIO Todd Renaud spent the early days of the COVID-19 pandemic's office shutdowns and store restrictions "just trying to get through the next day." One month later, he's setting his sights on what the next new normal might be, and what it will mean to the appliance retailer's IT strategy over the next year.
"I'm going to assume that our remote workforce will be a larger percent than it is today," he says. "How will that impact the company, assets and data? I'm thinking about the impact in our stores if we continue to have restrictions on the number of people" inside and other safety requirements. For example, Renaud is considering videoconferencing capabilities that could enable customers to virtually walk through the store with a sales rep serving as a guide to simulate an in-store sales experience.
"The unspoken expectation is of me staying as far ahead of the curve from a technology and an impact perspective as I can," Renaud says.
That same expectation has been heaped onto most CIOs as organizations look to technology to help them pivot quickly. The coronavirus pandemic is affecting IT leaders' roles and priorities, and forcing them to consider its long-term impact on their IT organizations and on business as a whole.
An IDG survey of 414 IT leaders in April found that most budgets will either hold steady or increase in the next 12 months. They also expect a renewed emphasis on operational efficiency, expense management and cost controls. Meanwhile, business collaboration, hiring and training will take a back seat in the coming months. CIO.com compared these responses to its 2020 State of the CIO Survey, which posed similar questions to IT leaders in September 2019 about their organizations' IT budgets and priorities for the coming year.
Here is a deeper look at how IT priorities have shifted since the coronavirus upended business operations — and how several IT leaders are responding to the challenge of uncertainty in the months ahead.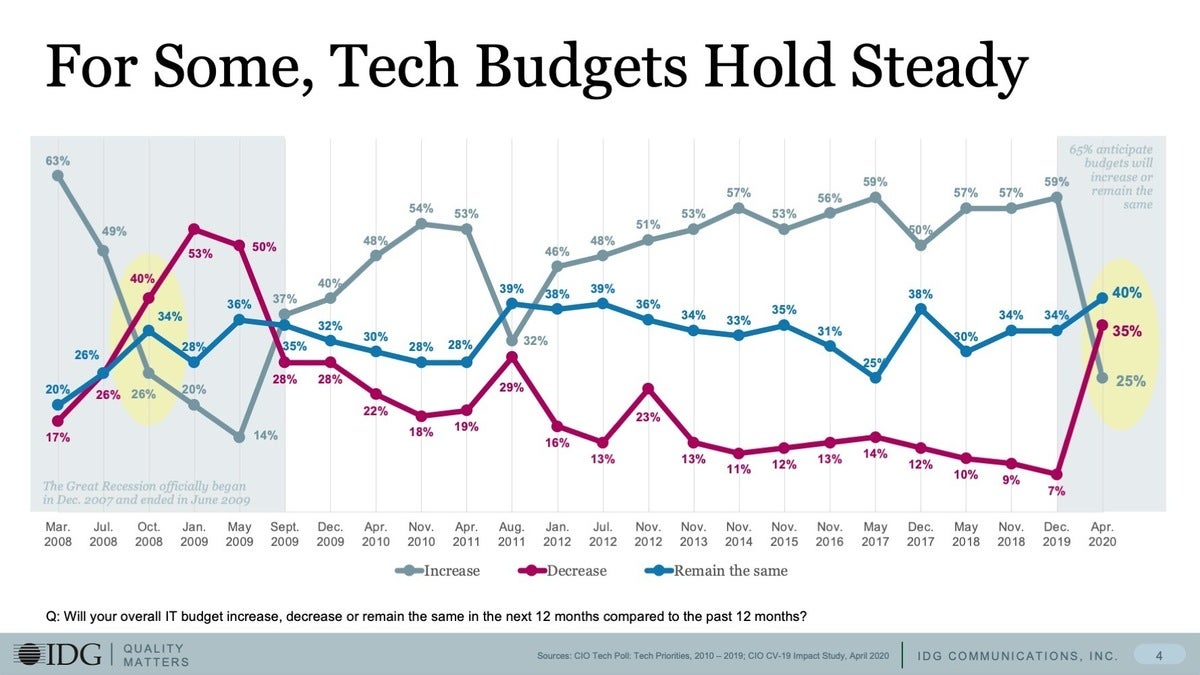 Budgets hold mostly steady — while initiatives accelerate
Some 40 percent of IT leaders say their IT budgets will hold steady. Only 25 percent say their budgets will still increase in the next year, down from 59 percent who believed so in September.
Some of the budget increases are being used to ramp up remote work capabilities. At mortgage servicing firm NorthMarq, CIO Dan Ritch suddenly had to enable 500 employees to work from home on infrastructure that was set up for only 165 remote users. In three weeks, the firm put $150,000 of core infrastructure in place, extended its Citrix environment, added a new Citrix VPN, and purchased 50-plus laptops for remote users, a capital investment that was planned to take place over 18 months. "We've been able to put a sense of urgency into the infrastructure investment," Ritch says.
More than one third of IT leaders (35 percent) say their IT budgets will now decrease in the next year compared to the past 12 months, as a result of COVID-19 disruption. That's up from just 7 percent who had planned to decrease IT budgets when surveyed in September 2019.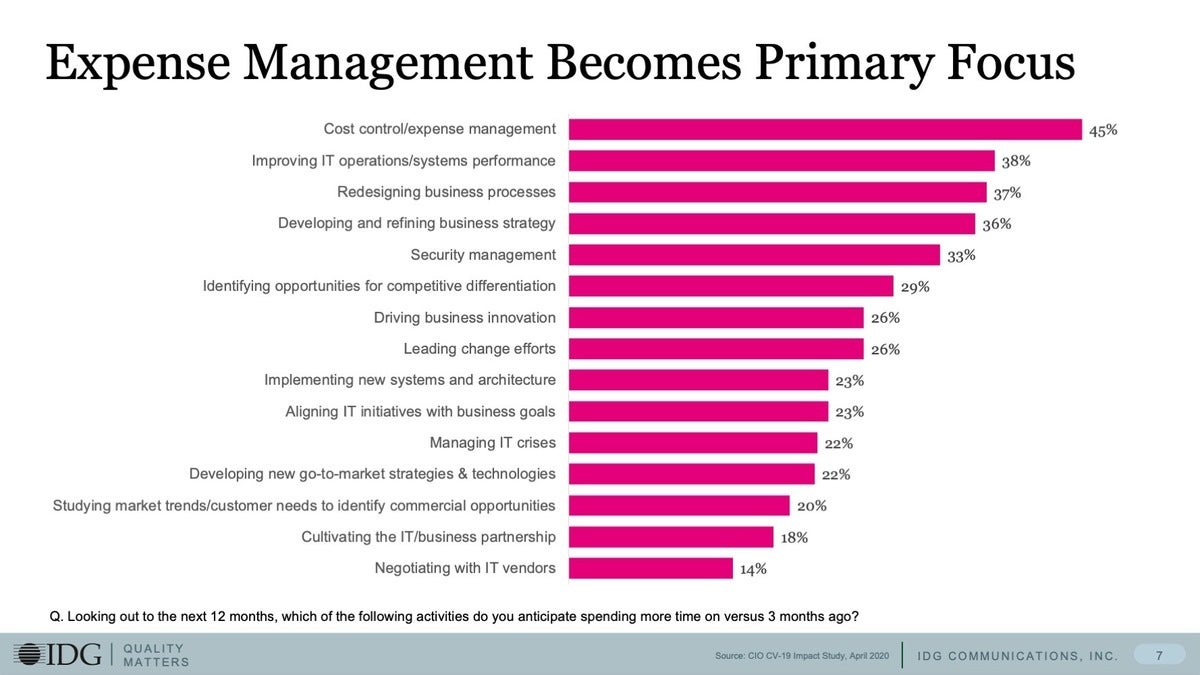 With no clear timeline for a return to "normal" business, IT leaders say they'll focus long term on cost control and expense management (45 percent), up from 29 percent in September 2019. With that, IT leaders also expect a bigger emphasis on increasing operational efficiency, according to 37 percent of survey respondents, compared with 24 percent in September.
Operational efficiency had always been on CIO Bron McCall's mind at Extra Space Storage, especially when it came to enabling remote lease-signing for its storage units to save additional paperwork and physical steps. "I've been talking about that for years, but we had become hesitant to change processes that were already working well," McCall says.
But when COVID-19 temporarily shut down offices, executives quickly came on board. "Within three days we were able to deploy remote lease-signing capabilities for customers," from development to testing to releasing code into production. "That cycle time is what people hope to have with DevOps, and we're actually realizing it," McCall says. "I also realized that if we were all onboard with doing something, how quickly we could do it when we took down all the barriers."
Overhauling business processes, rethinking the future of work
More than a third of IT leaders (36 percent) say they're now redefining what business processes will look like going forward, up 13 percent from September, even though much of the new normal has yet to play out.
"There's more tolerance now" for new business processes, says Ann Joyce, who has spent the past 17 years as a CIO, most recently at Chico's FAS and Aeropostale, and before that as a VP at Ralph Lauren. "There is more of a speed-to-market, fail-fast type mentality today," she says.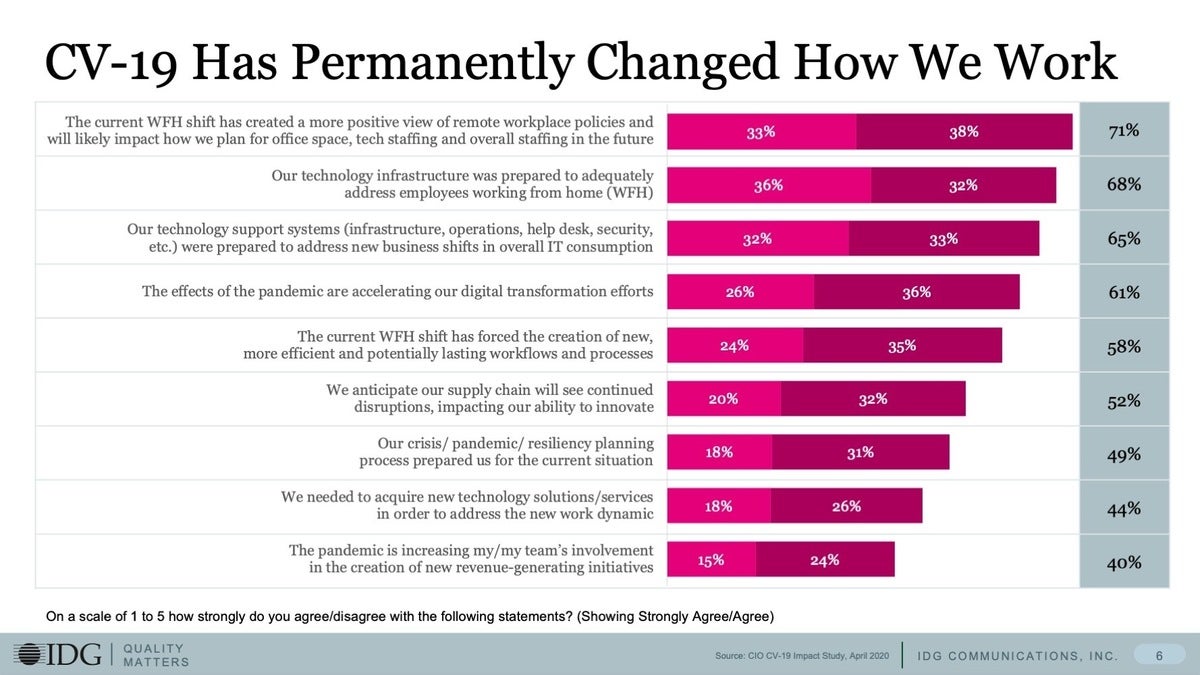 The quick shift to remote work is another example. In March, Blue Shield of California was able to mobilize its 7,000 employees to work from home within four days. Until that time, "people were worried about work from home," says CIO Lisa Davis. They lamented that they needed to have workers in the office and feared its impact on service levels. It would also lead to a loss in productivity. But so far, working from home hasn't impacted the insurance provider's services levels, and productivity has actually improved, she says.
"It has us all rethinking the future of work," Davis says. "When we're allowed to come back, do we really need that many people in the office? Do we really need the real estate we thought we needed?"
The answer gets complicated when considering enterprise risk management and compliance issues, she says: "Our attorney said this morning that there are zero compliance complaints filed. You would think this is a good thing, but nobody is seeing anybody in the office, so nobody is reporting things that aren't being done correctly. It's being done remotely, so that's not necessarily a good thing."
A majority of IT leaders say their organization's current work-from-home situation could permanently change how they work, with 71 percent agreeing that the work-from-home mandate over the past few months has created a more positive view of remote work policies and will likely impact how they plan for office space, tech staffing and overall staffing in the future. In fact, CEOs have made "improving the remote work experience" a new top priority for 37 percent of IT leaders, tied with leading digital transformation initiatives.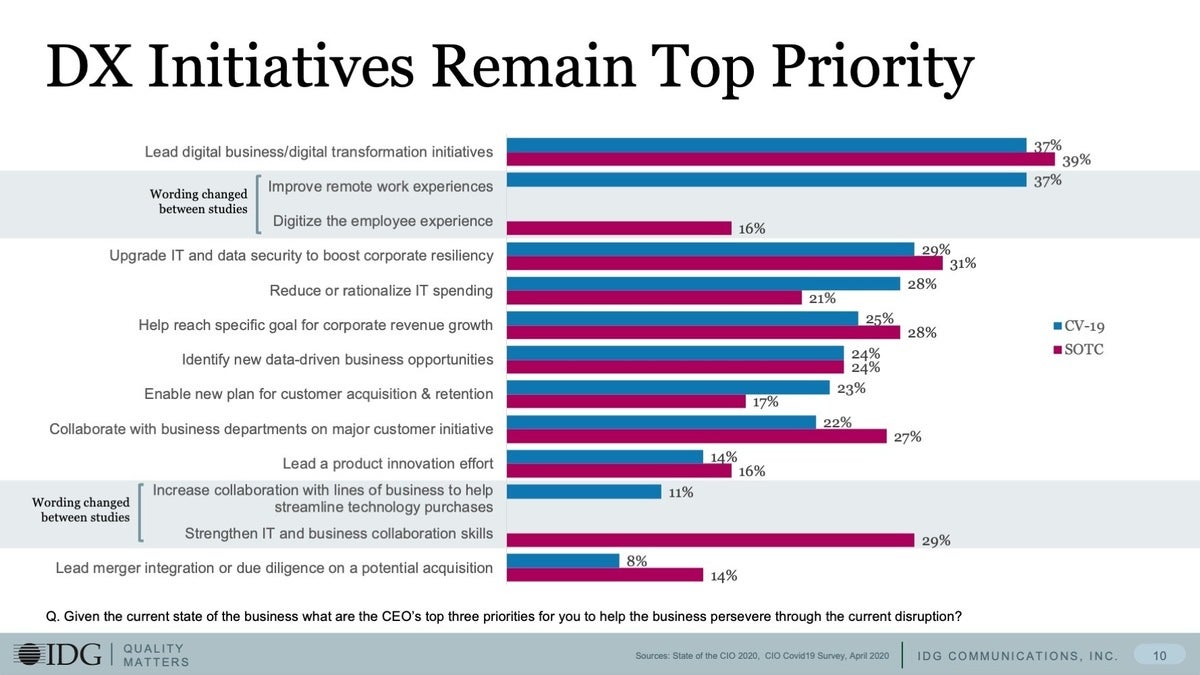 Business-IT collaboration finding a new balance
Renaud knows he must now be pragmatic about what IT spends its time and resources on going forward. That means "I might have to make hard decisions in partnerships with the business and say, 'This is what we can and can't do,'" Renaud says.
In the survey, just 23 percent of IT leaders are now focusing on aligning IT to business goals, down 21 percentage points from September. "Some projects could be valuable, but not as much now," Renaud adds.
Plans to collaborate with business units in general are declining. Just 18 percent of IT leaders expect to spend time cultivating IT and business partnerships, but remote work could be part of the reason why.
Ritch joined NorthMarq in October as CIO and senior VP. Just as he was making headway with collaboration, employees had to retreat to working from home. "I have 65 managing directors and all our new associates. I made a list and called every single one of them," Ritch says. "I had a chance to say where we were, what we're doing, here's where we're going." But for now, all meetings are handled remotely, he says.
Some CIOs are being hired by companies in the midst of stay-at-home orders. "I spoke to a colleague last night who is onboarding remotely, so if you you're thinking about how you're going to influence and build those relationships, that can be difficult," Joyce says. But for veteran CIOs who have already built relationships with the business, "if you're moving faster and making policy decisions as quickly as you are — those relationships are actually more important than they've ever been."
Davis agrees: "It is critical for organizations to have an IT and business integrated partnership. Opportunities for automation and digital transformation have become must-do's in this work-from-home mandate."
Joyce sees a potential silver lining to all the uncertainty brought on by the pandemic. "The new normal is going to mean a big business shift that will create opportunities," Joyce says. "The Great Recession of 2008 brought much innovation and new normals that built some pretty big companies, so what will come out of this?" Determining what those opportunities are, and who takes advantages of them, is up for grabs.