Now that New Zealand has emerged from lockdown, and we have survived, if not thrived, from government leadership that has embraced positive, assertive and non-ideological actions (with a few stupid exceptions), it's time to take stock of how we responded to COVID-19 and yes, celebrate!
I know bad news sells… I know we have been and will be bombarded with the woes of our current situation and our future plight, but I'm sorry, my experienced, insightful and considerate ICT leadership colleagues – I'm not having a bar of it.
Over the past two months our ICT teams have performed miracles! We have taken "agile" and given it a new, nuclear level of energy. We have had, for the first time in my 40 years of ICT career, substantial, sincere and categorical acknowledgement of our people's pivotal contribution to the critical sustainment of the viability of our business. Unbelievable!
If we were calling people to the podium, first and with total approbation would be our country's medical staff, our first responders and our rest home carers, who have proven their dedication to be way beyond the concept of "vocation".
But second would be our people, the ones who have maximised our societal ability to carry on in the face of the whole country being jailed for a month or more.
This has been acknowledged by many of our executives, and (while carefully avoiding accusations of cynical manipulation), absolutely needs leveraging to the max!
So where to from here? What have we technology leaders, futurists and digital transformers learned?
We've learned that laptops are really good if you have to get out of the building, and they don't cost much more these days.
We've learned that "home office" can work in a pinch from the kitchen table.
We've learned that it's a different game if you're concurrently dealing with young kids or toddlers.
We've learned that from a standing start, we're far more adaptable than we would have given ourselves credit for before all of this began.
We've learned fast, we've learned agile.
We've learned, "Go early and go hard!"
…. And we've also taken up "be kind" in ways that we'd never have imagined. Do you now say "thanks" when a fellow walker steps onto the road to give you the appropriate separation? "Be kind!" is part of our awesome new normal environment.
Okay, as the cliché goes, all of this and a PayWave flash of about five bucks will get you a coffee! But practically, how do we optimise our experience for the future?
Well, to me it's always been about adaptability… about pivot, about ready, fire, aim…
The New Zealand wine industry is looking down the barrel of its primary markets being in disarray. Australia – well they look okay…ish. The UK – hopefully has hit the infection peak but is still very, very scary. USA – goodness knows but definitely couldn't be described as a good prospect in the short or medium term. Europe… I don't want to go there anytime soon.
Well – China has a market of 1.4 billion consumers who are becoming more enthusiastic about the high-quality consumer goods that countries like New Zealand produce (like kiwi fruit and crayfish for example) and most importantly, are prepared to pay top dollar for top quality! Our current penetration..? Minimal. It's a gift product, not an everyday use product… But we can change that.
To be clear, this is not about geopolitics, this is about commercial opportunity.
Pivot, agile, fail fast…. Carpe diem! This certainly feels familiar to me.
So with that albeit lightweight pass on the broad commercial environment, what about our ICT environment?
Here are the short, hard lessons we've taken:
Cloud… go cloud… we've bleated about the cost, the security, the lock-in, the confidentiality and the administration, but when the s**t hit the moving blade…. cloud worked… and on-prem legacy crap sometimes didn't! It doesn't matter what cloud… by all means optimise for your own environment, but … go cloud!
Tech debt… If you can't access your stuff, you're stuffed!
The cost of getting off your outdated hardware and applications is the best insurance spend you'll ever make. If the case for having a contemporary kit is not obvious to your executive now, I guess you can be satisfied and thankful that you're still in business.
We do business cases for initiatives, for new expenditure and for applications and hardware, and the theory is, we also consider "the cost of doing nothing".
The reality is nobody is held to account for stopping initiatives, for delaying expenditure or for the net present value of delaying investment. It's typically buried in the business case at about page 23. When your colleagues say 'stop' – we all need to make them personally accountable for the wait. If it proves profitable to not do something… great, but unlike the past… the delay needs to be accounted for.
No rising phoenix, but a gear change
We are not at Armageddon. We are not in the ashes of a fire, from which a phoenix needs to arise, but we are at a crossroad that we can choose to follow.
I'm watching the work from home concept bumping into the historic command and control mindset, even though our productivity has actually increased while we've worked from home. I'm seeing management working on how we get back to the old normal rather than embracing and charging toward the new normal.
I'm watching colleagues looking around and saying to themselves, "Why have I spent an hour or more in traffic every day when I can be just as or more effective working in my study?"
… and I'm thinking… this is an awesome time to be in digital transformation!
In conclusion…
The best line I have heard in our weeks of lockdown was the following multi-question:
Has your organisation's digital transformation been primarily driven by:
a) Your CIO
b) Your CDO
c) Your business line leadership
d) Covid-19.
My friends and colleagues… we have proved our value over the past weeks and months, and we now have the awesome, frightening and brilliant challenge of leading our organisations into the new normal!
Go early, go hard! … and be kind.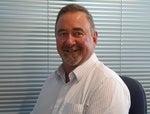 Vaughan Robertson is group manager – technology strategy, 'designated futurist', and technical fellow in emerging technologies at Beca, New Zealand's largest professional services consulting business.