The coronavirus pandemic will force Middle East enterprises to hit the brakes on tech spending this year, though cloud initiatives will likely be a bright spot as CIOs look to save cash and make cuts primarily in expenditures on end-user hardware, on-premises data centre systems and IT services, according to Gartner.
Overall IT spending in the Middle East and North Africa (MENA) will decline 6.12 percent this year, to US$147.8 billion, according to the latest forecast from the market research firm. That's a big difference from the 2.4 percent growth Gartner predicted just a little over three months ago.
Still, it's not quite as bad as the 8 percent global decline in spending that Gartner is now forecasting. "People think IT spending is tied to GDP – it's not. It's about the mix of industries in a particular country or region," said John-David Lovelock, research vice president at Gartner.
The hardest hit industries globally — such as entertainment, tourism, air transport and heavy industry — will take over three years to come back to 2019 IT spending levels, Gartner predicts. Meanwhile, though the oil and gas industry – a big revenue driver in many MENA countries — is taking a big hit due to an ongoing price war and a drastic drop in demand as global lockdowns reduce energy consumption, the Middle East can still at least produce oil more cheaply than it costs to sell it, Lovelock noted.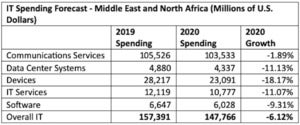 "The Gulf states will be making less money on oil, not losing money" Lovelock said.
There will nevertheless be pressure on MENA CIOs to cut costs. "In this environment, cash moves from being king to being emperor," Lovelock said. As revenues drop, enterprises will need all available cash on hand to keep the lights on and business running.
The first area that CIOs cut is usually end-user devices like smartphones, laptops and desktop computers, Lovelock said. Spending on devices will suffer the biggest cuts this year in MENA, declining 18.17 percent year over year to$23 billion, Gartner reports.
Spending on IT services and data centre systems — servers, networking equipment, storage and unified communications – will decline about 11 percent, Gartner said.
Communications tech needed for remote work
Corporate spending on communications services will decline less than any other major IT category, dropping 1.9 percent to $103 billion, Gartner said.
"Companies need to optimize to enable social distancing" Lovelock said. Strict lockdown practices in the Middle East have led to remote work and an easing of government restrictions on VOIP products like Zoom, and Skype. "The idea of being connected via mobile may come to be seen as a right, not a product," Lovelock said.
Gartner is forecasting spending on software to decline 9.3 percent to $6 billion, though SaaS and cloud technology expenditures are more likely to be spared than spending on other technology.
"If you are paying as you go for cloud services, you are not going to get them if you stop payments," Lovelock noted.
Long-term digital transformation projects – often involving cloud technology – will be likely put off this year. But initiatives that are already under way and aimed at cost efficiencies and reductions in cash outlays are likely to be spared from the chopping block, Lovelock said.
"Cloud spending levels Gartner was projecting for 2023 and 2024 will now be showing up as early as 2022," Lovelock said.
Globally, public cloud services will grow 19 percent in 2020, Gartner said. A breakdown was not immediately available for the Middle East.
Digital transformation remains a necessity
Gartner's analysis of digital transformation initiatives, including cloud technology, are echoed by a number of sources. For example, recruitment and staffing agency representatives say that IT jobs involving cloud and virtualization technology are currently in demand in the UAE.
New regulations requiring companies to offer online payments, and an increase in online shopping, are pushing companies in the UAE, Saudi Arabia and other countries in the region to adopt technology for e-commerce, often supported by cloud tech.
The pandemic, which has caused Gulf countries to enforce lockdowns and businesses to scramble to set up technology that allows staff to work at home, will lead Saudi Arabian enterprises to increase their use of multicloud computing environments, according to a recent IDC survey.
Ultimately, the pandemic is not likely to derail the long-term trend, especially among energy-sector companies, to undertake cloud-based digital transformation. Enterprises around the world are deploying sustainable-energy technology designed to reduce reliance on oil in an effort to curb greenhouse gas emissions; MENA governments and energy enterprises have known for a while that long-term, they will need to embrace emerging technology that will help them diversify economically.
As Shumon Zaman, a long-time UAE-basec tech executive recently told CIO Middle East, "To compete and deliver greater value, digital transformation is critical to survival – organisations operating in the industry need to change the old modus operandi and adopt digital technologies or face extinction."