Growing up in Turkey, her parents recalled that when a repair person would come to their house, Figen Ulgen would just stand by and ask questions.
"I have always been a curious person," says Ulgen, who parlayed this into a career as a data scientist, having completed a PhD in machine learning and stints at Intel, Microsoft and McKinsey.
Ulgen now heads analytics and insights at Woolworths NZ, which operates Countdown supermarkets. So how did she get into technology and right into one of the hottest areas in ICT, data science?
"I give my brothers credit for always challenging me," says Ulgen. "They were seven years older than me, so I always got challenged. For everything, I had two choices, I can buckle down or I can rise up to the challenge. I always end up rising to the challenges."
Her parents encouraged her to think this way, too. "They put no limits in front of me. I did everything the boys would and my dad would always joke, 'you would see what they do and see if you can do it better.'"
Ulgen studied computer engineering at university. "I want to solve hard problems, and engineering sounds like a course where you solve hard problems," she says. "How can you push the boundaries of what you don't know? How do you make the unknown, known? How do you open up unknown territories?"
Even after completing her PhD (where she met her husband, a New Zealander) and already working, she went back to university to get a certificate on data science. She had wanted to brush up on her PhD topic and on new programming languages and frameworks for machine learning.
"I found it useful, just to keep your technical edge. I don't want to be hands off; I want street credibility in what I do in the technical jobs I have. As a woman, you get discounted anyway. So, it's good to have your technical backup with you."
Dr Figen Ulgen, data scientist, speaks out
She remembers an incident, where she was the only woman in a very technical crowd. The speaker looked at the group, then at her, and said, 'Is this too technical? Should I dumb it down?"
"I said, no, you can actually amp it up," said Ulgen. The people around her laughed. "They knew I had a PhD and I was probably more technical than the guy who was talking."
"My mentors, most of them were women, were very strong, beautiful, and powerful," she shares. "They told me it is what it is. What you choose to do is what defines you. How can you turn that person's negative energy into something that works for you?"
"I always responded as much as possible with humour, because sometimes people are not aware they say it," Ulgen says of what Gartner analyst Christie Struckman has described as "seemingly small actions [that] can collectively and progressively create a scenario where people feel marginalised".
"If you kind of respond negatively, you can just antagonise that person. I like to embarrass them with that humour," she admits.
Ulgen talks about ongoing concerns in the industry, such as building more diverse teams and meeting the growing demand for data professionals.
"We have to think about the pipeline," she says. "It does not start at university level. It almost starts at kindergarten."
She says this was the thinking behind one of the organisations she supported when she was living in the United States. It was called the Saturday Academy, of which she was a board member. The academy develops programmes to encourage all young people, including those from under-represented and under-privileged communities, in technology and science.
The courses were free, and were designed for children of families who would not have the means to send their children to these programmes. The group would organise minibuses to pick up children from their homes and lend them laptops for long distance learning. Retirees from Silicon Valley and employees in technology firms volunteered to develop the curriculum and teach.
Ulgen is continuing this advocacy of encouraging more students to get into STEM courses and careers. "Do not accept barriers, just persevere," she says, on a constant message to them. "Never even consider you could at any time be less than anybody – man or woman. You always have to have this belief in yourself, in what you know. What you think matters, you matter."
Hilary Walton: Psychologist, author, chief information and security officer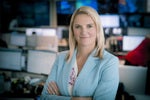 Like Ulgen, Hilary Walton is no stranger to working in teams, where she is the only woman or part of a minority group, and is deeply aware of the need to create an inclusive culture.
"I'm used to pushing boundaries as a senior female in the technology and security industry, juggling three children and full-time work," says Walton, the first full-time chief information and security officer at Kordia. Before this, she was with Airways New Zealand, overseeing ICT, digital strategy and transformation.
In a previous role, she recalls how her male colleagues would use terms that would be "very masculine". In one particular incident, they used what she considers a rude term to describe how hard they were all working. This prompted her to ask, "Hold on, do you know what that word means?"
She also recalls a time when after working on a project, her colleagues organised a craft beer drinking session. She was the only woman in that team and her colleagues apologised for not inviting her as they were going to a local pub.
Walton spoke to her colleague who organised it, and "he was really embarrassed". The following week, the group organised a wine drinking session and she joined them.
"Unless you intentionally include people, they get unintentionally excluded," states Walton.
Walton had a decidedly different career pathway to ICT compared to her colleagues. Her psychology background led her to work in risk management, information technology, and security.
She has also worked at the Olympic Delivery Authority in London as a manager in information security and security culture for the 2012 Olympics, and a consultant with Mendas Ltd, where she was seconded to the British intelligence agency, MI5, to manage a security project. She is also the author of How to Build a Security Culture.
These experiences likewise influence her ICT-community related work. She supports programmes that encourage more diversity in the tech sector. She posts regularly on YouTube around the new set of behaviours and ways of the 'digital culture'.
It is important for women to have role models, as she had. She cites how Kordia is progressing more women into technology roles, particularly in security.
She says Aura Information Security, a division of Kordia, recently hired three female staff, while another intern progressed into a full-time job. Kordia also has an analyst who expressed interest in moving to information security and was assigned to the Security Operations Centre (SOC).
Female ICT execs wear multiple hats
Debra Curtis, vice president analyst at Gartner, says often the first female C-level executive beyond the chief human resources officer (CHRO) role is the CIO.
"Female CIOs face unique challenges," notes Curtis. "Although diversity is embraced in the hiring of a female CIO, the same behavioural traits that contributed to her selection often trigger resistance from C-level males in day-to-day interactions.
Female CIOs wear three hats, she states. "In addition to wearing the CIO hat, women must be prepared to carry the torch for advancing diversity and inclusion, efforts to influence corporate culture, as well as fulfil the long-standing role model vacancy for other aspiring women."
Walton concurs, and reckons female ICT leaders probably wear more hats outside of work as well. "They could be child carers or homemakers, roles that create more work – either emotional or physical."
She says in the past, women in ICT and security roles find there simply weren't enough seats at the table or opportunities for them. "You almost didn't want to publicise that you were in fact in a male dominated industry. You just felt 'lucky' to be there."
"Now there is much more of a view that 'when one woman shines, we all shine,' and so being the champion for diversity and inclusion and pushing to change culture is more mainstream," she says.
Taking on this advocacy has its nuances. As Walton points out, "There is the extra work it creates to coach others, or to sponsor or mentor other women, but I believe women do it anyway because they feel great responsibility to do so to make things better for those who might follow.
"Sometimes, it feels like you are walking a tightrope when you speak out on digital and inclusion as you don't want to come across as male bashing, so you have to choose your words and make your points carefully to be heard," she says.
"I like opening up conversations about how we need to also change culture so that it's okay for men to be viewed as vulnerable, who have faults, and are primary child carers or homemakers as well, so that we can truly level the playing field for all, for the betterment of everyone."
Debra Curtis of Gartner has additional advice for women CIOs and in other ICT leadership roles. "Think strategically with a business hat," she states. "Be open-minded and show willingness to learn about your new company and industry. Listen to ideas and ask for feedback, especially from a male sponsor."
"Take time to learn the history, culture, business and C-suite peer personalities in the company," she further advises. "Use what you have learned to nuance your responses to male peers to effectively drive behavioural change, starting in the executive ranks.
"When hitting roadblocks in interactions with C-suite peers, it can be helpful to remind your male peers of the reasons you were hired. Leverage situations in which others—male and female—exhibit the same behaviour to amplify your strengths," she states.
Pick your battles, she stresses. "Nudge things forward at the right moment. Be patient. Corporate culture, especially at the C-suite level, is slow to change.
"Although progress may seem slow, behaviour changes at the C-suite level set the tone at the top and will accelerate change down through the organisational hierarchy. Support and encourage male C-suite peers to build on the first step they've taken by hiring you."