The rapid transmission and fatality rate of COVID-19 has set off health alarms worldwide. Hospitals have accelerated their digital strategies, embracing emerging technologies to help combat the disease.
Throughout the pandemic, telehealth, cloud computing, robots and AI-based chatbots or assistants have been playing a critical role in caring for patients and supporting medical staff. At Cleveland Clinic Abu Dhabi, the hospital's digital strategy — set before the pandemic — became the foundation that enabled the hospital to accelerate the use of a number of new technologies, digital tools and various applications of AI to enhance care for patients and support clinicians.
The facility is an extension of the U.S.-based Cleveland Clinic Foundation, with 364 beds (expandable to 490), five clinical floors, three diagnostic and treatment levels, and 13 floors of critical and acute inpatient units. It was built following an agreement between the Cleveland Clinic and the Mubadala Development Company, which has developed a network of healthcare facilities to provide a range of services addressing the needs of Abu Dhabi and the UAE.
"Cleveland Clinic Abu Dhabi (CCAD) has developed a robust digital health portal to enable patients to easily book appointments and schedule remote visits with their physicians. We launched our 'Virtual Visits' capability through our Health Portal at the start of the pandemic to allow patients to maintain their relationship with their doctor during this time of physical distancing," says Bryan Lord, CIO at Cleveland Clinic Abu Dhabi. "Patients can have a virtual visit with their doctor to discuss any concerns or conduct a followup using video through the Health Portal mobile app or online through their web browser."
Telehealth expands worldwide, and locally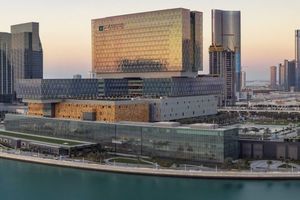 According to a Telemedicine Market Share Report, the global telemedicine market was valued at US$45 billion in 2019 and is expected to increase at a compound annual growth rate of 19.3 percent from 2020 to 2026. The Middle East has one of the highest percentages of smartphone penetration in the world, supporting the rapid adoption of telehealth.
"Since the launch of 'Virtual Visits', we have transitioned 50 percent of our outpatient visits to remote – including both telephone and video – with more than 1,500 virtual visits scheduled from March to April," adds Lord.
In addition, an AI-powered chatbot is available to assist visitors to the hospital's website, from any page on the site.
Cleveland Clinic Abu Dhabi integrated its pandemic response planning into the business continuity plan it already had in place "This has helped us in formulating a comprehensive response and provided continuity of our most critical services during COVID-19," explains Saqib Chaudhry, chief security officer at CCAD. "As part of this strategic preparedness, we had an understanding beforehand of pandemic-related disruptions, which proved to be instrumental in drafting procedures and protocols that expanded beyond the realm of traditional resiliency strategies. "
Central task force set up to deal with crisis
The hospital set up a COVID-19 task force early on during the crisis to centralize and accelerate decision-making. It defined accountability, and was responsible for enhancing situation awareness, timely monitoring and reporting of crucial events. Other responsibilities included the curation and dissemination of
information both within and outside of the organization, and coordinating with the government, external partners and other stakeholders.
Chaudhry explains that to achieve all of this, it was important to give remote access to the employees. "As part of our initial IT design strategy, we invested in technology solutions which provided greater mobility to our non-patient facing staff, enabling them to work remotely and collaborate virtually during COVID-19," Choudry says. "It is imperative for leaders to be nimble"
Once the crisis is over, tech leaders will have the opportunity to conduct a thorough review of business continuity and crisis plans, to improve efficiency and quality, and possibly or follow an iterative process towards implementing new procedures and achieving new goals.
"Regardless of how comprehensive your organization's business resiliency plans are, there are bound to be deviations," adds Chaudhry. "It is important for leaders to keep a detailed log of key activities performed during the crisis (such as de-prioritization of services); particularly ones that were initiated as a response to dealing with unforeseen/unplanned challenges. This exercise will help with updating business resiliency plans to be better prepared for the next calamity."