Org charts and job descriptions tell you what you'd like your IT capability to be, rather than what it actually is. That's according to Richard Elliott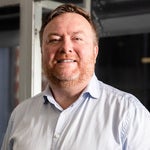 , who has just spent two years mapping 330 roles for the University of Auckland's IT function.
Defining each role in the IT team, then mapping it against the global skills and competency SFIA framework, before aligning it with a comprehensive training program, has been Elliott's challenge.
Elliott says this approach was necessary to create an IT workforce that is match-fit for an age of continuous change, where new technologies are constantly emerging and customer expectations are rising. "The breaking down of the barrier between the workplace and the home is driving higher and higher expectations around what technology should be used for and what it can achieve."
"It requires a mindset shift away from thinking of technology roles in a relatively kind of static way—'I am a developer but I only develop in this particular language, or I work in infrastructure and my area of speciality is just this'—to something designed to respond effectively to continuous change which is essentially going to be the new normal, which we knew even before COVID-19," he says.
The transformation programme began with a function review which brought the IT teams dotted around various faculties, schools and departments together into a single function called Connect. The university has three main campuses (central city, Grafton and south Auckland) with more than 5,000 staff and 45,000 students.
"There were these loosely federated teams that were not necessarily getting the benefits of the sum of the parts being greater than the whole. You couldn't leverage the economies to scale and all of those sorts of things. It was a divergent approach that was making things even more complex and costly, and that's why it needed to be addressed," Elliott says.
Mapping every IT role using the SFIA framework
After bringing together the various IT functions under the one team, the next step was to define everyone's role. "We were seeking to create an organisation that has skills agility and to do that the organisation needed more knowledge and information about the skills that it actually had to hand. It needed some kind of benchmarks and tools and yardsticks to do that," Elliott says.
"Like most organisations, it could really only refer to its org chart and maybe its job descriptions to understand, and that only tells you what you'd like to have rather than what you've got in terms of the incumbents within the organisation. So, we knew we wanted some form of competency framework that gave us a plain-language and consistent way of looking at the skills themselves. And we also knew that if we had that then it would give us the basis and the opportunity to do scenario plans against potentially different futures with different skills being needed to address different demands."
Elliott points out that there are medium- to long-term horizons in technology that CIOs and IT managers ignore at their peril. If you don't have the capability ready to scale in a particular area, you are in danger of being left behind. Elliott points out the university looks to the IT function to deliver the kind of technology that will help ensure its continuing reputation as a world-class learning, teaching and research institution.
Machine learning and artificial intelligence are two technologies playing an increasingly prominent role in product roadmaps, but Elliott says the old organisation wasn't necessarily equipped with the data science and emerging skill sets required to deploy products such as chatbots.
Using the SFIA skills framework, a model for describing and managing skills and competencies for IT professionals, they profiled all the roles in their org chart and asked everyone to self-assess themselves against the profile for the job they were currently in. They used an external organisation, Partner Consulting (now part of IT Professionals), to validate individual profiles with one-on-one interviews.
"SFIA is a rich catalogue. It's got a sophisticated framework which allows you to profile roles in terms of general levels of responsibility, almost in terms of seniority and experience in your career, but also the specialisms that you might have, depending on whether you are an architect or in service management or in user support or an applications developer. So, it allows us to clearly define ideal expectation within any role."
Matching and tracking roles with training opportunities
Elliott describes the process as creating an "inventory of skills" that highlights gaps in capability which can either be filled through recruitment or training. The emphasis is clearly on the latter, as Elliott says it's important to be to grow the skills and expertise of their current staff.
"What we wanted to achieve firstly through SFIA and then through the Skillsoft's (online learning) Percipio platform was being more mobile with our staff, exposing them to more experiences, allowing them to try out new skills and work in different teams," Elliott says.
"It's part of a holistic approach to development which is centred around everybody becoming more cross-skilled. Our desire is to see all of our teams adopt a major and a minor approach to their specialism so that we remove key person dependencies around specific skills. This can sometimes create critical bottlenecks or limit our ability to be agile with a small 'a'."
The Skillsoft investment enabled the creation of a learning academy named ConnectEd, which Elliott describes as a 'rich digital learning portal'. It contains structured learning courses, boot camps and labs, as well as hundreds of audio and ebooks.
"Obviously the investment in ConnectEd means that a lot of this is self-serve but increasingly the line between what is a traditional classroom-based mode of learning versus the more practical-based mode of learning is blurring. There are some pretty sophisticated lab-based environments which actually allow you to practice the skills as you are learning them through this new digital delivery mode," Elliott says.
"This is the paradigm shift that is occurring around learning generally, particularly on-the-job learning, which is that you want it to be a 'just-in-time' type basis. The longer you have to wait from the point where you've learned something in abstract before you can apply it in practice, you get a diminishing return."
Relevance is also important in training, and Elliott says that ConnectEd courses are closely aligned with the way roles are using the SFIA skills framework. It means that each staff member can create an individualised training programme tailored to their development needs.
"We're really impressed with both SFIA and Skillsoft because they did collaborate to make sure that we can map the catalogue and the artefacts back to the framework. So, we've got a high-level curation of that content," Elliott says.
Growing cloud capability using an online learning tool
An example of how this combination of framework matched with training works is the focus on cloud transformation and the need to grow public cloud capability internally.
"We've put a major focus into becoming more of a hybridised organisation by investing in public cloud. We're doing that relatively cautiously because even in the higher education sector some early adopters have been stung by moving too quickly," Elliott says.
"We led early on Amazon Web Services but we're also now making rapid steps to Microsoft Azure as well. We want to be agnostic, so part of our approach is how we use both as well as the on-premises traditional data centre approach. In an organisation like ours, which has such significant static real estate and so many people based in one area, there's a lot of sense in keeping quite a lot of that network and infrastructure within a data centre."
Elliott anticipates that by 2021 they will have seen a "ten- to 15-fold" increase in the number of people trained and able to work confidently across AWS and Azure. It's an example of being able to grow the capability internally, for the benefit to both the organisation and individual staff.
"Ultimately the investment in people and teams has its strategic drivers in terms of a long-term aspiration, which is the ability to maximize the full potential of the inventory of skills and to minimise—or, only where appropriate, refer to—external experts," Elliott says.
"We're obviously going to continue to recruit externally, but we want grow the capability internally as well. We also would like to minimise the number of our great people that want to leave because they're not getting the opportunity to grow."