In today's rapidly changing global workplace, IT leaders are trying to plan for a largely unpredictable future. However, there is one likely constant: the need to be prepared for any possible outcome.
To better support the new world of hybrid working, including from an office, at home, or in the field, CIOs must equip staff with collaboration technology to enable a seamless transition between work environments.
Work has changed, let's make it better
In mid-2019, Nextiva, in partnership with Poly and AA-ISP, asked 1079 professionals to share their insights into how new technology, ways of working, and customer preferences have influenced communication in the modern workplace.
Earlier this year, Nextiva released the results in its 2020 State of Business Communications Report.
The study found people still prefer traditional communication methods such as face-to-face, phone, and email over newer communication methods such as project management tools or chat.
Businesses need communication tools that can address a range of workstyles, environments and situations. The study also found 59 per cent of people use three communication devices at work.
For example, desk phones are a valued tool for business users both in the office and while working from home: 59 per cent of respondents used a desk phone daily and 70 per cent used one at least once a week in combination with mobile phones and UC apps.
The ability to use a Cloud device management service to quickly troubleshoot and resolve a customer's phone connection issue in a matter of minutes – something not possible with a softphone or mobile device – is also important.
It is important businesses ask whether collaboration devices and apps are working efficiently and assess whether the communications tools provided to employees are good enough to keep them productive, engaged, and effective.
With proper planning and equipment, communication doesn't need to falter when employees work remotely. In fact, the opposite can be true. By using a combination of video, phone, email and chat, internal and external communication can be just as robust regardless of the location of a team.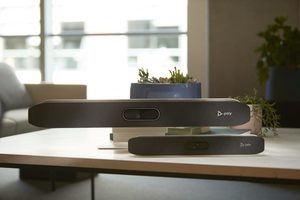 The best tech for Microsoft Teams
Since COVID-19 impacted businesses worldwide, Microsoft Teams has seen tremendous growth in its daily active users – from 32 million in early March to a 75 million by April, and that figure is still growing.
As a certified Microsoft partner, Poly offers Microsoft Teams device solutions for Teams Rooms, video conferencing, phones, headsets, and professional services. With a Microsoft Teams Certified device, staff experience the very best of Teams including, high-quality audio calls, video conferencing, calendar integration, file sharing, and more.
The Poly Studio X30 and X50 now has native Teams already running out of the box, and, if a business already has Studio X, Teams support is just a software update away.
New features include:
Proximity Join – Walk into any available meeting space and join a meeting from your personal device via the Microsoft Teams app.
Leave your Device Behind – Join a scheduled meeting room and, with a simple touch of the Teams button on the TC8, you're in the meeting.
Content Sharing via Teams App – Have something to share during your meeting? Easily share content from a phone or laptop via the Teams app.
Smarter Tech – Poly's advanced MeetingAI uses artificial intelligence and machine learning to combat the common distractions that derail your meetings and intelligently track the speaker.
Best Audio – With Poly NoiseBlockAI and Acoustic Fence common noises such as typing, tapping and paper sliding, are all kept out so the speaker can be heard clearly.
The new technology combined with Insights and Device Management gives CIOs the information they need to make big-dollar decisions about how to equip and manage their workspaces.
No matter where endpoints are deployed, Poly Lens enables IT to inventory and ensures all devices are up to date with the latest software.
Time to perfect the remote work setup
The rapid changes necessary in the current business environment have seen some companies struggle with the rapid shift to remote work, while others found it relatively painless.
With collaboration tools holding-up well, managing a hybrid and, at times, transitional workforce for an extended period of time necessitates a rethink on what today's technology can offer.
After months of remote working, employees now want to improve their home set-up. Requests to management include everything from better headsets to more sizeable displays.
As the hybrid working experience grows, more enterprises have realised it is easy for many employees to be very productive working from home. However, they have also realised the job of managing a remote workforce embraces a completely different skillset to that most CIOs have used in the past.
CIOs have the option of delivering leading endpoint technology with full management features to ensure staff are not left unproductive.
The new era of hybrid work has given businesses the chance to improve staff efficiency and productively. The best technology will accommodate a range of workstyles, whether at home, on the road, in the office, or a mix of all three.
About Poly
Plantronics and Polycom are now Poly, the global communications company that powers authentic human connection and collaboration. Their comprehensive set of smart endpoints span personal and group communication, with a full range of headsets, desk and conference phones, and video collaboration solutions. Bringing the world closer. One to one. One to many. Many to many. https://www.poly.com/au