There are many reasons for CIOs to support competitions designed to encourage girls into technology careers. It helps address the gender imbalance in the sector, it provides mentoring opportunities for their IT teams, and there is a chance they'll assist in the creation of a world-class application.
Those are just some of the reasons cited by Theresa Corballis, New Zealand ambassador for Technovation, a global competition designed to get more girls interested in computer science by asking them to create a mobile app that addresses a social problem.
Technovation is backed by the Silicon Valley companies such as Google, Salesforce and Adobe, as well the prestigious US university MIT. In only the second year that Corballis has run the New Zealand arm of the competition, a local team has made the finals—one of only ten finalists split between senior and junior divisions. The top ten were chosen from more than 1,500 mobile apps submitted by 5,400 students from 62 countries in the competition this year.
App designed to teach young people about politics
Epsom Girls Grammar students Drishti Murara and Anjali Mistry called their team 'Almost Vegan' and created Eunomia, a mobile game designed to teach 18- to 24-year-olds about politics and how the New Zealand government functions.

Named after the ancient Greek goddess of law and legislation, Eunomia asks players a series of questions about what kind of public services they would fund. The app matches the answers against the information supplied by New Zealand's main political parties to find the party most aligned to the player's views.
Murara says the idea came about when they were discussing the 2020 general election and she realised that, despite being eligible to vote for the first time, politics bored her. Mistry—whose 18th birthday falls after the 19 September 2020 New Zealand election— thought she should take more of an interest, and the idea for the app was born.
"We're at that age where we have to decide who we have to vote for, and we realised we aren't exactly educated on how the government system actually works, so we wanted our peers to also have that information too," Murara says.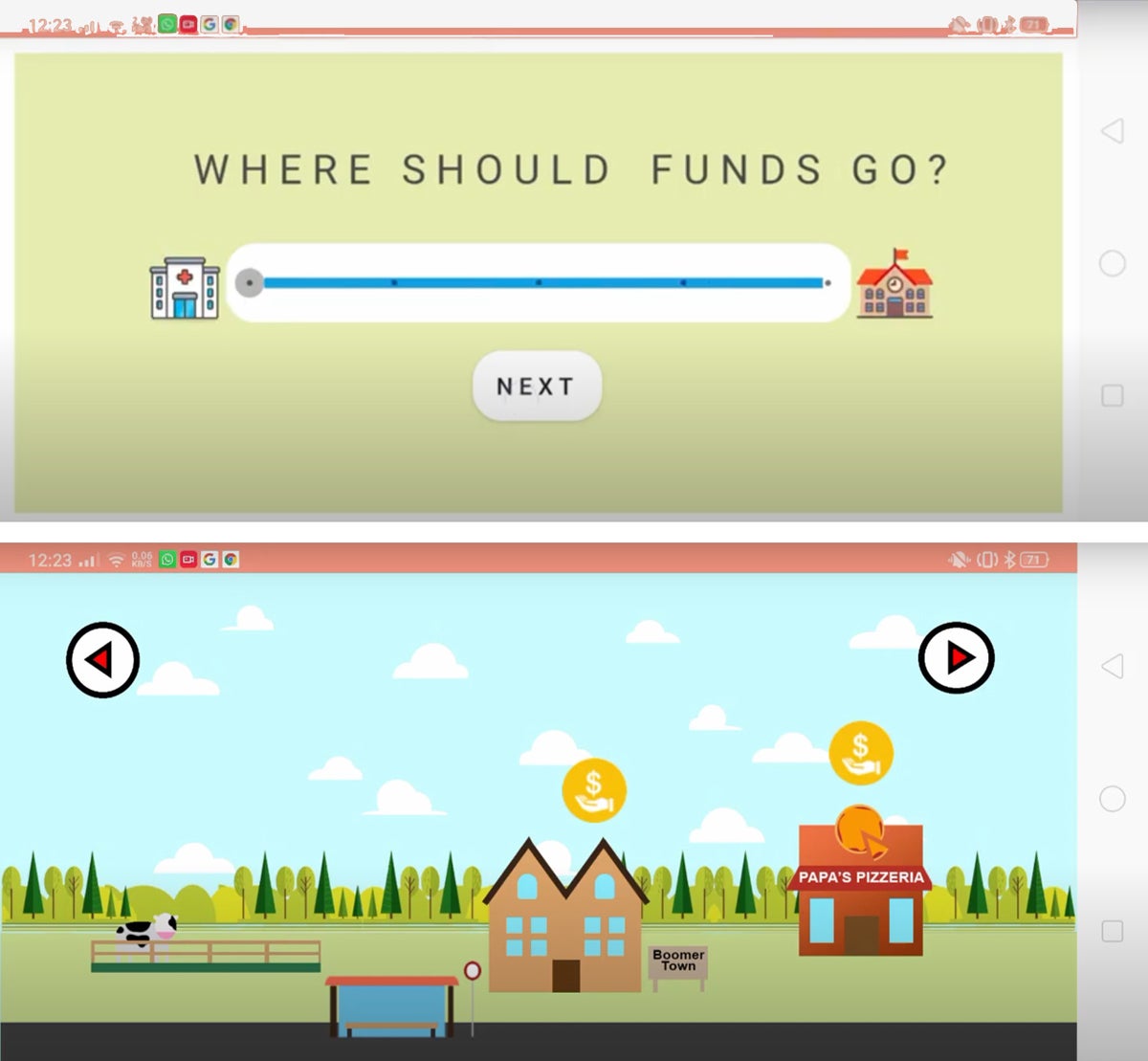 The girls met regularly with the mentor assigned to them by the Technovation competition—Anne Dunne, global supply chain director at Rocket Lab. She helped them refine the idea and encouraged them to contact the political parties directly for information for the app.
While the concept was devised before the COVID-19 pandemic hit the country, the research phase, coding, and other activities such as creating the demo video for the competition all took place during the pandemic lockdown.
The pair had become conversant in Java after taking part in the competition last year, so were able to create Eunomia using the Android Studio platform. "Getting the information from the political parties was the hardest part—that took the longest time. The actual coding took about three weeks," Mistry says.
Both girls are in their final year at secondary school, and while Mistry is keen to pursue a career in software development, Murara says she is undecided about her future plans but thinks it will be something in the STEM field.
When asked about the most surprising aspect of taking part in the competition Murara says it was learning about the importance of teamwork. "Honestly, this was a lot of teamwork and team effort. We had to get on with it really quickly because there wasn't much time, then the coronavirus happened, then we had Wi-Fi troubles and Android Studio crashing multiple times—it was the support that we have for each other that got us through," she says.
The biggest surprise, though, was making the finals. But unfortunately due to COVID-19 they won't be flying to Boston to compete face-to-face. Instead, they will take part in an online World Summit in August.
The Technovation programme in New Zealand
Corballis says that while Murara and Mistry won't be able to attend the event in person, they will get a chance to showcase their app on a (virtual) world stage. "They'll get a huge amount of visibility because the venture capitalists go, and a lot of the time they will fund these apps for these kids to take forward."
She says the pandemic resulted in a drop of New Zealand registrations for the second year that Technovation has been run locally. This year, 100 girls signed up, as opposed to 160 in the first year, but the number of industry mentors has grown to more than 70, with support from about 15 New Zealand companies.
Corballis, whose day job is at Jade Software as a client director, was inspired to become the New Zealand ambassador of Technovation, because she believes that competitions like this are hugely inspiring for girls who might not see technology as an appealing career option.
"I have an 11-year-old daughter, and I want to make sure that when she goes through school and begins her studies that she knows that this is absolutely a career path to go down and that she has a voice and she can be represented just as much as her male colleagues can," she says.
"I've been in tech my whole career. I've had the situation where most times I've been the only woman in the room. So many opportunities always go to your male counterparts. You don't get considered for promotion—all those things. I wanted to make a difference for helping girls to be involved in considering technology as a career and as another avenue for study."
Corballis says Technovation complements other local programmes and competitions designed to encourage New Zealand school students into technology careers. What makes Technovation appealing is that it provides the opportunity for girls to compete on the global stage.
Next year, Corballis is planning to introduce the second Technovation competition locally—Technovation Families, which is about getting girls and their families to create mobile apps and AI solutions together. Meanwhile, Corballis plans to present a showcase of all the New Zealand entries to Technovation during this year's apps during Techweek in late July 2020.