When the UAE government launched its Strategy for Artificial Intelligence in 2017, the first of its type in the region, the goal was to promote government productivity and innovation. So far, the results in Dubai — where robot cops patrol the streets — suggest that the AI plan did indeed shake things up.
In line with the UAE initiative, the Dubai Police approved its own Strategic Plan for Artificial Intelligence (2018-21), aiming to develop AI techniques and tools designed to make Dubai the world's most secure major city, served by innovative, smart services.
Brigadier Khalid Nasser Al Razooqi, director of the Artificial Intelligence Department of the Dubai Police, says that the plan involves a balanced approach to policing, stressing that the basic pillars of the strategy include customer services as well as criminal investigation.
"The way we are implementing this strategy is by understanding the potential of different use cases, assessing the maturity of technology, and making sure we cover all the pillars," Al Razooqi says. The Dubai Police are taking a step-by-step approach to each type of application. "We refer to the final set of use cases as an AI wave. Once we are done with the first wave, we start another and so on."
Gaining public trust is key to police use of AI
To achieve the project's goals, the Dubai Police faced several challenges, one of which was to gain residents' trust and support. Among other issues, people are afraid that AI will take their jobs. Al Razooqi thinks otherwise: "AI gives an opportunity for new jobs and new fields which would be in high demand in the coming future."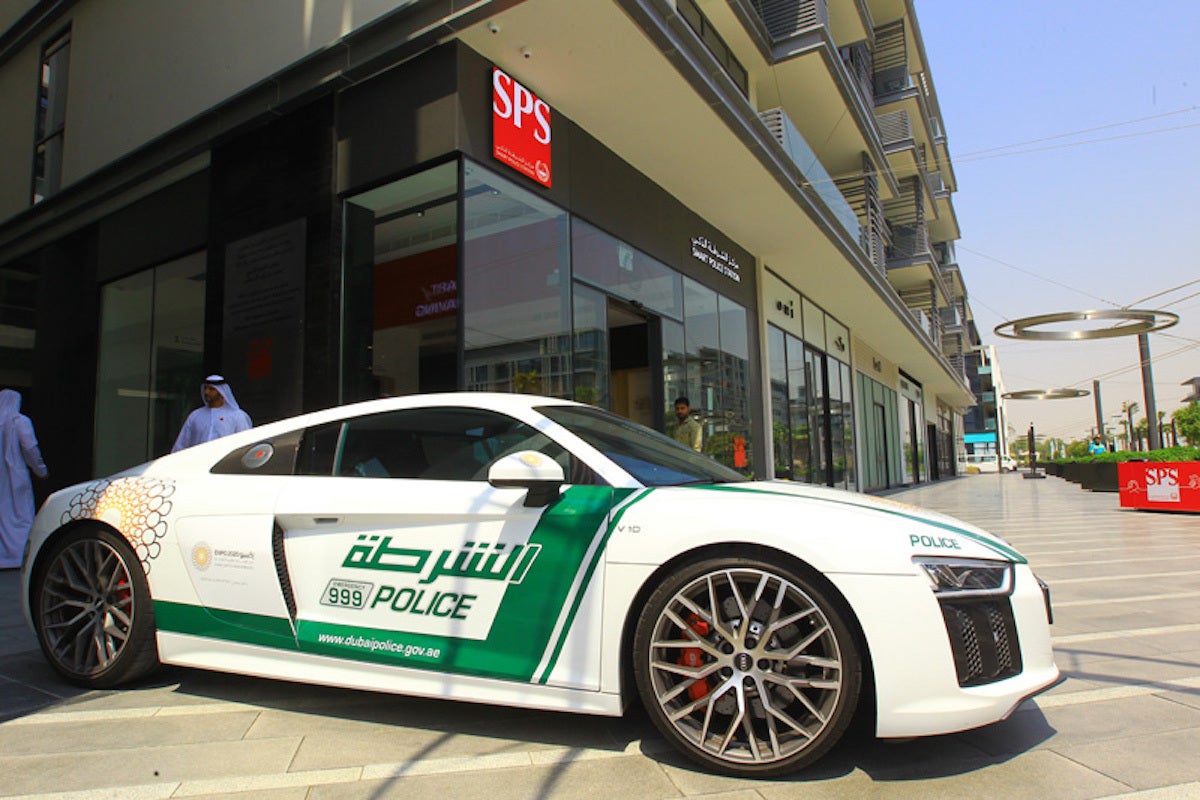 The Dubai Police introduced a police robot colloquially dubbed "Robocop" (after the 1987 movie of the same name) to its patrol force three years ago. They wanted to see how effective and reliable it could be, and how people would react to it, by utilizing it in several scenarios and locations such as the Dubai Mall; Smart Police Stations, which include a system of interactive kiosks set up by the Dubai Police; and Dubai's Global Village tourism and shopping area.
The robots' facial recognition technology is 80 percent accurate, the Dubai Police Department reports, and robot cameras send streaming video to human agent units. The plan is that robots will make up 25 percent of the city's police force by 2030.
"We found that the robot is the best method to break the barrier between the kids and the police. Kids feel more comfortable interacting with a robot rather than a human," says Al Razooqi. "For now, we think that robots are best-suited to deliver customer service, when it comes to policing, but we are still investigating other scenarios where they would be useful."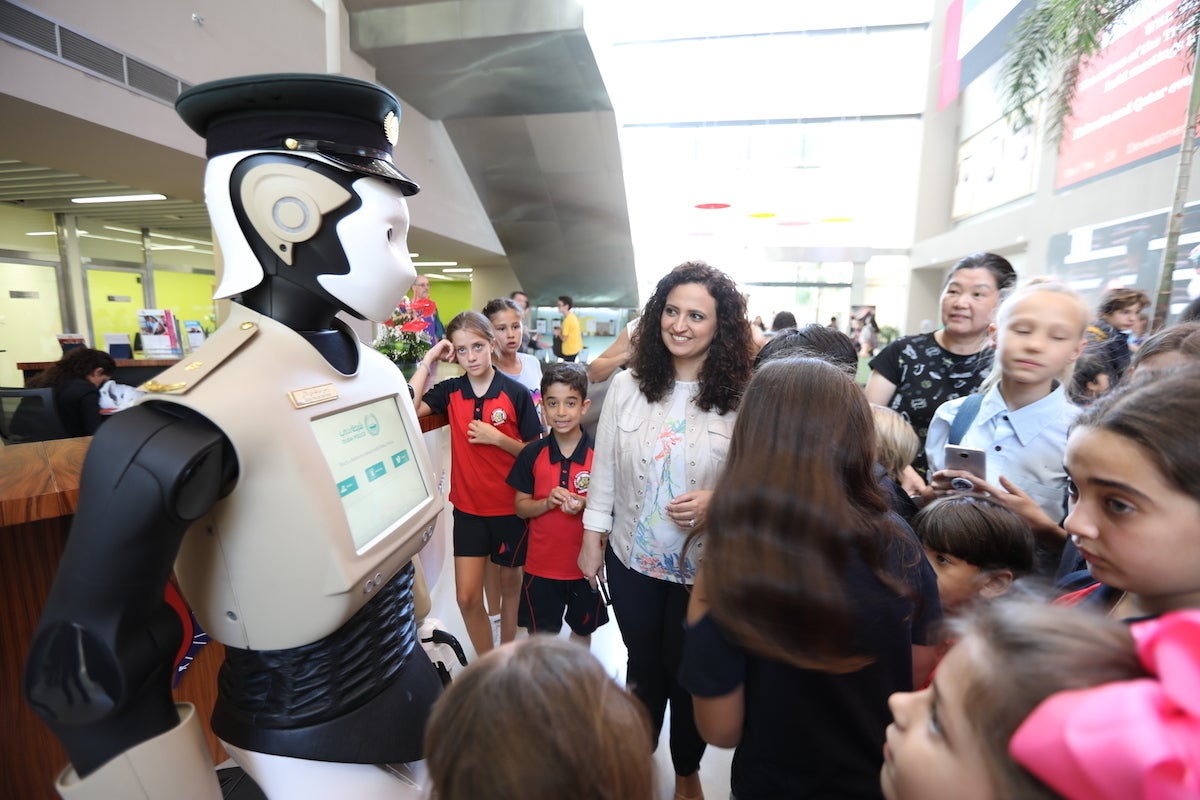 The key to innovation, says Al Razooqi, is to be bold about change. "We embrace new ideas when others fear them. Innovation, change, and experimentation are in our DNA. This happened with the robot and will continue with other emerging technologies," he adds.
Is AI the future of policing?
When it comes to crime, prevention is the ultimate goal for any police force. One of the ways to do so is through AI algorithms that calculate the potential crime rate in an area using the demographics and history of crime in the area. This allows Dubai Police to better utilize its resources and direct them to areas where they would expect the highest demand to be.
"One mega project in this domain is Oyoon. It aims to connect all CCTV cameras in the city to a centralized AI-enabled backbone," Al Razooqi explains.
AI can sift through millions of images, finding relationships between them that an average person cannot make, Al Razooqi says, leading to an analysis that may not have been made otherwise. "Having a centralized network, we would make each camera in the city an intelligent camera capable to perform face recognition, detect traffic violations, identify wanted cars, and perform crowd analysis," he says.
Dubai's early investment in technology, especially in the Oyoon project, paid off when it came time to address the challenges associated with the COVID-19 pandemic. The crisis has proved to sceptics that digital transformation is not a luxury, but a necessity. Governments across the world that had started early in their digital transformation efforts responded better during the pandemic.
AI helps fight pandemic
During the pandemic "our early investment in Oyoon project made all the difference," Al Razooqi says." We were able to quickly respond by utilizing our Oyoon network to mitigate the spread of COVID-19 by monitoring people's compliance with social distancing."
AI algorithms integrated into the robot police systems are able to check whether people are wearing masks in public places, Al Razooqi notes.
The automation of a variety of procedures promoted business continuity. "We were able to move from 100 percent in offices to 100 percent work from home in a matter of days — this is for the whole government," Al Razooqi says.
Dubai Police adopted the AI Ethics framework established and developed by the Smart Dubai initiative. The framework is one of the first in the world to address human concerns about AI and automation; it includes four principles –ethics, security, humanity, and inclusiveness. It was created to help ensure that AI systems are fair, transparent, and understandable.
Aligning AI to human ethics
"We train our AI systems based on data about all possible types of situations and human interactions it could encounter. In this way, the algorithms of the systems will align with human values and benefit all kinds of people in the society while respecting their dignity and rights," Al Razooqi says. "We require all our vendors as well as internally developed applications to conform to this framework. Adopting technologies should not come as a cost to human values."
The brains behind the AI are developers who design algorithms that process information based on the purpose a particular applications is designed for. At the Dubai Police, some development must be done in-house due to security reasons, but there are projects that the department outsourced in order to utilize time more efficiently when managing other projects.
"There are many providers which provide great tools (and) software and we try not to limit ourselves with only one, so we can interact with different providers," Al Razooqi explains. "This opens the door for (an) experience and ideas exchange which ensures an innovative spirit. We use cloud-based services when possible, following the security guidelines established by the government."