Data is at the heart of business transformation. To speed transformation, businesses need an intelligent data strategy to ensure their data is always on, always fast, automated, and on-demand. That strategy needs to enable hybrid cloud so that data is accessible and usable across cloud environments. On top of that, your data needs to be powered by global intelligence to automate operations and keep everything optimized.
The foundation of that strategy is the data platform. Here are 4 quick tips to keep on your short list as you look for the right platform and partner to make your intelligent data strategy a reality.
Tip 1: Find a platform that's AI-driven
While you seek ways to simplify and streamline IT, you're still bogged down with fighting the daily fires that arise from the hundreds or even thousands of variables that contribute to application disruption. Of course, I'm not just talking storage, but also servers, networking, all the way to the virtualization stacks. These disruptions require millions of simulations and correlations to pinpoint where issues are occurring. It is a problem way too complex for humans to solve.
An AI-driven platform like the Intelligent Data Platform from HPE is simple, self-healing, and self-optimizing. Powered by global intelligence, this data platform can predict and prevent issues before they happen, allowing you to spend time on areas that drive your business forward.
Tip 2: Select a proven technology partner with a robust data set
Remember… AI-driven intelligence doesn't just happen overnight. It gets smarter with millions and trillions of data points, as HPE knows from experience. Every second, HPE InfoSight, which is at the heart of our global intelligence engine, gathers and analyzes millions of sensor measurements, capturing the state of the systems, subsystems, and surrounding IT infrastructure in the global installed base. In the last decade, we've analyzed over 1,250* trillion data points, helping customers save 1.5M hours* of what would have otherwise been lost productivity due to downtime (*source). Make sure to opt for a partner and a platform that has this magnitude of both data and history.
Tip 3: Find a platform that's built for cloud
While "cloud first" was once trending as a digital transformation strategy, now it's about your ability to achieve a cloud experience everywhere – and for most this means a hybrid reality. For this comprehensive approach, your data must be able to move everywhere with the kind of speed and agility that not only helps you optimize existing workloads but also support new ones, both on- and off-premises.
Because every business is unique, you also need to find a data platform that's flexible – and one that can:
Support next-gen apps, like the ones built on containers, while making use of your existing apps as you deliver a cloud experience on-premises
Enable you to power edge environments, which often lack IT resources and have limited space
Protect data across the entire lifecycle without making you feel locked in or constrained
As you look for new ways to drive agility, a platform that offers a choice of workload optimized solutions, works with all your critical tool sets, and spans edge to cloud – all in a way that's protected – will help you extract value from your data.
Tip 4: Make the move to as-a-service
When it comes to your on-premises environment, how are you making the move from IT operator to a provider of consistent cloud services that your business now expects? IT organizations face some common headwinds in this transformation. Long procurement cycles and upfront capital costs can slow your business down. Over-provisioning is also costly, and under provisioning with limited transparency increases risk. And of course, in every business ongoing routine tasks consume IT's time and attention. Ultimately, you need to eliminate these challenges, drive agility, and bring the cloud experience to all your apps.
An experienced partner that delivers storage as a service with elastic scale, and offers a broad set of cloud services on-demand, can operate the infrastructure for you and allow you to pay for what you use. This is where partners like HPE fit in. HPE GreenLake workload-optimized cloud services let you not only focus less on administration and more on innovation, but also deliver business outcomes faster and unlock the full potential of your data.
Accelerate transformation and prepare for what comes next
We're living in unprecedented times and the IT challenges are far from trivial. How do you manage cash flow and preserve business continuity to make your existing investments go even further? Amid the pandemic, how do you continue to enable a new set of remote workers and support unpredictable business demand – all while keeping your data protected?
An intelligent data strategy matched with the right platform helps you to both address these data challenges today and prepare your business and IT for what comes next. Whether you want to simplify your operations, accelerate mission critical workloads, enable hybrid cloud, protect and recover your assets on-premises and in the cloud, or use data to become more predictive and less reactive, make sure that the data platform you select is both intelligent and able to help you at every stage.
See how the Intelligent Data Platform from HPE can power your intelligent data strategy no matter where you are in your transformation.
____________________________________
About Sandeep Singh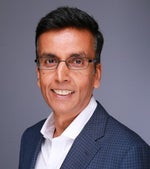 Sandeep is Vice President of Storage Marketing at HPE. He is a 15-year veteran of the storage industry with first-hand experience in driving innovation in data storage. Sandeep joined HPE from Pure Storage, where he led product marketing from pre-IPO $100M run rate to a public company with greater than $1B in revenue. Prior to Pure, Sandeep led product management & strategy for 3PAR from pre-revenue to greater than $1B in revenue – including four-year tenure at HP post-3PAR acquisition. Sandeep holds a bachelor's degree in Computer Engineering from UC, San Diego and an MBA from Haas School of Business at UC Berkeley.