Organizations are creating more data than ever before yet knowing less about what they can do with this data. Unfortunately, enterprises have little knowledge when it comes to understanding how these massive amounts of data can negatively impact their business, if not managed correctly.
An IDC Data Age Report forecasts that there will be 175ZB of data generated by 2025. Furthermore, The State of Dark Data (2019) report reveals that 55% of data generated would be dark data.
If businesses can't analyze all of the data they collect, they can't understand the value of it – and that means they won't know how to apply the appropriate security controls to that data. In fact, data loss, data breach, compliance failures, and higher infrastructure costs can all result from not having this data intelligence.
Can data (really) be managed Intelligently?
The answer is YES! Understanding the data primarily entails understanding the data sources, both primary and secondary. While making sense of a plethora of data can be dauting to many, this can be easily resolved through the use of effective technologies, such as Intelligent Data Management.
If you're worried what Intelligent Data Management is all about? Fret not! It is a simplified process of managing unstructured data throughout its lifecycle with analytics and intelligence. In case you're wondering how you can consider a solution as Intelligent Data Management one, simply ask yourself, Is this solution analytics driven? Does it give me a holistic view of all of my data? Does it provide me insights into how I can extract more value from my data?
By Intelligently managing their data, enterprises can not only gain a unified view of their data spread across the entire enterprise, but also visualize and analyze data insights to build actions to quickly remediate issues and respond to compliance and governance requests.
The Activate Advantage
If you've ever heard of the phrase, 'Better information equals better business decisions', that's Commvault Activate for you! An integrated intelligent data management technology that provides data awareness, data agility and data automation, Commvault Activate empowers enterprises to quickly identify and turn data risks into rewards.
With features like file storage optimization, sensitive data governance, compliance search and eDiscovery, businesses can now #BeReady to know, manage and use their organizational data like never before.
File Storage Optimization
One of the key features of Activate is File Storage Optimization, which enables analysis of unstructured data to determine how much data is stored on the servers and who is the owner of each dataset. Once analysed, it also enables deletion of duplicate or unused files and even move files to a different storage location.
The users can also review file access permissions and lock down files that contain sensitive data and personally identifiable information (PII). By reducing data sprawl, securing orphaned files, accelerating cloud migration, and managing access permissions and controls, Activate helps enterprises to improve performance and save money
Sensitive Data Governance
Data governance has been one of the biggest pain points for businesses for the longest time. The good news is, with sensitive data governance application, businesses can now seamlessly trace sensitive data in a variety of data sources such as email messages, files, OneDrive for Business, and so on.
Through dynamic and customizable dashboards, enterprises can gain a holistic view on the type of PII found in each dataset and the level of sensitivity associated with that data. In case an end-user requests to export or delete data that contains PII, Activate enables configuration of the request parameters and discover documents from data sources that match PII belonging to the end user.
By harnessing the power of AI/ML, Activate also allows enterprises to define sensitive data, quarantine live data or delete sensitive files from backups. Through built-in workflows, data can be reviewed, audited and reported on compliance initiatives and security purposes, all in a single pane of glass.
Compliance Search and eDiscovery
Gartner's Strategic Planning Assumption Report estimates that by 2023, due to speed and legal cost, 70% of complex e-discovery cases will be managed by in house IT leaders, a huge jump from only 20% cases today.
Activate's Compliance Search application helps to collect electronically stored information (ESI) for high-risk custodians, including email messages from mailboxes owned by a custodian, even those email messages that contains the custodian's email address in the To, From, CC, or BCC fields.
Through proactive preservation of relevant information, custodian review and advanced search, redaction, defensible deletion policies, and consolidated search of data sets across on -premise and cloud – Activate ensures faster responses to legal and compliance requests, every single time.
Huzefa Motiwala, Senior Director, Sales Engineering, Commvault India, APJ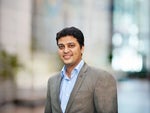 "In today's digital race, enterprises need to be ready to take on complex data governance, compliance and storage optimization challenges if they want to avoid heavy government data privacy fines, reduce unnecessary IT costs and build customer trust. With data in the cloud, on-premises, stored virtually, on mobile devices and everywhere in between, the power to make the right decisions and drive action to better manage, use and get value from organizational data could be a game-changer in accelerating enterprises' digital journey.
Centred on 4 pillars, namely Store, Protect, Optimize and Use, Commvault Activate acts as a powerhouse for businesses, helping them truly realize their data potential and emerge a digital winner."
Why invest in Commvault?
> 11 EB data under management
> 812 active patents
> 45Million weekly backup jobs
> 2.8Million VMs protected
> 800 PB data in the cloud
> 1.6 Million servers protected
Source: Commvault