Lexmark International CIO Brad Clay and CTO Tom Eade work together closely, using cloud software and other technologies to build managed print services for enterprises. Collaboration between the two departments wasn't always so cozy, says Clay, who worked in various IT roles before becoming CIO in 2016.
Rather, the relationship was fraught with mistrust and suspicion, a side effect of a siloed culture ingrained over several years in which "neither thought much of the other," Clay says.
Lexmark's IT department built ERP and back-office systems to support the business. The CTO's office, tasked with researching and developing products, built many of its own technology services, including anything from identity management to portals.
CIOs and CTOs often compete for power, budget and political capital. But such old-school rivalries threaten to fail spectacularly in modern businesses, where co-creation of digital services is key to remaining competitive. For Lexmark, which has shed its inkjet legacy to provide managed digital content services, collaboration between the CIO and CTO has never been more critical.
Operating under a common goal
Lexmark's archetypal CIO-CTO rivalry evaporated three years ago, when a steering committee established One Lexmark Cloud, a 10-year initiative to digitize printing. Under this operating model, IT and R&D agreed on a common language for collaborating within an agile framework and DevOps processes, Clay says.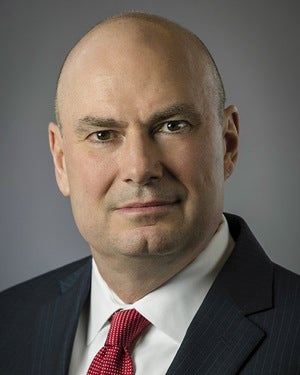 IT evolved from order taking to helping R&D build new products, including cloud-native devices and services. Today, Clay is more of a consultant or service broker for R&D. For instance, IT provides the platforms and hooks, including APIs and other tools, that R&D requires to deliver the service.
"We enjoy a tight relationship between product development and IT," says Clay, who credits current CEO Allen Waugerman and Eade with facilitating the shift. "They build it and we run it."
More precisely, Clay is running Lexmark's products in Microsoft Azure, supported by sensors, machine learning and other tools to provide more intelligent document management services. In one strategic product, Lexmark installs its own IoT-enabled devices to drive smart print services, queue management and user management.
The company runs machine learning models in Azure to gain insights into the data it collects from millions of IoT-enabled printers to store in the Lexmark IoT Hub. Lexmark uses this information to streamline how it designs and builds printers by creating virtual models of the physical device, reducing the time-to-market to deliver a new printer by up to 50 percent.
Additional insights collected from data streaming off of the connected devices enable Lexmark to predict when a customer's printer may go offline and thus service the machine before it fails. For instance, Lexmark can anticipate the exact day when a printer will run out of ink or toner and ship more to the business, or it can diagnose a failing part before it breaks and schedule a service appointment.
In this "digital thread" strategy, the device is "aware of the entire business process," not just discrete events. Lexmark is betting on this connected ecosystem to drive revenue growth. "It improves customer service and drives down [maintenance and parts] costs," Clay says. "This is where we see the future of our company going."
Dimensions of trust
To support this new way of working between IT and R&D, Lexmark introduced four points of trust, which Clay describes as follows:
Communications. Frequent meetings and interactions engender trust and boost morale. Key staff responsible for delivering products meet weekly, while middle managers and senior executives meet monthly. But this process took time. "Many IT orgs see R&D as the wild west," Clay says. "We wanted to get past that."
Accountability. The governing rule of this cornerstone of leadership is that you are answerable for things under your control. A deliverable can't be greenlit unless it works, "but you have to deliver," says Clay, who in an additional role as Lexmark's chief compliance officer, is responsible for assessing the efficacy with which the company delivers and supports its product.
Competence. Are you good? Can you deliver what you promise on deadline (ideally under budget)? R&D changed the way they built firmware to enable Lexmark's printers to be IoT and cloud native. Clay connects the architecture and runs it on Azure.
Empathy. Essential to fostering trust between two organizations is getting people to walk a mile in the other person's shoes, Clay says. Sometimes this takes the form of enabling tradeoffs between departments and resolving conflict before it escalates.
"We're in a good place," Clay says of the CIO-CTO partnership. "They trust us."