The Level 5 lockdown that began in March 2020 as a response to the coronavirus pandemic hit South Africa's retail sector like a shockwave. It blasted aside traditional ways of operating and forced a whole new way of thinking to take root across the country, making data analysis and mobile applications more important to business than ever before.
The threat from the virus is receding now but the devastation to the economy has been deep and profound, and people's behaviour has changed. The business of home delivery is up across all sectors of the economy and every day, consumers receive notifications of new home delivery services.
[ Keep up on the latest thought leadership, insights, how-to, and analysis on IT through CIO's newsletters. ]
Right now, it seems that e-commerce and home delivery are the only growth stories in an economy battling to get back up off its knees.
Sonja Ettridge is the owner of the Larder, a small restaurant in Cape Town's Claremont district. Initially, she was reluctant to sign up with UberEats but took the plunge and was pleased by how simple the process was of getting signed up.
"Their backend is well structured," she says. "You get to set up your menu, add pictures and descriptions, change prices and you have control of how you edit your page. The company then gives you a customized tablet which you keep, either in the kitchen or by the till, and it pings when you get an UberEats order."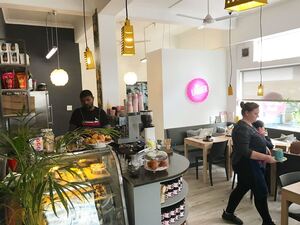 When it comes to takeaway delivery, speed is everything. As competition increases, customers tend to gravitate to the services that can get them their orders the fastest.
"The moment you accept the order, the parameters get set," Ettridge says. "You tell them how long you need to prepare it, and a driver gets notified when he should arrive. You get a ping when the driver is here, and of course, the customer is also able to track all of this from their side."
To the consumer it appears effortless, but there are many moving parts to get right, and it's taken years to reach this level of sophistication. Data analysis is key.
Machne learning optimises Uber Eats service
"Data science and machine learning is built into Uber's DNA. In South Africa, we use data to scientifically perfect everything we do—whether it's using traffic and weather patterns to update the ETA's to customers or working with restaurants to optimise food preparation time to ensure users order arrives hot and fresh," says Ailyssa Pretorius, the regional general manager of Uber Eats SSA.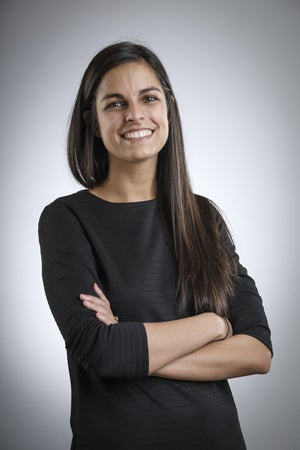 "In order to make the user experience more seamless and easy-to-navigate, we show users the dishes, restaurants, and cuisines they might like upfront. To this end, we previously developed machine learning models to better understand queries and for multiobjective optimization in the UberEats search and recommender system," Pretorius says. Multiobjective optimization comprises various mathematical and programming techniques designed to optimize decisions that involve multiple criteria — for example, deciding what to recommend to someone looking for a restaurant in a certain area, taking into account the user's past selections as well as available open restaurants and their prices.
This technology is a far cry from where it all began in South Africa. In 1992, a group of people started a service called Mr Delivery that upended the restaurant model in the country.
They signed agreements with food retailers, printed booklets full of menus with magnets on the back and encouraged people to stick them on the fridge in the kitchen. Customers would call up the number in the back of the book, give their orders and the delivery guys would race around to all the restaurants and bring you the food.
Even back then, speed was everything. Servicing multiple restaurants often meant that some of the food was cold. In 2015, Mr Delivery changed to Mr D Food and initiated a digital transformation. They opted for a cloud-based, app-only model that prioritized scalability.
According to CEO Devin Sinclair, "There's no way food delivery can be done, on the scale we do it, at the level of service we do it at, without technology at every step in the process. We needed internal and operational support teams for our customers and restaurants."
The pivot to digital has been a success for Mr D, with over two million downloads of the app, and over R1.5 million (US$86,000) worth of food ordered via the app in the last year alone.
For the millions of people who experienced the strictest lockdown in the world, the economics of having food safely delivered to their homes was worth it in order to avoid going out. But for many restaurants, it has meant agonizing adjustments to their pricing, explains Sonja Ettridge. "Most people don't know that UberEats take 30 percent on each dish they deliver. Therefore I took the stance of adding 30 percent to my prices."
Home delivery brings in new business
But ultimately she was pleased with the decision to join the service. "Sometimes The Larder would bring in an extra R5,000 a week via UberEats, which was amazing."
Ettridge comments that "one of the best things about the service is how it brings in new customers" and UberEats' Pretorious agrees. "We're using data to help restaurants identify new business opportunities and receive real-time feedback from their customers," Pretorius says. "Our partners have access to a Restaurant Manager portal which provides them with access to information about the performance of their business, their customer satisfaction and key operational metrics."
As the lockdown intensified over the last few months, many delivery companies recognised that people could not afford to get takeaways that often. They also knew that the big shopping markets had excelled with home delivery, so that presented a gap in the market. "UberEats accelerated into essentials items like groceries and toiletries as the demand for the delivery of these grew," according to Pretorius. This was accompanied by a dramatic rise in the search term "healthy" for food—an 82 percent rise in terms of that keyword.
Flexibility is one of the keywords for business to emerge from the pandemic, and no company has proven their ability to pivot like Bottles—an alcohol-delivery service that saw demand disappear with the alcohol ban but was able to pivot to groceries and build a formidable new partnership with local giant supermarket chain Pick n Pay.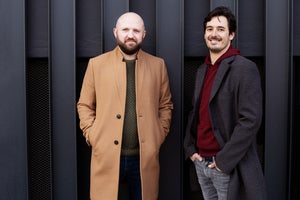 Enrico Ferigolli and Vincent Viviers are co-CEO's of Bottles. "Things had to change and quickly," they wrote in an email. "Pre-empting the lockdown and Government's ban on alcohol, we leveraged our existing relationship with Pick n Pay and pivoted our business to an on-demand grocery essentials app, offering same-day delivery, and business quickly boomed."
Bottles claims to be the first "on-demand shopping app" in South Africa. "We have built a sophisticated & robust tech solution that uses machine learning algorithms to optimize everything we do from logistics to app performance and advertising," adds Viviers.
Mobile app, analytics are keys to success
Business has been so good during lockdown that their staff has nearly doubled from eighteen to thirty-two and they provided daily employment to more than 200 third- party driver partners. Their systems were resilient enough for a massive nationwide chain, thanks to the work they had put in over the last four years. "We've built and scaled a leading on-demand e-commerce business over the past four years across three core functions," they say. "Firstly in tech with one of the biggest & best rated on-demand shopping apps in South Africa, along with the end-to-end software for managing an on-demand business. Secondly in operations and logistics such as on-demand & shipping, dispatching & customer service and finally with expert e-commerce & app marketing and data analytics."
Expectations in South Africa are high that the lockdown will end in late August and things will return to the new normal. But this trend is only likely to increase, as more people decide to continue working from home and companies see the value of reaching a more distributed, always-on workforce.
Another of the large supermarket retailers, Shoprite Checkers, introduced an app called Sixty60 to handle its home delivery functions. The Sixty60 app contains various components such as IOS and Android customer-facing apps as well as operational apps for use by store staff and drivers, all of which integrate with other Shoprite services such point of sale, pricing and payment systems, according to company officials.
Shoprite's system also takes third-party, location-based services such as Google Maps and integrates them with some custom-built functionality that "enhances Shoprite's existing capabilities and utilises useful additional services such as picking and delivering services, all supporting and integrated into a single customer-facing solution via the Sixty60 mobile app interface," according to a statement from the company.
When asked what lessons could be drawn for the rest of Africa, where the same trend is likely to play out, Ferigolli says that first, it's important to understand what consumer problem you are solving. "Ensure that you have the correct infrastructure and systems at the beginning and source reliable partners that you can grow with," Ferigolli says. "You need to realise your strength and find partners that complement you, and partners that see the value that you bring so that you can achieve success together."
For a global giant like UberEats, technology is offering new pathways. "We are increasingly using machine learning to personalise our app for users," explains Pretorius. "For example, if two people stood next to each other in the same location, they would see a completely different selection of restaurants. Why? Because we use a bunch of inputs such as previous order history, most popular dishes in a particular area and trending restaurants to curate our food and restaurant view for every individual user."