The 2019/2020Premier League football season has been like no other. Government restrictions allowed matches to resume on 17 June but only behind closed doors, depriving football fans from one of its essential characteristics: the electric atmosphere generated by thousands of people gathering together.
One of the football clubs rushing to find solutions to the COVID-19 restrictions on gatherings was Manchester City. Greg Swimer, CTO at the club, explains how Man City pivoted to digitally deliver live matches to fans around the world.
Bringing matches to fans and fans to matches
When the pandemic started to take hold in Europe, Manchester City was looking to allow the club to continue operating digitally and to stay connected with fans. This had to happen fast as Swimer and his team had to find new solutions to make closed door matches available to fans when it was clear that COVID-19 was here to stay.
Swimer decided to stream matches through Cisco Webex, which allowed him to deliver games to the fans. To transport fans to the game, he set up a Wonder Wall of video screens at Etihad Stadium, allowing supporters to cheer and celebrate alongside the players during home matches.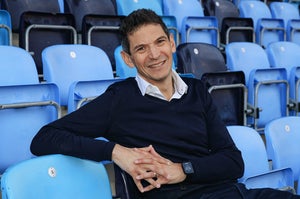 The Wonder Wall consists of large screens installed behind each goal. Players could see fans on those screens and watch their live reactions. Simultaneously, fans could witness the game live from their homes, allowing a virtual interaction similar to what they could get in the football pitch.
"Some of the different scenarios that we've been exploring, including bringing fans into the stadium on virtual reality screens, require some quite nuanced uses of the technology," explains Swimer. "The Wonder Wall is one example of something completely new that allowed us to deliver real time reactions from fans to the players and get that sort of interaction that we wouldn't otherwise be able to get with fans not in the stadium."
Additionally, to celebrate the final game of the Premier League season, the club played a fan-led rendition of the team anthem Blue Moon.
"We've tried lots of different approaches and nearly all of them have been very positively received by the fans as we sort of try these new things," adds Swimer.
Challenges moving forward
There's no doubt that COVID-19 has been a baptism of fire for Man City, pushing the club to be a more technology-oriented business. Although the earlier efforts to build resilience, including moving to the cloud, have paid off when having to move quickly in this kind of crisis, there are also lessons to be learned and challenges moving forward.
"Looking back over the last few months, it's obviously important to be prepared for different eventualities, have your resilience and your plans in place because you never know when they are going to be tested," says Swimer.
One important lesson Swimer learned during lockdown is the need to be more proactive about digital innovation and re-imagining business processes.
"Lockdown has shown us that there is an incredible scope and possibilities for re-engineering, re-imagining and innovating processes than when we used to do things in a face-to-face physical way," explains Swimer. "Each time we come against a new challenge we found solutions to a great deal of things that perhaps previously we wouldn't necessarily have thought about."
This lesson will undoubtedly help the football club in the upcoming Premier League season, which in England is expected to begin behind closed doors — and where, for fans and players alike, technology can help bridge the gap opened by COVID-19.