Panorama is the digital command centre for ADNOC (Abu Dhabi National Oil Company), aggregating real-time information across the energy company's 14 specialist subsidiary and joint ventures, including 65 operating sites. It uses analytics, AI, and big data to generate operational insights and recommendations.
Panorama is a key part of ADNOC's ongoing strategic investments in artificial intelligence, digitization, and its 2030 "smart growth" strategy. The company made a splash recently by claiming that Panorama has generated over US$1 billion (AED 3.67 billion) in business value since it was completed in 2018.
CIOs are always making an effort to gauge the return on investment for IT projects: How did ADNOC come up with the $1 billion figure?
"Trying to fully account for the value of digital is not simple as a large part of what digital does is help speed up the decision-making process – which is intangible to measure. The more than US$1 billion in value represents the more tangible monetary aspect generated from the use of Panorama," explains Abdul Nasser Al Mughairbi, senior vice president, digital function, at ADNOC.
Efficiencies lead to operational savings
"Working off our baseline business plans, we use Panorama to help run simulations and various business scenarios to identify and assess where we can optimize efficiencies and capex based on our entire value chain. Part of the US$1 billion value is the logged dollar value that we saved through these efficiencies since the inception."
Panorama comprises a range of applications. Aveva's System Platform and InTouch Operations Management Interface (OMI) is the foundation of the display, providing integration across various ADNOC ERP, business and IT applications. Other Aveva components include its Predictive Asset Analytics application, which aims, among other things, to reduce unscheduled downtime and prevent equipment failures; and its Unified Supply Chain Management software, designed to improve collaboration and operational efficiency.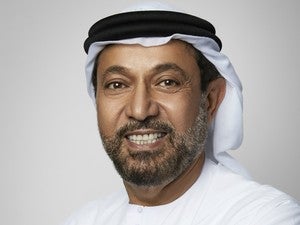 Panorama has also proved to be an asset in navigating the COVID-19 pandemic. The access to real-time data and analysis provided by Panorama enables simulations and scenario planning and plays an important role in ADNOC's business continuity.
"Having access to real-time data is important from a business continuity perspective," Al Mughairbi says. During the pandemic, ADNOC created a live remote Panorama dashboard for the leadership team to access and track critical business information across business units, he adds.
AI plays role during pandemic
"Another important role that Panorama plays during COVID-19 is that it provides us with the ability to simulate 'what if' production planning and many other operational business scenarios in real-time through its AI capabilities," Al Mughairbi says. "This allows the ADNOC leadership team to make quick business decisions and respond to complex market dynamics with agility and speed. All the functionalities for Panorama are accessible remotely through a secure network during this time."
ADNOC's digital transforation efforts in the last few years has helped ensure they are one of the lowest-cost producers in the world. This has enabled them to be stronger and better positioned to manage current market dynamics and allows them to be resilient in times of crisis. Al Mughairbi thinks that ADNOC's continuous focus on innovation and strategic investments in digitization and (AI) to enhance efficiencies and optimize performance has served the company well during the pandemic, and has enabled them to respond to the complex market dynamics with agility and speed.
"Digital transformation is a continuous journey for us. Panorama is just one of many digital transformation initiatives by ADNOC. Other digital initiatives include our smart data analytics Thamama Subsurface Collaboration Center, our use of AI-assisted value chain modeling and predictive maintenance technologies, and blockchain-based hydrocarbon accounting, to name a few," Al Mughairbi says.
ADNOC's plans include expanding its AI solutions, rolling out new blockchain applications, enhancing our digital modeling capabilities, and leveraging digital technology to strengthen health, safety and environmental performance.
"Currently, the company is building out a huge architecture on Panorama to fully automate the sustainability metrics that we are measuring – everything from financial, legal, CSR, production and emissions," Al Mughairbi says. "This is important as to make a difference on the sustainability front, you must first be able to accurately track and measure your sustainability performance."