For years we've heard that change is constant in business. But now it's more than just constant; it's accelerating. While you can find plenty of articles that talk about how hard it is to lead organizational change, this environment couldn't be better for CIOs, especially the ones who are ready to show up differently and unlock strategic value for the business.
A recent Deloitte study finds that CEOs are looking for CIOs to step up as strategic business partners who will shepherd the organization through these ongoing cycles of accelerating transformation and disruption. They know that technology will play an increasingly important role in driving business strategy and performance going forward. Indeed, 93% of CEO respondents to the Deloitte survey say that technology is important in driving product and service innovation and 90% say technology is important for delivering top-line growth (compared to 82% and 83% of CIOs, respectively). With IT's end-to-end view of the enterprise, tech leaders are uniquely positioned to identify and lead industry-disrupting change.
One leader who's been ahead of the curve in this area is Danielle Brown, Vice President and CIO at Brunswick Corporation. When she joined Brunswick in 2016, the company was in the midst of transformation and grappling with some of the big questions nearly every organization has been dealing with in recent years: How do we shift from focusing on products to emphasizing solutions? How do we engage with customers differently and reimagine the customer experience? What new business models will help us innovate the industry?
From modernizing platforms to enhancing business analytics to implementing digital products to transform the customer experience, IT plays an essential role in enabling each of these areas. But before it can do that, the IT organization has to, as Brown puts it, get its house in order. It needs to evolve itself.
Becoming a change champion
The harsh reality is that technology executives who continue to ignore the need to transform themselves and their teams eventually become organizational casualties. CIOs can't afford to sit back and react, or worse, get completely caught off guard by change. The business needs them to be in those conversations, influencing decisions, driving initiatives, and leading change as innovative anticipators rather than tactical implementers.
It's worth noting that this is the role CEOs expect of their CIOs. Forty percent of CEO respondents to the Deloitte survey named their tech leader as their top partner in business strategy — more than the CFO, CDO, COO, or CMO combined. That's quite the vote of confidence, but it's going to require a mindset shift for many tech leaders to meet those expectations.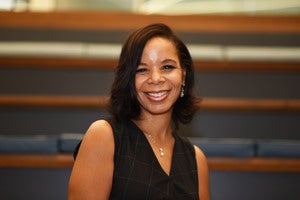 "It's so important for IT leaders to recognize that this is their role," Brown says. "You are a part of the business, not a separate entity that gets involved only after others engage you in strategies they've developed. You have to have a seat at that table and, more importantly, a voice at that table, because your voice is based on a vantage point that others don't have."
Brown advises stepping back and thinking about the different types of dynamics within the company and the unique lens through which you view the business. IT leaders bring their technology expertise and knowledge but also their insight from seeing change in all aspects of the business. With that perspective, you can contribute in ways that impact revenue, margins, operational excellence, customer service, and other key business levers. You're not just delivering or reacting; you're anticipating change and taking advantage of opportunities others might not see.
Driving strategic business value
This year has been a perfect example of how valuable the CIO role is. When the pandemic upended business as usual, the companies that pivoted quickly and seamlessly had IT leaders who, like Brown, were already thinking like innovative anticipators. Not only were they ready to shift, they had forged strong partnerships throughout the business with their peers. They'd been at the table with them, having those strategic conversations and adding tangible value all along. When remote work and social distancing disrupted everything and everyone, these companies were ahead of the game.
One of the reasons these CIOs are able to stay future-focused is that they never stop growing themselves as leaders. For example, in addition to her position at Brunswick, Brown serves on the board of directors for global financial and business services company PRA Group. She says being a board member offers yet another opportunity to elevate herself from day-to-day management execution, to go "nose in, fingers out" and look at issues related to risk, governance, and culture and how technology can create long-term shareholder value.
"It's growth for me as a leader, but I'm also able to contribute on what is now the tip of the spear as it relates to what's going to help companies as we move into the future," she says.
Transforming your IT team
It's a basic tenet of IT leadership: You simply can't be effective if you don't foster a great team. You have to build that collaborative mindset and emphasis on the holistic view of the enterprise into the culture of the entire IT organization.
The challenge, from both a technical and a talent standpoint, is that IT is typically heavily invested in and focused on supporting the legacy. To be a strategic partner, CIOs have to shift their IT organization's focus to new business solutions and innovations. And that means making sure the IT organization has the talent, capabilities, and roles to support where the business is going.
That's the work that Brown continues to do with her team, through a combination of IT talent management and analytics, formal training, and leading through teaching. She knows that transformation is a process that is never really "done."
"We always have to be focused on how to leverage new technology to enable new processes or help create competitive advantage for the business," she says. "But it's more than that. Change also helps grow people. They grow by learning new technology and how to apply it to solve business problems. They grow by learning how to fail because, quite honestly, you don't always get it right. And they can grow by learning how to lead, because you always have to bring others along with you in that journey."
The 4 Cs of change
To start down the path of becoming an effective leader of change, you have to understand the components, or 4 Cs, of change: commitment, community, and clarity, along with the glue that binds them all together, communication.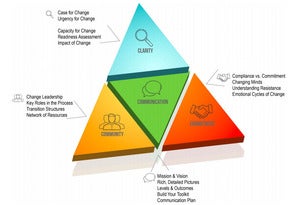 These elements are all interrelated, because change isn't linear; it's a dynamic process. And communication is at the center of this model because the other three require it. Just as change is constant, the need for communication is constant. The pandemic only underscored this truth.
"Communication has to be central to any change or any transformation," says Brown. "Take the recent COVID crisis. Through my conversations with other CIOs, I've seen that we are all, across the board, stepping up our communications. At Brunswick we've increased our internal communication threefold. When you have almost 4,000 people working from home, how do you keep them on the same page and focused on the right priorities?"
She adds that engaging consumers and channel partners has also taken on new transformative dimensions almost overnight as the company seeks to continue to attract and engage customers and advance the sales process in an environment where traditional channels like trade shows and industry events aren't possible. "Communication is absolutely key," she says.
This isn't about aligning with the business; it's leading the business. And that's the message CEOs want to make sure their CIOs are getting. For the forward-thinking tech leaders who are willing to step up to the moment and take on the mantle of strategic partner and change champion, there's clearly never been a better time to be in IT.