Changes in how you can get certified for your expertise with Microsoft technologies prepare IT professionals for the cloud future but may not match their current skills and needs.
The way Microsoft certifications work is changing completely. Instead of earning credentials that cover specific products, IT pros must now prove they have the skills needed to carry out specific roles — skills assumed to be in Azure services, whether you're working in Microsoft's cloud or your own data center. Although COVID-19 has pushed back the dates for this shakeup of Microsoft's certification schema for some months, the days of the MCSA and MCSE are numbered, and IT staff and hiring managers will need to become familiar with a very different system, one that might not meet their needs or career trajectory.
Certifications matter. More than half of IT decision makers in the Global Knowledge 2019 IT Skills and Salary report want to hire staff with certifications to ensure they have the skills their organization needs. Eighty-five percent of IT professionals hold at least one certification and 66 percent are already planning for their next. Having the right certification can make the difference between not hearing back and getting an interview when you apply for a job.
But Microsoft's overhauling of its certification program is creating some unease, and not all the new options are clear yet.
What Microsoft's new certification program looks like
"Certification matters because it's about how do you, at scale, understand whether you have readiness for your organization," Jeff Sandquist, corporate vice president of developer relations at Microsoft, told us in 2018 when the changes were announced. That readiness is now about cloud skills.
Previously Microsoft certifications were based on specific products such as Windows Server or on knowledge of several Microsoft technologies. You could qualify as a Microsoft Certified Solutions Associate (MCSA) or Microsoft Certified Solutions Expert (MCSE) in several fields, or as Microsoft Certified Solutions Developer (MCSD) covering desktop, mobile and web apps.
Now certifications correspond directly to a range of roles (with multiple certifications available for all roles): administrator, developer, solutions architect, DevOps engineer, security engineer, data engineer, data scientist, AI engineer and functional consultant — all of which are very much about cloud.
'Developers' are cloud developers using Azure, Dynamics 365, Power Apps or Microsoft 365 (there's also a specialty in Azure IoT development). Security engineers are Azure security engineers for cloud and hybrid environments, and a Microsoft certified DevOps engineer has to first have a certification in Azure development or administration. One specialty certification covers architect and engineering roles for running SAP workloads on Azure.
The administrator role still covers managing Windows desktops and enterprise email systems, but as part of Microsoft 365 — so the certifications cover OneDrive, Azure AD, Windows Defender ATP, Intune and hybrid Exchange solutions.
Product-based certifications do remain in two areas: end-user qualifications such as Microsoft Office Specialist (MOS) and Microsoft Technology Associate (MTA) certifications cover the fundamentals of databases, networking or using Windows, for example.
This is supposed to match the new needs of enterprises. When Microsoft first announced these certification changes at its 2018 Ignite conference, Selena Winter from Microsoft Worldwide Learning suggested that IDC's Cloud Skills study, which predicted that 38 percent of IT positions would be cloud related by 2021, was underestimating the speed of the shift, given that 70 percent of CIOs said they were planning a cloud-first strategy. IT professionals with cloud skills would not just be in demand, but in positions of influence because they would be influencing the choice and pace of cloud adoption at their organizations.
Why IT pros should embrace Microsoft's new certification approach
The annual Microsoft Certified Professional survey also showed a change in the reasons IT pros gave for getting certified. Instead of being about getting more money or a better job, certification was seen increasingly as a way to build or update skills with Microsoft technology, which was causing a shift in IT roles with the advent of cloud services such as Microsoft 365.
"Historically, somebody would be employed as a systems administrator or a server administrator or an Exchange administrator and that would be their job and they would do it for years. Now, if you're an Exchange administrator for on-premises Exchange server, your job is changing and in fact, it is going to go away," points out Microsoft Certified Trainer (MCT) and MCT regional lead Ed Baker, managing director of UK training provider Excalibur Services.
"Today's IT professionals are no longer selected because they have skills to work with a specific technology. The IT market has grown so much in the last few years that a good professional needs to be skilled in several technologies," Tiago Costa, another MCT regional lead and independent trainer, agrees. New jobs running a single on-prem technology are now rare and he encourages people to take this as an opportunity to move to certifications that match the new opportunities: "If you don't adapt, keep you skills up-to-date, the recruitment market just doesn't care about you anymore."
Keeping on-prem MCSEs might have allowed IT pros to avoid cloud technologies, points out Sharon Bennett, an MCT and senior staff instructor at LinkedIn. Not everyone is enthusiastic about cloud, but Bennett suggests that disinterest is often an unwarranted fear of the unknown.
"They have not kept their skills current and are worried that their services will no longer be needed. But the truth is, we need IT pros now more than ever. Moving to the cloud takes skill and knowledge, including on-premises experience. Just because a solution lives in the cloud does not mean it does not require administration. It's now our job to collaborate with the stakeholders to find a solution — cloud, hybrid or on-premises — that meets the needs of the company or client," Bennett says. "They are an integral part of planning the solution to meet today's needs and prepare for tomorrow's challenges."
How to earn Microsoft's new certifications
There are three levels of certification, starting with Fundamentals, which are introductory courses. Although they're technical qualifications, they're not aimed at technical staff, Baker notes: "They're suitable for salespeople, marketing people and anybody who wants to get into the field."
IT pros should target associate certifications and the small number of expert certifications associated with a specific path. "For an expert level certification, you need to have one of the associates, which is like the MCSA and MSCE," Baker says.
For example, Microsoft 365 associate certification covers a role like desktop admin, while the expert certification is for an enterprise admin. They would be evaluating, planning and deploying Microsoft 365 services across an organization — including Intune, Exchange and SharePoint Online as well as Windows 10 — so the expert level certification requires one exam covering Microsoft 365 identity and services and one covering mobility and security.
Microsoft went through a rigorous job task analysis (using data from LinkedIn and extensive interviews and focus groups), looking at what people use Microsoft tools and platforms for and what tasks a role involves. "We did the job task analysis around the Azure admin, Azure solution architect and Azure developer roles, using a mix of Microsoft subject matter experts and industry experts to decide what are the requirements of that role," Sandquist explained.
There are multiple modes of training, from bite-size microlearning with step by step tutorials on Microsoft Learn where you can use the cloud shell to run scripts live on Azure, to more traditional online learning from partners such as LinkedIn Learning and Pluralsight and in-person training centers around the world.
Microsoft Learn aims to improve access to and remove friction from documentation and training, unifying what had been a hodgepodge of resources for formal certifications and less structured learning on the Microsoft website and across partner resources.
But there are areas where the new approach breaks down, like the way that some of the new associate certifications cover very wide areas that simply don't fit in the training time suggested.
For example, Azure associate certifications require a single exam (that may include hands-on testing in an Azure environment) and a four-day course. But the instructor guide for the course shows that four days isn't enough to cover even the reduced Azure admin syllabus, which has already been cut down from two exams (which would have taken four or five days of training) to one.
That raises questions about how well the certification prepares staff for the roles it's supposed to cover.
IT professionals will also need to put more effort into choosing between the many certifications available. "The old program was very straightforward," Baker noted. "The new program has much more choice, much more breadth and it's much more difficult to say exactly what is right for an individual who wants a certification."
Where to go from an MCSE
"Retiring the MSCE is a classic example of Microsoft moving the cheese," Bennett told us. "The cheese is still available, and right now, there is so much cheese, but the IT pro must adjust their course to find it."
As long as IT professionals are comfortable including Azure in the certifications, there are clear paths to move on from most of the MSCE types, Bennett says.
"For the IT pro that has focused on Server administration, networking, backups, etc., I would suggest starting at exam AZ-900 Azure Fundamentals; not only does this provide the pro with a solid understanding of cloud terminology, but they will also be exposed to the new exam questions and formats, especially if they have not taken an exam in some time. I would then suggest the AZ-104 Azure Administrator certification," she says. That requires at least six months of hands-on Azure use and covers the range of Azure admin tools.
"After this, several different options are available depending on where they want to specialize. Most move onto the Architect certification AZ-300 and AZ-301 (AZ-303 and AZ-304)," she adds.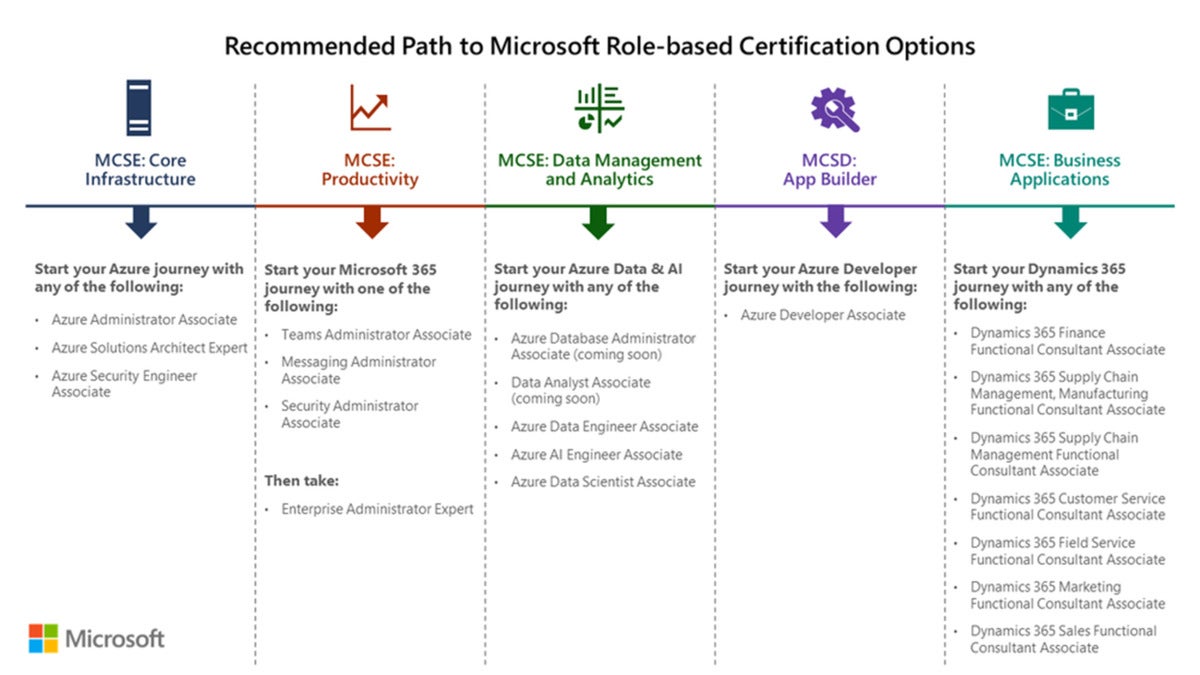 There are multiple Associate options for data management and analytics MSCEs, including Azure AI Engineer, Data Engineer and Data Analyst, but no Expert level certification yet.
Some popular certifications such as MCSE Productivity Solutions Expert, which covers SharePoint, have no direct replacement. Microsoft 365 Certified Developer Associate covers extending and customizing SharePoint but not running it and there's a Microsoft 365 Certified Teamwork Administrator Associate credential but it has been retired as of August 2020, with no replacement announced. Microsoft suggests pursuing the Teams, messaging or security administration associate certifications as a path to Enterprise Administrator Expert (and the MCSE also counts as one of the prerequisites for the new certification), but that's a much broader qualification that doesn't focus on SharePoint.
What about on-premises Microsoft certification?
IT staff who want to pursue a qualification for on-premises systems have no clear path forward. The training content for retired exams will remain available, but few will want to invest time and money in training for a certification that will expire or be seen as out of date in just a few months.
There are new, in-depth training courses covering key on-prem products such as Windows Server 2019 (a very welcome addition, Baker notes) but there will be no certifications for Windows Server 2019 or SQL Server 2019. "Windows Server 2019 and SQL Server 2019 content will be included in role-based certifications on an as-needed basis for certain job roles in the Azure Apps & Infrastructure and Data & AI solution areas," notes the Microsoft FAQ on the changes.
Several of the trainers we spoke to suggested that spreading this content through several role-based certifications doesn't always match what IT pros pursuing Microsoft certifications are still looking for. "The content that you learn on the course will help you in your day to day jobs in various roles," Baker explained, "but you can no longer go and do a five-day course on Windows Server and take any form of exam, which I think is a hugely retrograde step."
"I miss some roles like a Windows Server Administrator, SQL Server Administrator," Costa told us. "I would love to see these roles coming back soon."
But what about my current MCSA, MCSD or MCSE?
IT pros have had a short reprieve to acquire the current certifications. Originally, all 15 MCSA, MCSD and MCSE certs (and the exams required to gain them) were to be retired on June 30, 2020. With testing centers closed and IT staff dealing with the shift to remote working, the retirement date has been postponed to January 31, 2021. Similarly, any certification that was due to expire before December 31, 2020, gets a six-month extension.
And retired doesn't mean that existing certifications are invalid; you just can't earn them anymore. Even after the MCSA, MCSD and MSCE retire, they will be listed as active certifications until the end of January 2022. Exams taken to achieve a partner competency count for 12 months after they're retired, so partner organizations will be able to keep their competencies with a mix of old and new exams if necessary.
Where can I find training?
The home for Microsoft training is moving from Microsoft Learning to Microsoft Learn, which is part of the new Microsoft Docs platform and includes interactive coding and scripting environments as well as videos, documentation and other instructional content. There's even Learn TV, a streaming video service for training and education. Information about training courses, certifications and exams has also moved to Learn and later this year the certification dashboard will move there too. Microsoft Learn uses a different profile from Microsoft Learning, so you'll need to sign up again; if you use the same email address, your profiles should merge automatically.
Anyone whose employment has been affected by the pandemic can take one of the core Azure or Microsoft 365 exams for $15 rather than the usual $100-plus fee (exams can be scheduled after September 2020 but must be completed by March 31, 2020).
Issues yet to be addressed
The new certifications have the same two-year validity as before, but the current two-year renewal and recertification process isn't a good fit for qualifications focused on cloud services that change on a regular basis. The exam you take in 2020 covering Azure security fundamentals won't cover the security tools Azure will have in 2022, but retaking the exam every two years doesn't solve the problem. As part of the move to the new role-based certifications, Microsoft has offered transition exams to cover differences from the older exams. Recertifications might follow a similar path or use intermediate testing to extend the length of a certification. Expect more details on how this will work at Microsoft's Ignite conference later this month.
The bigger question is about support for IT staff whose role does not yet involve much cloud technology. The Microsoft Worldwide Training team now handles internal training as well as the external certification program, and Microsoft has shifted its internal IT to cloud services almost completely. However, Microsoft just unveiled a new Certifications Advisory Council made up of independent experts, including MVPs and MCT regional leads, which may bring a broader view to shaping certifications to match what IT pros (and the organizations that employ them) are looking for.
In the long run, the areas these new certifications cover are the skills new job opportunities will require. The global skills initiative Microsoft announced this summer uses data from the LinkedIn economic graph, which shows what jobs people are being hired for and what skills they require. That graph predicts 98 million new jobs for software developers by 2025 along with 23 million jobs in cloud and data roles (over and above the 20 million predicted jobs in data analysis and machine learning).
Some of those jobs will be more traditional technology roles that the Microsoft certifications no longer match and there are the LinkedIn Learning paths to support project managers, data analysts, IT administrators, help desk and support (as well as roles in sales, customer service and digital marketing). Some of those focus on third-party certifications such as CompTIA; others link to Microsoft Learn. That makes Microsoft's training options much broader than the old certification approach.