The pandemic we hoped would be over in a couple of months is still with us and, like the health consequences of the virus itself, its effects on the economy are proving damaging in the short term and uncertain in the long term.
When IDG Research carried out its CIO COVID-19 Impact Study in April, the situation was grim, with tens of thousands of new cases of the virus causing more than a thousand deaths every day, and offices and factories across the country shut down, with staff either laid off, furloughed or working from home.
Months later, much hasn't changed. Tens of thousands of new COVID-19 cases are reported every day, although fewer are proving fatal. And CEOs still expect IT leaders to make digital transformation and improving the experience of working from home their top priorities.
But IT's resiliency and response to the pandemic has had an impact. So too have emerging digital avenues for realizing revenue, even as traditional marketplaces slowly re-open. To get a clearer picture of how IT leaders are adapting, IDG Research went back into the field to bring us its CIO Pandemic Business Impact Survey. Meanwhile, CIO, Computerworld, CSO, InfoWorld, and Network World have reported extensively on the ways in which enterprises are responding, reorganizing, and redefining their priorities in this new reality.
What they've found is that CEOs are increasingly expecting CIOs to focus on product innovation, driving customer engagement and collaborating with lines of business to help streamline technology purchases. In addition, with some firms struggling and others seeking economies of scale to cut their costs, more CEOs are looking for IT help with mergers and acquisitions.
Following is a high-level view of the key trends driving IT in response to the COVID-19 pandemic.
Shifting out of crisis mode?
The early weeks of the pandemic met with historic economic fallout, and many IT budgets saw cuts and freezes in response. Cost control remains top of mind for many IT leaders, but as Mount Sinai Health System CIO Kristin Myers warned in our Aug. 17 article, "The CIO's cost-optimization playbook: 7 tips for tight times," in a crisis it's vital to balance cost cutting with investing in areas that will meet business objectives and add the most value.
There are clear signs that the 373 IT execs, managers and business professionals surveyed for the Pandemic Business Impact Survey are moving from crisis management to executing on business initiatives and connecting with customers.
They expect to spend more time developing new go-to-market strategies and technologies, identifying commercial opportunities, and cultivating IT-business partnerships over the next 12 months than they did when the pandemic first hit.
There's also a stronger emphasis on improving IT operations and systems performance, security management, driving business innovation and, as corporate strategies change, keeping IT aligned with business goals.
Fewer CIOs, however, expect to be spending time redesigning business processes, developing and redefining business strategy (down 10 percentage points), leading change efforts, or managing IT crises (a Top-5 priority for just 16 percent of respondents) — all signs that the initial scramble to redefine IT priorities and support shifts in business processes spurred by the pandemic may be subsiding.
Accelerating the three-year plan
While the pandemic has put the brakes on many things, it's accelerated others. Take the three-year plans that CIOs told us about in our 2019 State of the CIO survey, for instance: Some are already zooming towards — even exceeding — their objectives when it comes to time spent redesigning business processes or identifying market opportunities.
As David Clarke, digital strategy and innovation leader at PwC, told CIO readers in the Aug. 13 article "The pandemic pivot: IT leaders innovate on the fly," IT leaders should view the pandemic as a digital accelerator rather than a deterrent.
Some things are not going to plan, though: Back in 2019, only one-fifth of IT leaders expected to be worrying about cost control by now, yet it's still looming large for 43 percent of them, slightly lower than in April. On average, IT leaders expect to wait another 5.9 months before spending restrictions are lifted.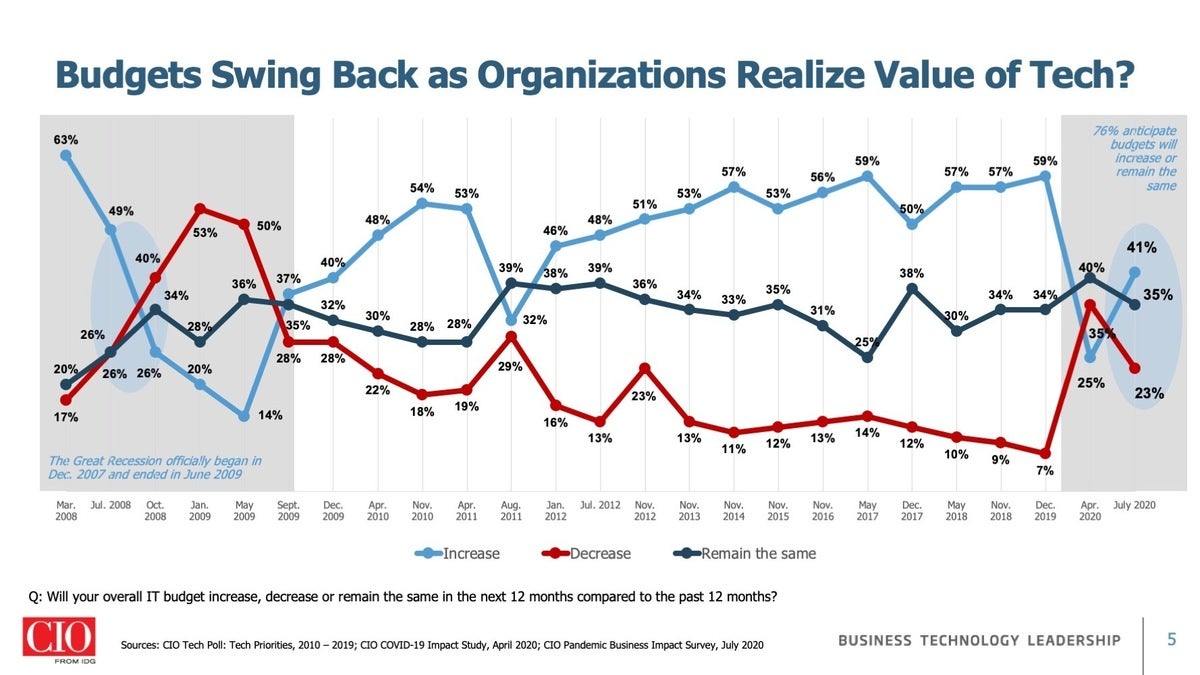 Still, there are grounds for optimism. In April, 35 percent expected IT budgets to shrink over the next 12 months, a fear for only 23 percent in the latest study. That optimism is driven by smaller businesses, where only 16 percent expect budget cuts; at businesses with more than 1,000 employees, the number is almost unchanged at 32 percent.
That's good news for the 54 percent of IT leaders who are not cutting back but adding new technology projects to their 2020 roadmap, as they look for a competitive advantage given the shifts in their industries due to the pandemic. A majority are also accelerating their digital transformation efforts as they deal with new customer interaction patterns and automate existing workflows and processes to respond to remote working.
Remote work is working
Almost six months after leaving the office, remote work is still working. Nearly two-thirds of larger firms, and a little over half of smaller ones, report that productivity has increased with the use of remote collaboration tools and software.
Keeping those remote workers connected is proving more of a challenge for big businesses, where 46 percent are having trouble supporting remote network access, compared to 36 percent of smaller firms. Larger companies are also more concerned about improving data security controls and getting faster internet.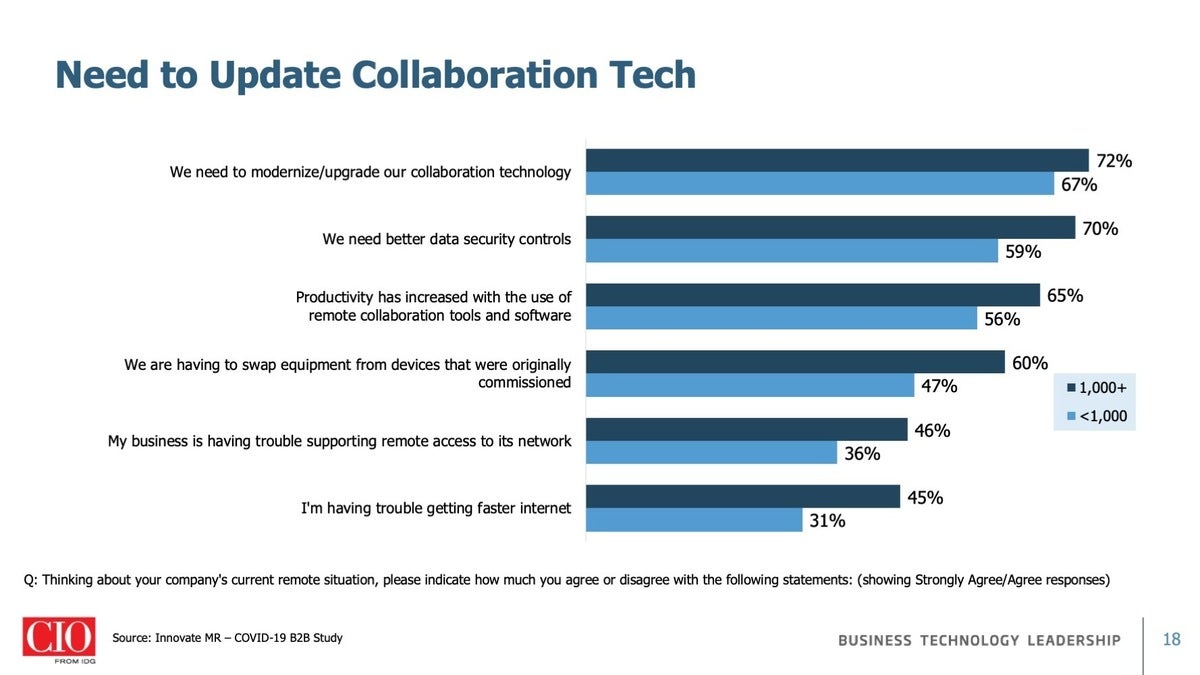 Attitudes to remote working are changing, with a majority of organizations taking a more positive view of working from home than before the pandemic, which will likely influence how they plan for office space and staffing.
As a result, 41 percent of those surveyed expect to still be working remotely come January 1, compared to just 19 percent doing so on a permanent basis before the COVID-19 crisis. That number could be higher, though: Only 23 percent said they needed to be physically in the office for the business to be fully operational.
Outside the IT department, more than half of organizations won't see employees back in the office this year — and for those that do return, it's most likely before Thanksgiving. Only 54 percent of organizations have a full social distancing strategy in place, with most of the rest at least planning to implement one.
Shifting objectives: Revenue and morale
Asked about which digital business objectives had changed in importance as a result of the pandemic, two-thirds of IT leaders cited increasing operational efficiency — but this was already among the top objectives for many of them before the crisis.
Some of the biggest shifts in priorities, though, have been around maintaining revenue in a changing market, cited by 53 percent (compared to 22 percent a year ago); and improving staff retention rates, engagement and team morale (42 percent, up from 11 percent).
It's hard to keep spirits up when the chips are down — but an Aug. 31 article in CIO, "11 ways to boost morale in a COVID world," offered some advice from Freshworks CIO Prasad Ramakrishnan: "When the pandemic began, our management team made an effort to connect with employees through open messaging about the state of the company and the reasoning behind our various course corrections. … These conversations decreased uncertainty."
That concern about keeping staff happy — or keeping them at all — could be driven by spending restrictions limiting new hires, or by an expectation that some key skills will be in short supply.
Outsourcing some management and maintenance functions by moving applications and workloads to the cloud is the most popular approach to staff shortages, at 41 percent. Hiring contractors or temporary workers, or increased reliance on consultants, would be considered by around 30 percent of businesses. Only just over a third would consider direct hiring.
Hiring plans are down across the board, compared to pre-pandemic levels, but some areas are more affected than others.
A majority of enterprises are already staffed up for their moves in the cloud: Only 30 percent expect to hire for cloud computing skills in the next 12 months, down from 44 percent pre-pandemic, and only 16 percent of IT leaders expect to have difficulties meeting staffing needs in this area.
There'll be similar drops in demand for those skilled in DevOps and AI/machine learning. Still, even among those hiring, 41 percent of IT leaders expect problems finding enough AI/ML experts to fill open slots.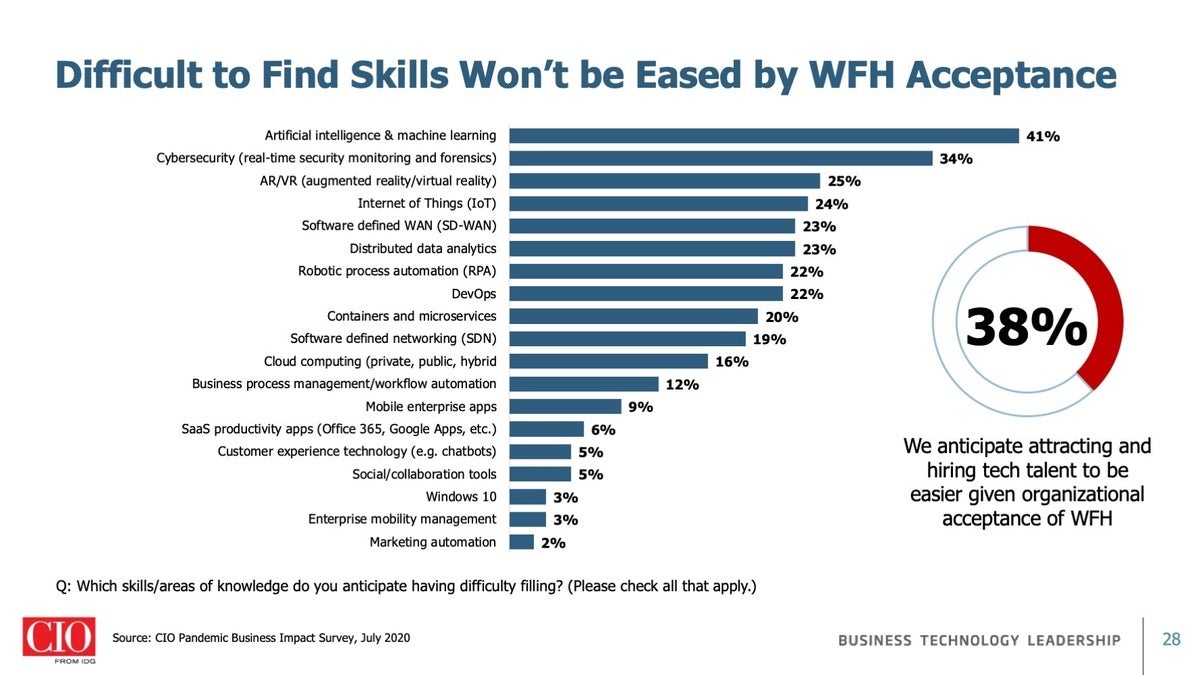 While working from home has long been held out as a benefit in some workplaces, it's now so commonplace that only 38 percent of hirers think it will make attracting talent easier.
If we had one word for the graduates of today, it would be security, not plastics: Demand for cybersecurity skills has slipped a little with the pandemic, but not as much as other areas, with 27 percent of CIOs still planning to hire for it in the next 12 months.
Even COVID has a silver lining
Enterprises have made all sorts of process and technology changes just to keep going through the pandemic, and they're seeing some unexpected or unplanned-for business benefits thanks to their response. Improved collaboration, better communication or more efficient workflows were each reported as positive benefits of IT's work over the past few months by more than one-third of respondents.
As businesses pull together to get through the crisis, IT leaders see collaboration with lines of business increasing further — especially at larger enterprises, where 62 percent expect this to happen. That's just as well because, although a majority of IT leaders expect to have a greater influence in technology purchasing, they don't expect any department to have less influence than before; collaboration, not combat, will be key.