UAE-based Metito has executed thousands of drainage treatment, recycling, waste and other water-management projects across 46 countries. As the organization scaled its business globally, though, data and storage management became primary bottlenecks as application workloads increased demands around its mission critical ERP application, virtual machines, and converged networking infrastructure.
Investing in legacy infrastructure upgrades was expensive and involved business disruptions. "Any network or server outage can be resolved with no lasting impact, but storage is critical. When it fails, you are likely left with a lasting impact," says Prashant Menon, manager of Metito's IT infrastructure and Support Services.
The company sought an alternative to the disruptive forklift upgrades so prevalent across the storage industry. The requirement was to move to a solution that had a predictable total cost of ownership for storage management and offered significant benefit improvements around application performance.
Metito's data centre is based out of Dubai's National Industries Park and feeds satellite offices. The company has more than 3,000 employees and the data centre supports a private cloud that hosts ERP, email, reporting, file servers, and telephony solutions. The business applications include Infor ERP, Microsoft SQL Server, Microsoft Office 365 and VMware vSphere supporting a virtualized environment.
Data capacity overloads storage throughput
Metito's back-end server and network infrastructure were providing excellent performance until data capacity reached a certain point, after which the team battled bottlenecks in storage. Increased workloads and long response times from the legacy storage systems began to cause application timeouts and negative customer experience. The organization was experiencing session time-outs on business-critical applications that hampered efficiency.
Another drawback was the process of taking snapshot backups of the VMware virtual machines, which caused network traffic bottlenecks impacting application responsiveness. The backups were slow and there were limited upgrade options.
"Storage constraints impacted the performance of our ERP system," explains Menon. "This was felt by finance and procurement departments. There were session timeouts, which meant users had to log out and back in, and re-input their data. This impacted productivity for our users."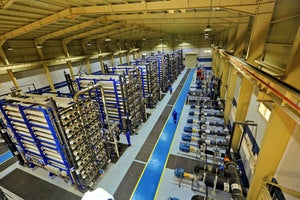 Metito's legacy storage infrastructure had become a drag on performance and the larger technology stack. To keep costs manageable, the IT team procured a mix of 7K- and 15K-rpm hard-disk drives. Still, performance bottlenecks persisted as time passed and Metito added more critical applications.
Challenged with lost time and less-than-optimal user experience, Metito was facing slow backups and limited upgrade options from vendors. These pain points cemented Metito's decision to replace its storage infrastructure.
Flash storage offers fast response times
A six-month procurement process was initiated that focused on identifying a solution to deliver performance and predictability. Metito looked at multiple solutions before selecting Pure Storage's FlashArray.
Metito selected Pure Storage's X20 R2, 28.8TB Flash Array, connected and managed through Pure 1, a SaaS application. Once the FlashArray is activated it is automatically registered and begins to send telemetry data to Pure Storage's Pure1 SaaS application and the global support team. Inside the data centre, the FlashArray is usually connected to the servers and rest of the data centre through an iSCSI or Fibre channel connection.
Storage systems built on flash technology have much faster response times and perform much better under a software-defined architecture than legacy systems. Flash-based systems have a sub-millisecond latency response, typically in the area of 250 microseconds, which helps to boost performance and reduce application time- outs. There are a number of players in the flash storage market, including big vendors like Dell EMC, HPE and IBM, as well as start-ups such as Excelero, Pavilion Data Systems and Apeiron Data Systems.
Pure Storage's FlashArray is designed to simplify the storage environment. It is managed through cloud-based predictive support, AI-driven full-stack analytics, using the Pure1 dashboard. Pure1 provides a snapshot catalogue of all backups in one place, whether the target is another FlashArray, FlashBlade, or public cloud.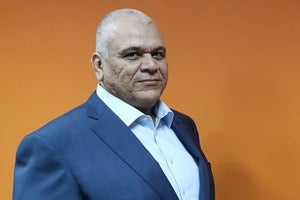 A key part of any storage and data migration process is to get an estimate of the existing performance of the legacy system, explains Assaad El Saadi, Middle East regional director for Pure Storage. Pure Storage then estimates the configuration of the target system as a basis for its Right Size Guarantee.
"This is a legal document for sizing," says El Saadi. "We use it to commit and guarantee the data reduction ratio for the end customer. This is to put the customer on the safe side and to put us on the safe side as well."
Data reduction aids cost optimization
Data reduction is an umbrella term for a suite of technologies, including compression, deduplication, and thin provisioning, that serves to reduce storage capacity required to handle a given data set. Data reduction is a key factor in making all-flash solutions cost-effective for a variety of budgets. Pure Storage provides FlashReduce, which is included with every FlashArray purchase. For virtually any application, FlashReduce delivers data reduction savings that bring the cost of all-flash below that of spinning disk.
One of the most critical aspects when migrating from a legacy storage system to flash based storage system, is to correctly estimate the capacity requirements. If the capacity estimate is too high, the end user would have overinvested into the flash-based systems and would get a reduced return from the investment. If the capacity estimate is too low, the migration would have to be repeated, to completely migrate the data from the legacy storage system to the flash-based storage system.
The Right-Size Guarantee shifts the customer's sizing risk at first purchase to Pure Storage. The vendor now guarantees to the end customer a minimum amount of effective storage that will meet their needs. Once the capacity size is estimated and the FlashArray configured and installed, the end customer and the vendor have six months to stabilize the migration under this Right-Size Guarantee.
Data migration is key part of storage upgrade
The process of migrating data from a legacy storage system to a Pure Storage FlashArray is dependent on the extent of virtualization in the existing legacy systems. In the case of Metito, the existing environment was completely virtualized. Hence, the migration of the virtual machines and the data from the legacy systems datastore to the Pure Storage FlashArray datastore was done using VMware tools. VMware has the option of moving a virtual machine from a physical host to another physical host online using vMotion
VMware's vMotion allows an end user to move an entire running virtual machine from one physical server to another, without downtime. The virtual machine retains its network identity and connections, ensuring a seamless migration process.
For Metito, the transfer of data from the host legacy system to the flash environment took a few hours and the overall migration project was completed in a week. Metito has deployed the FlashArray solution at its primary data centre as part of a converged infrastructure, significantly changing storage and data management. The organization's legacy storage system has been made redundant.
"With Pure, we are getting an efficient product and advanced technology at a predictable cost of ownership," says Menon. "All other vendors we considered, offered legacy-storage technologies with flash add-on but did not have the required software component to manage it."
Software optimizes storage management
In addition to flash and controller hardware, Pure Storage offers an operating system, Purity, which is the software-defined engine and driver of Pure Storage's FlashArray products. The Purity operating system inside the FlashArray manages business continuity, disaster recovery, encryption, APIs, storage services, and advanced data services. Most importantly the operating system delivers 99.9999% availability and 10:1 total efficiency for Pure's FlashArray.
According to Menon, the organization has also gained in terms of hard performance metrics. After completion of the migration of its 100% virtualized environment to Pure Storage's FlashArray, the data centre benefited with a 3:1 data reduction in storage capacity. The application performance improved by 30% and using Pure1, there is now full stack visibility.
The software-defined environment provided by Purity and FlashArray and Pure1, now provides the ability to proactively manage storage performance and upgrades. The time to backup critical data has also been reduced from two to three days that were required in the legacy environment, to 10-12 hours after the migration to the Pure Storage environment.
"With Pure 1, we can now view key performance metrics from a single dashboard. And consequently, we have moved to a more proactive systems management," says Menon. "Technology is central to our capacity to keep delivering excellence and to continue leading our industry."