In South Africa, 70% of the adult population use bank cards as their primary form of financial transaction. Yet at the same time, fewer than 20% of small businesses are set up with the hardware and technology to accept cards as a form of payment. This huge gulf is primarily due to the size and scope of the informal sector, but it's still disconcerting that the vast majority of businesses are unable to accept payment from the most popular digital payment type in the country. Effectively card payments have somehow developed as a niche product for the upper and middle classes, even though all the statistics indicate they are very much in the financial mainstream. This anomaly was the driving force behind the establishment of Yoco, the fintech venture that is successfully developing mobile driven payment solutions to help small businesses grow.
Lungisa Matashoba is the co-founder and CIO of the seven-year old South African payments provider that has been a real game changer for so many small businesses.
Payment solutions offer business opportunity
Reflecting on the company's origins, Matshoba remembers how "My co-founder Katlego Maphai had an illuminating experience while travelling in the United States. He saw the payment solution that the company Square had built, and how it allowed even the smallest of businesses to accept card payments. On his return he shared what he had seen with me, and that conversation is what ultimately led us on this journey."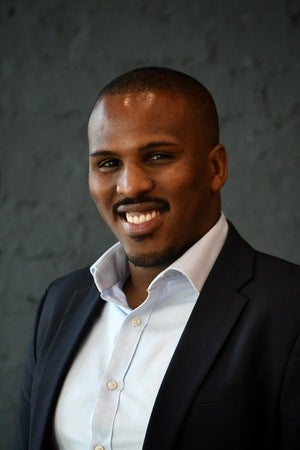 Yoco now offers several services and products including a point-of-sale mobile card device that allows business to accept credit and debit card payments in person; an e-commerce plug-and-play payments gateway that can be integrated into web sites; a mobile payment request app that lets anyone request and accept online credit card payments; and financial management and tracking apps and services for users of their products.
Today the company prides itself on the unusual fact that more than 80% of the businesses who sign up for Yoco have never previously accepted card payments. "It is a sign for us that we are opening the space and creating access rather than moving customers off incumbents," Matashoba says.
Ease of use key for appeal to small-business users
Emily Oliphant is one of those first-time customers. As the founder of Emour, an online boutique store that specialises in natural and affordable skin care products for the African market, she chose Yoco as her online payment solution because "they have lower fees compared to other payment gateways, funds are automatically transferred directly into my bank account without any hustle of applying for pay-out requests." Oliphant believes that "most clients who are learning to buy online find Yoco easy to use and they trust its payment gateways because they are familiar with the brand through the many local small businesses who are increasingly using Yoco's card machine." Yoco was founded in 2013 and it spent nearly all of that first year negotiating with potential banking partners and investors. By the end of 2013, they had both capital and an agreement to operate through a sponsor bank. While all this was happening, from a technical perspective the company was building a foundation for the business.
"Some learnings from previous ventures had shown us the importance of a core system that removed manual processes from the organization and we set out to build out a complete payment platform with an administrative system as part of it," Matashoba explains.

Four years later, in the autumn of 2017, Yoco was servicing over 17,000 customers, more often than not on a daily basis, and that's when they released a more complete version of the point of sale (POS) product. The new POS solution, in the form of a revamped card machine that works in conjunction with a mobile app, was in fact a complete rewrite of the core payment processing application that split the app into an SDK that can be used by a range of third parties — opening up Yoco's business to further integration with a host of new companies — and the company's own proprietary POS software, which was built using the open-source mobile application framework React Native.
Financing service helps win customers
The next stage of the company's evolution came with the launch of Yoco Capital in October 2018, by which time the company had gathered 34,000 loyal customers. "Yoco Capital allowed our small business customers to tap into instant financing that could be paid back through their transactions" says Matashoba. "The service was built by a small team within Yoco and tested our ability as a company to carry on operating the core business while building tech and scaling up our new sub businesses. This is a key step in any product driven organization and really tests the technical and product setup of the organization." A year later, the company launched an upgraded low-cost point-of-sale card machine, at a price point of ZAR 799, called the Yoco Go. (The device now retails for ZAR 499) This led to further expansion of their business and by the end of 2019 Yoco announced that it was servicing over 80,000 customers.
The Yoco Go card machine has been embraced by young entrepreneurs across the country who require a physical sales presence. "The Yoco card machine is light and portal," says Busi Mavunga of LoveTeaTime, an importer and reseller of exclusive teas from Kenya. "I can slip it in and out of my apron or pant pockets seamlessly. There is power in small, and there is a world beyond the physical card machine. The Yoco App, allows me to create product categories, enter and daily track sales. All the app activity is nicely centralized in the business portal, where I can pull transaction reports and even see the returning card customer percentage, which helps me in deciding which popup market I should be returning to."
Different products require different interfaces
One of the most difficult challenges that Yoco tries to address in all of its operations is the fact that they are simultaneously offering in-person and remote payments. Even though they are similar in some respects, they offer a very different set of challenges.
"In the remote space, you are optimizing for a consumer who is processing a payment on his own, far from the business they are buying from," says Matashoba. "From a UX perspective this presents a number of unique optimization challenges. When it comes to in-person payments you are optimizing for an attendant, be they a waiter, retail assistant or the business owner. They are likely to process many transactions in a day and your goal is ultimately to move them from novice to expert in the shortest time possible." The common denominator in everything they do has proven to be a fierce focus on the customer. This often means optimizing for the customer rather than optimizing for the company's own internal development considerations. "Our biggest challenge is making sure that we never let the technical complexity required to solve any problem become a burden on the customer and to focus on keeping that burden beneath the surface."
There are a number of online services available for business owners, depending on what parts of the Yoco platform they make use of. For example, those who use Yoco as their primary POS get basic analytics information about the products that they sell, and the staff members who are selling them through the business portal. All merchants get full access to detailed transaction history and they can take further payment actions such as processing refunds or re-sending receipts.
Integration with third parties is key
"Our business portal also allows those customers who make use of our online suite of products to gain access to their credentials and to integrate with solutions like WooCommerce [an e-commerce plug-in for WordPress sites] and Wix [web site creation software]. Customers can purchase additional card machines, use live chat to talk to our support team, update all their business details, and export detailed transaction records for processing in other systems."
The company's mission is to simplify the lives of small business owners. But they also understand that they can't do everything themselves. 'Trying to be all things to all people prevents any company from going deep enough into the areas where they are uniquely able to offer solutions.' To that end, they have invested in integrating payment solutions into other point of sale solutions such as Vend and Lightspeed, as well as one of South Africa's most popular account systems.
Africa has business opportunities, challenges
Africa beyond South Africa is the next challenge. The content is extremely diverse, large and full of informal businesses. Solving the logistical difficulties can be both an advantage for the players who achieve it but also a huge barrier for newcomers trying to enter new markets. "Our goal as a business entering these markets, is to create scalable and reusable solutions with the hope that long term, other players leverage the paths we build in order to bring additional solutions to the African continent," Matashoba says.
"The future of ecommerce in Africa is a tricky and interesting question. Our goal, as a business is to level the playing field between small businesses and their larger counterparts," Matashoba adds.
To succeed on a larger scale, Yoco needs to provide technology that allows small businesses to thrive alongside their larger peers, and also robust enough to compete with solutions from major global vendors, Matashoba acknowledges.
"The future I would like to see is one where e-commerce opens the doors for millions of small business owners around the content. But in order for that to happen, we have to create solutions that allow them to deliver a slick experience to their consumers at a fraction of the cost that the majors are doing it for, otherwise this future simply cannot become a reality."