The Royal Opera House Open Up project – a major architectural refurbishment of the building, its shared areas and the Linbury Studio Theatre as well as a small reimagining of how the institution engages with the public – was granted planning permission in March 2015 just three months before Chief Technology Officer Joe McFadden started a new role at the 300-year-old opera house.
Joining from the National Theatre where he was Director of IT for more than eight years, McFadden said that Open Up was a particularly ambitious and exciting project that technology was going to be a key strand of, particularly in how it would be able bring together the digital and physical experience for customers and audience members.
"At the moment we're particularly looking at the ticketing experience as the big strand that relates to technology," McFadden said. "That is something that has been on the agenda for some time, but we see Open Up as an opportunity to really think hard about how the building works and the audience experience we want to offer at the end of the project which will be in 2018.
"I think the theme of how we bring together the digital and the physical customer experience in the venue, and how technology can support both sides of that is important. It's at the early concept stage, but the building refurbishment does give us an opportunity to really think very carefully about how we can give a very tailored and personalised experience to all of our patrons through the appropriate use of technology."
Tickets for a tenor
Ticketing as part of the customer experience and user journey is high on the agenda, with McFadden and the technology team taking the opportunity for the organisation to start making moves away from paper tickets.
"The ticketing experience at the moment is a very traditional printed ticket and in many ways we're perhaps slightly behind the curve there," McFadden says.
"The traditional service and the tailored service that our box office and front of house staff are well known for will continue to be at the heart of it, but we also want to make sure that where patrons and audience members want to make use of mobile delivery of tickets, then we should be offering that as part of our spread of services."
Indeed, Covent Garden had a soft launch of e-ticketing at the start of 2016 following a survey of customers. The Royal Opera House e-tickets offer the option of customers to show the ticket on their phone to gain entry or print at home. Following the launch of electronic tickets, the organisation also released the ROH Bars App for iOS and Android for customers to order interval drinks and snacks on mobile devices, reducing waiting times at the bar.
Getting hold of tickets has been a bone of contention for some audience members in recent years, who have faced issues with website outages and waiting rooms on the day sales open to see some of the world's leading dancers and singers.
McFadden believes the organisation is on top of its struggles as part of a technology infrastructure improvement which he has taken over from his predecessor Rob Greig, who left Covent Garden to become the first Director of the Parliamentary Digital Service, but that an organisation funded largely by the taxpayer needs to make wise decisions and with how it spends its budget.
"It remains a challenge," McFadden says. "We've certainly had some issues since I've joined, but the solution that's been put in place has been one which has has been very well engineered taking the best advantage of public cloud technology.
"Our ticketing system here traditionally is a very good one, that's used very widely within the arts world, but it's still on that journey as to how it adapts to web scale demands that even medium-sized organisations are thinking about. For me, the challenge there is how you move the whole stack on in a way that can provide the right customer experience really at the right cost.
"We can't just throw money at that experience, it needs to be something that's cost effective and sustainable for the opera house."
IT infrastructure refresh
Prioritisation since coming into the role has been a major focus for McFadden since taking over the CTO post and making sure there is full alignment between technology projects and the business strategy under CEO Alex Beard.
McFadden says that this refresh of the underlying technology infrastructure of the opera house is a significant part of this. Moving in a nutshell, McFadden explains, from a legacy estate that had some challenges to a modern platform that reduces risk.
"It largely involves taking the on-premise services and equipment into either public cloud or into managed data centres as appropriate, effectively a hybrid cloud infrastructure," McFadden says.
This has included a move away from an estate of desktop computers, which was largely using Windows XP, to Windows 8.1 while introducing mobile devices and tablets in particular.
The communications platform has also switched from the PBX business telephone system to Skype for Business, previously Microsoft Lync, as well as adopting Sharepoint as part of the move to Office 365.
"That's already quite a lot of change for any organisation," McFadden explains. "Particularly an organisation whose primary business is putting on great opera and ballet – and you'll have a very wide variety of skill sets within the organisation. Everything from crafts people or musicians who may not necessarily be using technology in their day job, to people who are extremely technically capable and may be writing their own software for lighting visualisations."
While much of this change was done before McFadden's arrival in June 2015, he said that culturally supporting the adoption of new tools was also necessary. While many people have embraced the new technology, McFadden believes they must constantly make sure that the organisation visits and supports departments and teams that are perhaps less naturally inclined to use new tools, working with them to show how they can assist in their day-to-day working practices since "we were changing a lot at the same time, and that's quite an ambitious challenge to roll out".
CEO and board support
When the Royal Opera House advertised for its new Chief Technology Officer in January 2015 who would report to the COO, it sought an "experienced and inspirational digital technology leader to develop the ROH digital offerings, maximise the use of already established cloud platforms, reduce risk through highly effective technology governance, and add real value to the business" – while ensuring the opera house's position as a "digital and technology leader in the performing arts".
Now in role, McFadden confirms that the historic organisation based on Bow Street on the north east side of Covent Garden is committed to embracing a digital future as part of its strategy to deliver its art forms to new audiences and develop future generations, and is enthused to encounter board and artistic support for new initiatives.
"It's very clear that the whole board and particularly for Alex Beard our CEO, the opportunities provided by technology and digital capabilities are very much part of his vision for how the opera house can operate," McFadden says.
"The heart of what we are here to do is, and will always be, art forms. But how we can open up, not just architecturally but in terms of how we talk to audiences, how we develop the next generation of audiences and practitioners – and digital is a key strand of how we're going to do that.
"I think part of the CIO or CTO job is about being that supportive voice to other colleagues around the top table and understanding what the opportunities for technology and digital are. There are some fantastic opportunities; I think some of these are further down the creative process itself and that needs to be led by the artistic practitioners, but in the artistic side of the organisation I think there's certainly a good appreciation of the possibilities here.
"I think the real unknown is how newer technologies will start to be adopted by artists to create really genuinely meaningful digital art. Not just in opera and ballet, but at a whole range of art forms. That's going to be a very exciting journey to watch."
Funding
For an organisation in the public eye which receives a significant contribution from the taxpayer via grants from Arts Council England, it's natural that cost and resources is perpetually on the agenda for those who work at the organisation. While the Royal Opera House will be receiving some £75 million in ACE grants for the period April 2015 to March 2018, Covent Garden saw an 11% drop in its funding in 2010 under the Conservative-led coalition, before taking a further 3.7% cut in 2014.
CEO Alex Beard has said that Arts Council funding accounts for around 22% of the institution's income, and that it now receives more in voluntary contributions than arms-length government grants which enable the organisation to continue its outreach work and in turn subsidise costs indirectly by the taxpayer by keeping 40% of its tickets priced under £40.
"The focus of the opera house as a whole is still 75% of our resources go into the art forms, as is only right as you'd expect," McFadden says of the main priorities in Covent Garden. "The space, both in terms of the mental space for people to think about other projects and the resources to innovate around that is limited. The bottom line is we need to make sure we are offering the right services, and the right technology platforms to support the production and creative process – that's ultimately why we are all here."
Digital leadership
The Royal Opera House and its technology setup do have broader responsibilities well beyond their own walls and art form, however, as the biggest cultural recipient of public money in the UK.
"The business as usual, technology delivery is still where the majority of our focus as a technology and digital team is sitting," McFadden says. "And we do have, from Arts Council England, a remit to show digital leadership. Particularly on the learning and participation side, and the way we use digital to better understand and better communicate with our audiences is a big theme there."
Looking at some of the problems that are going on down the road at The Coliseum with the troubled English National Opera it's not hard to see why the digital and participation remit from Arts Council England is one taken extremely seriously by executives at Covent Garden. Board squabbles, departing CEOs and a controversial former artistic director who even criticised the live-streaming of productions to wider more diverse audiences outside of London as being "of no interest to me" has seen the ENO lose chunks of its core Arts Council funding.
Now under new leadership after being put in special measures by Arts Council England who have stipulated organisations in its portfolio should be "achieving great art and culture for everyone" and who noted that "the potential of digital technology is transforming the way we make, distribute, receive and exchange art; we must grasp the opportunities it offers", it's not hard to see why at Covent Garden they were early adopters of cinema live broadcasts, big screen relays from around the UK and free online live streams.
Working within economic constraints McFadden, a scientist by training who worked for arts industry newspaper The Stage as its web and digital manager launching its first website, is an advocate of government spending and the public subsidy of the arts as being hugely beneficial to the UK economy.
"All arts organisations need to be very mindful of how they spend their resources, particularly in light of increasing and ongoing budgetary pressures from government grants," he says.
"We strongly believe that investment in the arts sector, and not just in the Royal Opera House itself but into the wider arts sector, more than pays back to the UK economy in a number of ways. I think the figures that come with the creative industries are ratios of roughly £7 returned to the UK economy for every pound of Arts Council grant.
"We very strongly believe that while we understand the pressures on the grant that is an investment that is worth preserving and protecting.
"We're obviously thinking very carefully about how we manage our resources going forward; that's a pressure on the entire organisation and the technology department needs to play its part in helping us be more efficient. Technology can be a great enabler for that, and making sure we're picking the right initiatives to pursue – that's where we're really going to get the most bang for our buck."
ROH innovation
On the agenda for McFadden and the Royal Opera House is how they can innovate to improve processes to save time and resources, reinventing processes of information flow with repertoires planned up to eight years in advance – an opportunity for the institution to make huge savings in the technical theatre process when creating a piece of work.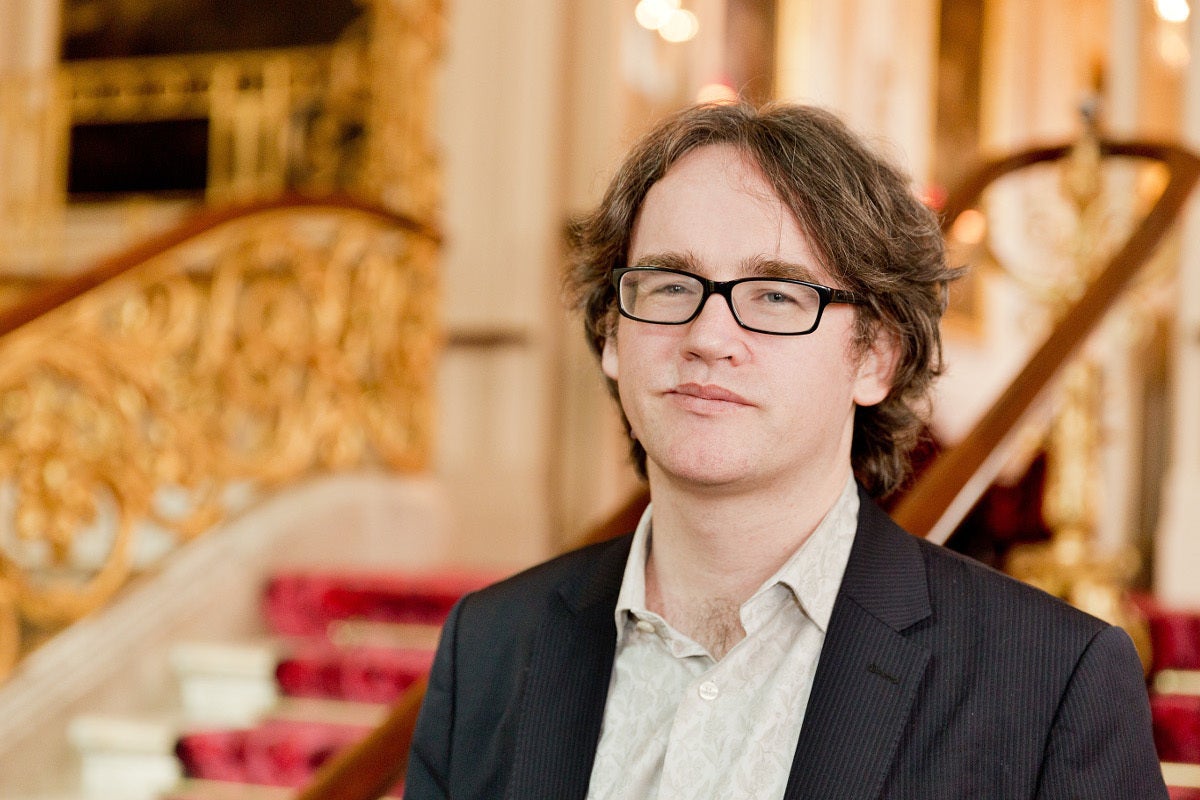 McFadden said that the possibilities around the visualisation of productions were vast with opera productions particularly being very expensive to mount with the time on stage to work through technical problems being extremely costly. Being able to use visualisations and "virtual techs" of shows to work on sight lines, lighting cues, transitions and scene changes was an exciting opportunity for production teams, he said.
Ballet fitness
With a professional background working in the arts and cultural sectors, there is still plenty to learn and take in at such a rich and diverse organisation and McFadden explained an experience of an innovation in the ballet space where technology is being used to help the health of their performers.
"Coming here I didn't have an expert knowledge about ballet in all its forms, but I've very quickly come to appreciate that as well as being fantastic creative artists, the ballet dancers in the company are absolutely at the peak of fitness and athleticism and pushing their bodies every night they are performing," he explains.
"Therefore we need to make sure we are making the best use of the kinds of sports science technology, which are now very common in professional sports, and making use of those tools so that we can provide the best care and support for the ballet dancers.
"As I understand it, we're the first ballet company in the world to invest in a sports science solution for a healthcare facility, covering everything from back-office support for the healthcare team and our facility on the top floor of the opera house. We have very modern gym, and recovery and recuperation facilities for the dancers within the ballet company, and also increasingly it means putting that information in their hands and into their smartphones."
From Shadow IT to innovation from below
Fundamentally, McFadden suggests that while a core team of IT and digital experts can create technology platforms, digitise processes and build apps, the cultural side of the adoption of digital and technology and focusing on the end-user, like what's in the best interests of ballet dancers, which is where the real strides will be made in innovation at the Royal Opera House.
"One thing I'm thinking quite a lot about is how we create the right opportunities for innovation in the rest of the organisation," he says. "That can sometimes be labelled 'Shadow IT', although in my view that's probably an unhelpful label since we can all be creative technologists.
"The role of a centralised service is yes, to think about things and how they move to the core of the business, how they become operationalised, how they can be made more efficient, and how they can be secured.
"But actually the real innovation is going to come from the lighting designers, the sound and video designers, people trying to solve problems – it's about enabling those people around the organisation. Putting the right tools in their hands and giving them the right advice to be pioneers in the right field with technology.
"I think you've got to be led by the artistic practitioners; maybe the people that will really crack it are still going through their training now?"