Transnet, South Africa's government-owned transport logistics company, has been riddled with irregularities for quite some time. Despite playing a critical role in the economy of the country, the state-owned entity has had no permanent leadership since 2018 when former CEO Brian Molefe controversially placed the largest order for locomotives in South Africa's history – 1,064 new trains at a cost of R50 million (US$3.3 million) – without government approval. Since Molefe's ousting, the role has been filled by Siyabonga Gama, Tau Morwe (acting) and Mohammed Mahomedy (acting). The most recent CEO, Brian Molefe's ex-wife Portia Derby, was officially appointed as CEO earlier this month.
Throughout all of these leadership ups and downs, Transnet's acting CIO, Rebatho Madiba, has focused her attention on driving digital transformation and technology investment at the embattled rail, port and pipeline business. We chatted to her about her role as a female CIO.
You're currently the "acting CIO" at Transnet. Is this a transition role for you?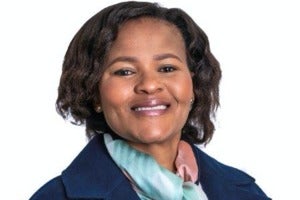 Before this, I was a GM managing the IT operations and outsourcing of IT functions. When the previous CIO left Transnet, I was offered the acting role. This was in October 2018. I wouldn't call it a "transition" because it has given me an opportunity to strengthen my leadership skills. Initially, I was only supposed to be in this role for six months but we haven't found an appropriate leader during this time so no senior appointments have been made. But even as "acting" CIO, you're given full authority. And luckily the work I do isn't impacted by changes in leadership because there is an industry-wide expectation for us to accelerate our digital transformation strategy. That is a key focus in 2020. I've obviously applied for the permanent position and am happy to go through the recruitment process and show them why I am an ideal candidate.
What business or technology initiatives will be most significant in driving IT investments in your organisation in the coming year?
We want to make sure that we have the right foundations in place to allow digital technologies to transform our operations. We are currently looking at network infrastructure upgrades, reviewing technology debt, revisiting our data centre strategy and identifying cloud technology opportunities. From a platform perspective, we want to leverage and fine-tune our industrial IoT platform and ensure that the right design and security is in place. Lastly, we want to take advantage of the different emerging technologies we've been testing over the last three years like machine learning and artificial intelligence (AI).
Can you provide examples of how you are using these technologies to improve processes and up efficiencies at Transnet?
For me, IoT is one technology that can really transform and automate our operations and, more importantly, improve our customer service delivery. We're an asset intensive business. We work across the entire logistics value chain – from pit to port. With IoT, we can help our bulk commodity customers to improve the monitoring of their products being transported using our rail network. With IoT sensors on the locomotives and wagons, we can offer them real-time visibility as these commodities move across our country and cross our borders. These locomotives are fitted with onboard computing devices that provide real-time monitoring so that we can keep better track of asset maintenance to reduce failure rates. From an AI and machine learning perspective, we're developing algorithms that will help us to predict customer behaviour, mainly around order fulfilment, and adapt accordingly.
Transnet's One IT principle – what is this about and what does it mean?
One IT is all about strengthening overall IT leadership to drive digital transformation across all the different operating divisions within the Transnet group. The aim is to define strategies, direction and standardised policies across all of these divisions. I work with CIOs from different divisions to create a strong and cohesive leadership technical team that is actively working to drive digital transformation across Transnet.
You have also initiated a Back to Basics programme – what does this entail?
When I came in as acting CIO, I created the Back to Basics programme to address the challenges we were facing at that time. We depend heavily on external service providers and needed to establish basic governance and contract management principles so that we could understand what impact these outsourced IT partners have on service delivery. It was literally about starting at the bottom so we can all work together to define our strategic direction as IT experts. For example, with everyone talking about data, going back to basics entails making sure that we have the right data management policies in place so that we can use our data to take advantage of new emerging technologies. We've had the opportunity to invest in a lot of exciting technologies in recent years but now we need to optimise the benefits from the investments we've made in the past.
What are some of the biggest challenges you face in your current role?
Three main challenges come to mind. Firstly, you may have seen in the media that there was some contention around the awarding of IT contracts, which made it difficult to manage anxiety around IT service delivery. And when your IT functions are outsourced, moving from one contractor to another without having a negative impact on our users and stakeholders can be challenging. As a CIO, another hurdle you are continuously facing with around earning business' trust. If you want business support, you need to develop a relationship with business executives so that have faith in the fact that you are here to make their lives easier. This is about showing them how technology can help everyone to do things better.
What lessons have you learnt that might be beneficial for our readers?
As a woman, you are often ignored and undermined. Especially when your EXCO (executive committee) is predominantly male. But having a strong technical and business acumen is a big help because I know what I'm talking about. Having worked at Transnet for a decade, no one can deny that I have a comprehensive understanding of the business. I try to not take anything personally, focus on the facts and do my best to collaborate with ohers so we can move forward.