Darwin is one of the most connected cities in Australia with homes and businesses enjoying the national broadband network right up to their front doors. But remote areas across the rest of the Northern Territory are some of the most disconnected in the country.
It's an irony that is not lost on Ewan Perrin, the Northern Territory Government's relatively new executive director of digital government. A highly experienced technology executive, Perrin moved into the role from analyst firm IBRS last September.
"There's plenty to do in any government [role] but up here, we have a few unique challenges. We've got a very high indigenous population – about 30 per cent of the 240,000 people across the state. The Northern Territory is vast and there are a lot of super remote areas. A big challenge is how we get services to some of those areas," Perrin tells CIO Australia.
"There is satellite and limited mobile connectivity in places and the [limited access] is something we are acutely aware of here. We have all of that and the weather challenges with cyclones, flooding and that sort of thing that we need to deal with," he says.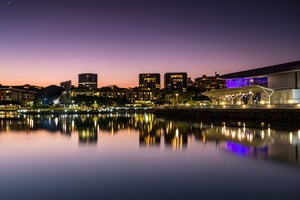 But providing services across a vast geography is not the only issue. Money is tight in the NT with the government last April releasing a budget repair plan to get the territory back into the black. Cutting executive positions across departments and ensuring they stick to budgets is expected to reduce costs by $11.2 billion over the next 10 years.
Despite the purse tightening, there's a Digital Territory Strategy – created by the NT government and administered by Perrin's office – which includes a dashboard that shows what stage each activity has reached. There are around 175 projects currently listed on the website.
"What we are trying to do is…show some actual, tangible results and the impact on the community and on the industry. So we are doing quite a lot around how we track the achievement of some of these initiatives as well," he says.
Under the strategy, the government is focusing on five areas: connecting communities, growing jobs and business, building digital skills, enabling smarter communities, and improving government services.
"Improving the way we deliver government services is a big chunk of what I am doing and what we are going to call a digital government transformation plan – that is relatively new and will dovetail into the overall strategy. It's about how we join up and digitise services, and how do we provide access to people in rural and remote communities," he says.
NT's budget for technology initiatives is a 'moving beast,' says Perrin, with an election on the horizon in August. This means that unlike Queensland, where Queensland Health's payroll disaster led to a Commission Inquiry, the NT government does not yet indicate whether or not projects are running under or exceeding their budgeted amounts.
"There has been a number of major machinery government changes which are still being bedded down so it's hard to get a handle on how much money is being spent on technology. We are still reorganising how ICT services are integrated and it's very difficult to come up with a clean set of numbers," he says.
"I have to say that when I look at the NSW [dashboard], I am quite envious because you can stick a couple of extra zeros on the numbers that we have and that's what NSW is [spending]. They've got a lot of money that they have invested and it's why [NSW] is the gold standard," he says.
Digital inclusion
'Digital inclusion' and nobody being left behind is the rhetoric at the highest levels of the Northern Territory government with three elements at the core: access, affordability, and digital mobility, says Perrin.
"Remote communities are at a disadvantage due to geography but also [lack of] access. But there is an affordability issue as well because satellite services are priced differently to terrestrial services. And they are the sorts of things that we see particularly in remote communities that are at a disadvantage because of the geography but also because of access issues.
"So we've got a number of partnerships underway with the Federal Government, Telstra, NBN Co and a few of those other providers as well as a few satellite and telco providers to look at ways we can deliver services to the bush and to remote areas."
To improve connectivity in the bush, the Centre for Appropriate Technology, based in Alice Springs, has installed cell amplifiers in various remote areas of the Stuart Highway and in local aboriginal communities, says Perrin.
"It's a wireless and battery free [range extender] and it's super cheap. You put your mobile phone into a cradle in front of a dish and it gives you a couple of extra of bars. It's not fibre-to-the-home but it's starting that process of at least recognising that if we include everybody then we've got a better chance of achieving a whole lot of social outcomes as well," he says.
"A lot of work has been done before I got here. There are a lot of bright people here who have been working on a lot of these issues for some time. It's where digital transformation comes from; there's a critical mass of technology happening that is making stuff possible now that were never possible before.
"Data and analytics will help us figure out the best ways to deliver services. You talk about low Earth orbit satellites and the things that Google and Tesla are doing around power generation and remote WiFi – there's a lot happening on that front that we are trying to dovetail in with," he says.
Allocating funding
Deciding which technology project proposals across the NT government will get funding depends what provides the best value for territorians, says Perrin.
"We want to help people in the NT make the most of digital technology, to build connections and help them reach their potential. Projects are assessed based on ROI, value for money and social value," he says.
Perrin says that with any government technology project there's always tension between governance and agility. He says technology can actually be used to streamline governance during each stage of a project.
"The thing about governance has been that it's something that slows you down. But when you think about a car on a racetrack, the thing that makes the car go faster is the brakes. So if you think about it that way and use governance effectively, you can streamline the process.
Another metaphor Perrin uses in relation to governance is e-tags.
"When you drive down the freeway, you don't stop to pay the toll anymore, technology enables that. Yes there is a balance and governance is always under review in each jurisdiction and we need to make sure that we are spending appropriately and making administrative decisions that are defensible and appropriate.
Perrin adds people in the Northern Territory are generally very pragmatic and practical.
"There's a no bullshit attitude, 'don't give me all the spin, tell me how I am going to get real, practical results,'" he says.
The Northern Territory has a small government, around 22,000 people in total, around the size of a large agency in NSW, Perrin adds.
"Having only few degrees of seperation means we can be connected and get the right people in the room more quickly. I am not ready to say we are completely 'agile' yet but we are certainly lean."