With the Indian enterprise finally warming up to the open source world and realizing what it has to offer, an increasing number of CIOs in the country have begun tapping into open source repositories. A 2019 report revealed that the usage of open source in the global enterprise had increased by 68 percent over a 12-month time period.
Open source could well be the blue-eyed boy among the developer community in the present day, but its journey has been anything but smooth sailing. Back in the day, erstwhile Microsoft CEO Steve Ballmer called open source a "communist plot". Roughly a decade later, Microsoft chief Satya Nadella states the company is "all-in on open source".
Although the paranoia surrounding open source has subsided significantly, there are still several notions that are far from ground reality – the biggest among them being 'open source is freeware'. CIOs around the world have oft-overlooked technical debt, which over a period of time, accrues 'interest' and can add a significant cost burden on companies.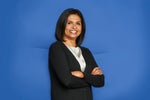 Akin to the frenzied but flawed dash towards open source, there's another trend that has taken the industry by storm – Robotic Process Automation, more commonly known as RPA.
In a bid to streamline workflows and eliminate mundane IT tasks, CIOs have been aggressively driving automation in their organizations. Again, not unlike the case with open source, incorrect RPA deployment could prove to be detrimental to its intended purpose and to the organization at large.
CIO India plays myth-buster in a conversation with Archana Rao, Global CIO at Atlassian, to dispel misconceptions around open source and highlight best practices in RPA. The tech-head goes on to share her success recipe on how CIOs can keep their organizations on the fast track to innovation.
Edited excerpts:
A lot of CIOs are turning towards open source solutions. What are your top takeaways for CIOs embarking on the open source journey? Is technical debt a factor that's often overlooked?
If you are tapping into open source to save money, you are probably going to fail. And you're right – the cost does add up. You are going to have to staff up engineers to figure out which version of which code you are going to adopt. So you are always going to be watching out for that.
Secondly, there are multiple people contributing to open source and they might be heading in a completely different direction altogether, developing a product that suits their requirements but not yours. So you might lose out on future capabilities as a result of unintended outcomes.
To reiterate, cost shouldn't be the reason you turn to open source. I believe the decision should be driven by innovation and in areas where you are not able to find mature, readymade products; and of course, if you have the bandwidth to experiment.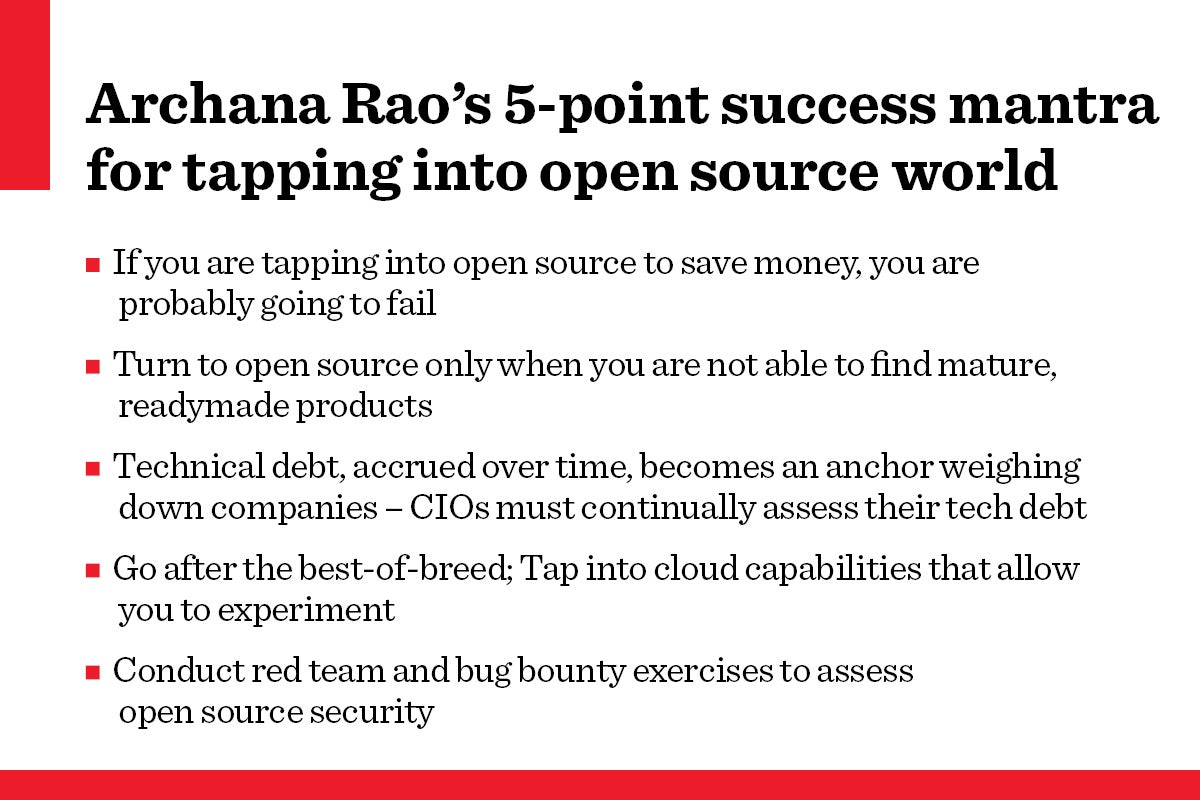 For companies harnessing open source, do you think technical debt could snowball over a period of time and run CIOs into trouble with accruing debt piling up?
What may happen over a period of time is that technical debt starts becoming an anchor weighing down companies.
CIOs will have to continually assess their tech debt and be in a position to predict what the solution would look like at scale, rather than meeting short term goals. You can have linear growth around your tech debt.
What, in your opinion, should be the fundamental question CIOs must answer before tapping into the open source world?
What you want to do is to go after the best-of-breed; you want to tap into those cloud capabilities that allow you to experiment and try things out with very little downside. For certain areas, say for instance taxation, you are better off going with the standard package and not wasting your time and energy and eventually losing focus in the process.
In our case, we are very clear on why we are going after open source. To me, there are two or three areas in which the pace of innovation is not what we'd like it to be. This is the fundamental thought CIOs must base their decisions on – pace and scale.
If you bring in an open source capability and just enhance it without tapping into the open source world again, you are losing out.
A recent survey revealed that in the top 400,000 public repositories on GitHub, only 2.4 percent had security documentation in place. What are your thoughts around the security aspect of open source repositories?
Generally speaking, security is mostly an after-thought, but if you embed security and make it a part of the conversation early on, you'll be building secure products by default. This is way better than having to secure a product after it's built as that makes the process much harder.
I think we CIOs have to bear the burden of securing whatever we bring into our environment. Security is not an area in which we co-opt somebody else to drive for us. We believe in investing in it and we have tripled our security capabilities over the last couple of years.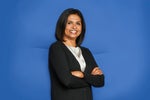 We conduct red team and bug bounty exercises. Even if we bring in open source capabilities into the company, we are going to kick the tires and put it through the wringer to see if it's going to stand up to intense scrutiny – we are not going to take somebody's word for it.
Archana, our readers would love to know how you drive innovation within Atlassian and how you keep your team on the fast track to innovation.
I believe innovation is everybody's responsibility. We have our IT participate in ship-it(s) – they are primarily hackathons for developers; I too have done a few over the last couple of years.
In addition to this, we have carved out an enterprise architecture team. We charge the team with the responsibility of looking around the corners. Theirs is a forward-looking team that brings in a lot of technologies into our sandboxes.
They are given a free hand in picking and choosing technologies that could work for our organization. Not only did we create a team that has the ability to carry out these exercises, we also carved out a budget purely for driving innovation.
It's a massive change initiative to try to change the culture of the organization – from being a hierarchical, top-down structure to a highly collaborative, learning-driven organization. There are small things that any of the leaders, not necessarily the CIO, can do to help inculcate a culture of learning.
Leaders have to bear in mind that once an idea has been canned, it's really hard for it to come up again. You have to nurture new ideas and allow them to bloom.
We have taken pretty big strides in intelligent automation – we are building capabilities to drive integration and automation both in the front and the back office. In the back office, innovations are primarily around RPA, while the front office includes initiatives around chatbots and automating capabilities for customer support.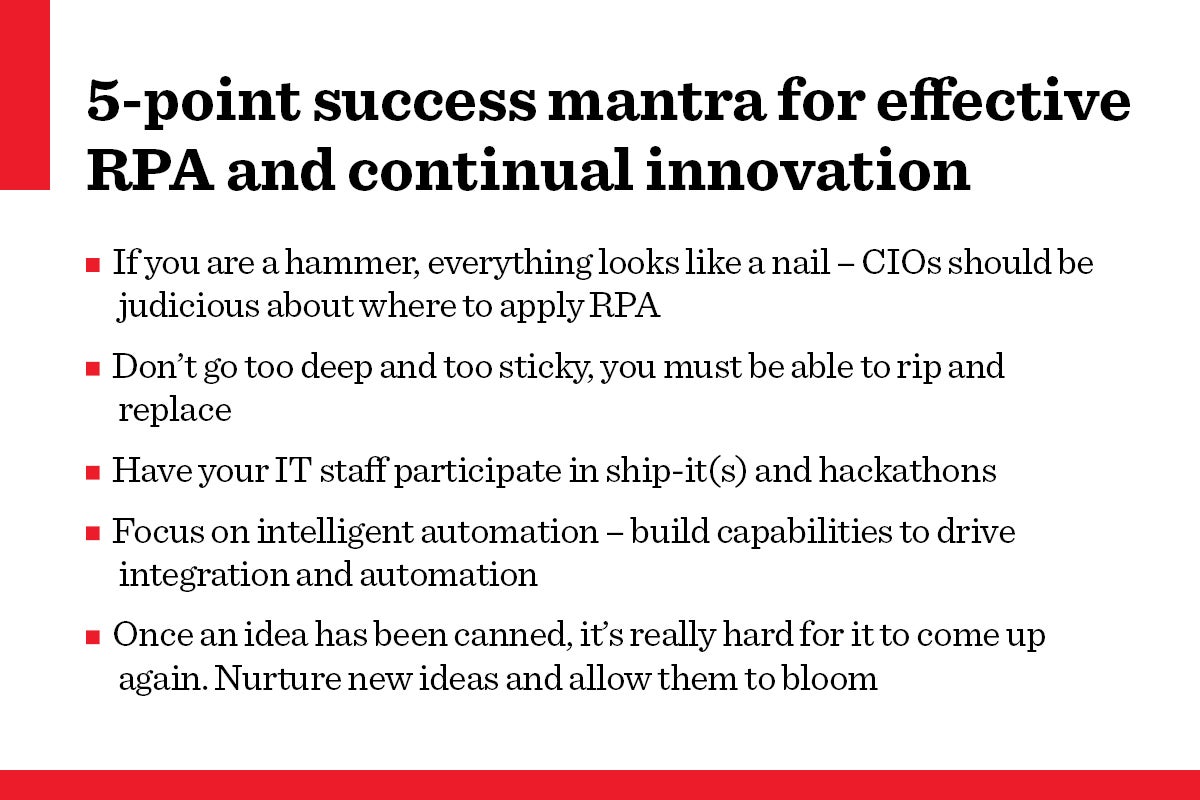 Could you zero down on a specific use case in which you deployed automation – what lessons did you learn? It'd be great if you could share some best practices for CIOs to bear in mind before they deploy RPA.
An important thing for CIOs to remember is that in a relatively new area like RPA, we don't want it to be too deep and too sticky – we want to be able to rip and replace as we want to go after the best-of-breed.
As a result of the automation drive, we were able to save over 2000 hours over the last six months. The manual work hours we saved enabled us to redeploy our workforce to drive higher value for the business and that got our finance and HR teams super-excited about it.
Now remember if you are a hammer, everything looks like a nail. CIOs need to be judicious about where to apply RPA. So if you create a team and put them in charge of RPA deployment, they might introduce automation in areas where it's not essential. Although it may not create a significant cost impact, it can still be wasteful.