The chief information officer (CIO) in Asia Pacific self-identifies as a "transformational" leader, tasked with creating new revenue-generating initiatives and with responsibilities expanding into cyber security and customer experience.
That's according to 2020 State of the CIO research from IDG, helping define the CIO agenda for the upcoming year while outlining the responsibilities and challenges facing senior IT leaders. Results are based on 679 qualified IT respondents at a global level, with findings in Asia Pacific representing the views of 99 technology executives.
In Asia Pacific, four core themes are emerging in 2020:
1 – Change agents
Specific to this region, the majority of CIOs (64 per cent) are assuming "transformational" roles within an organisation, ahead of "functional" (19 per cent) and "business strategist" (17 per cent) positions.
This suggests growing recognition of the value that CIOs are providing as champions of change within businesses across Asia Pacific, differing slightly from the more strategic priorities of technology executives globally.
Such a focus is supported by the recent transformational efforts of technology leaders at Grab, Amos Group and Star Media in ASEAN, alongside Coles Group in Australia, Mercury in New Zealand and H-Energy in India among others.
During the next three years, 33 per cent of Asian CIOs will increase efforts to cultivate IT and business partnerships, alongside leading change efforts (28 per cent); aligning IT initiatives with business goals (28 per cent); implementing new systems and architecture (26 per cent) and redesigning business processes (25 per cent).
In addition to executing on the transformational aspirations of the organisation, CIOs will also home in on driving business innovation (53 per cent), developing and refining business strategy (42 per cent) and developing new go-to-market strategies and technologies (35 per cent).
2 – Revenue generators
Since the commonest reporting line for Asian CIOs is to the CEO (47 per cent), it's perhaps unsurprising that key responsibilities now include the creation of new revenue generating initiatives such as the development of new products or services.
Currently, this applies to 57 per cent of technology executives in the region, either through managing (19 per cent) or forming part of a team (37 per cent) holding these specific requirements.
To achieve such aims, the common approach is centred around creating business case scenarios with defined costs and benefits (52 per cent), ahead of facilitating direct customer interaction (49 per cent) and establishing innovation teams (47 per cent).
A recent case in point is the work of Ken Soh as CIO of BH Global, who built out a cyber strategy for the Singapore-based organisation through the creation of a dedicated startup business, Athena Dynamics.
Speaking to CIO.com, Soh said of his dual, "I am an end-user in the morning and a vendor in the afternoon."
Today, CIOs in Asia Pacific are moving beyond being custodians of the IT department, instead embracing entrepreneurial mindsets (30 per cent), building test labs and spaces to spearhead the creation of new ideas (30 per cent), and leveraging the expertise of startups to change internal mindsets (30 per cent).
Take DBS Bank as an example: it launched its first data platform-as-a-service under the banner of Ada – named after the world's first computer programmer.
"Ada stands for 'Advancing DBS with AI'," said Soh Siew Choo, Managing Director and Group Head of Consumer Banking and Big Data, AI Technology, at DBS, speaking at IBM Think 2019 in Singapore in August 2019. "That is our ambition for this platform, we want this to be truly self-service so we can empower every employee of DBS to use data and AI."
3 – Security strategists
When it comes to technology priorities, cyber security (70 per cent) stands tall as the leading responsibility for CIOs in Asia Pacific, beyond traditional IT considerations.
Key focus areas include increasing cyber protections (30 per cent) and meeting compliance requirements such as GDPR (12 per cent), counterbalanced by wider business priorities of enhancing customer experience (48 per cent) and driving operational efficiency (45 per cent).
Security prioritisation is not translating into huge investment dollars, however, with CIOs on average setting aside 10 per cent of current budget to strengthening internal defences.
Delving deeper, only 23 per cent of organisations across the region have a CSO or CISO in place, with 19 per cent employing a "top security executive". Therefore, with 60 per cent of businesses lacking a dedicated resource at executive level, the security baton is subsequently being passed onto CIOs in the region.
Lack of skills in-market is also a contributing factor, with risk and security management talent in short supply according to 35 per cent of executives surveyed.
Encouragingly however, 30 per cent of CEOs have identified upgrading IT and data security to boost corporate resiliency as crucial to business growth in 2020, suggesting that security will continue to climb up the corporate priority ladder in Asia Pacific.
According to Chin Kiat Chim (CK), global CISO of Dyson, enterprise security is dependent on rolling out multiple layers of defence to ensure adequate protection, which consists of identifying, preventing, detecting, responding and recovering.
As highlighted by CIO.com, CK advises organisations to avoid spending too much money or effort on one single layer and instead to spread investment across detection and response so that attacks can be dealt with quickly and damage can be minimised.
"It's also important to not forget business continuity management, which is crucial in ensuring that during the worst-case situation, mission-critical business processes are still up and running even when the organisation is in the middle of cyber attack," he added.
While not highly ranked on the original findings, business continuity is emerging as a leading priority for CIOs in Asia during the opening months of 2020 due to the outbreak of coronavirus 2019-nCoV.
4 – Customer-centric CIOs
Aligned to transformational ambitions, customer experience (61 per cent) ranks as the second leading responsibility for CIOs, spearheaded by a desire to develop new customer journeys in market (45 per cent).
For 48 per cent of CIOs, this will translate into organisational investment in 2020 with a specific focus on the deployment of technologies such as chatbots and mobile applications (39 per cent) to drive engagement.
Complementing this will be increased dollar spend for more than a quarter (27 per cent) of technology executives on machine learning, artificial intelligence and robotic process automation (RPA) offerings. Meanwhile, 41 per cent of CIOs are expected to prioritise investments in data and business analytics to support such initiatives.
More so than security, this approach aligns to the priorities of over half (54 per cent) of CEOs in the region, who are tasking CIOs to lead digital transformation initiatives during the next 12 months.
The embracing of customer experience as a strategic CIO priority has been most evident in aviation, with a host of ASEAN airlines leveraging technology to boost user loyalty.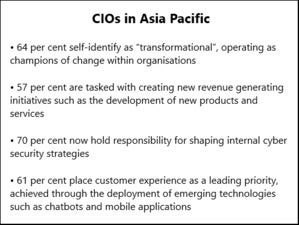 As reported in CIO.com, carriers in Southeast Asia are building out new technology strategies with customer experience as an anchor point, spearheaded by brands such as Singapore Airlines, AirAsia, Vietnam Airlines and Philippine Airlines, among others.
"Customer experience has become a key differentiator for businesses worldwide," said Craig Simpson, research manager, IDC. "New innovation accelerator technologies like artificial intelligence and data analytics are at the forefront in driving the differentiation for businesses to succeed in their customer experience strategic initiatives."
Likewise, customer experience also ranks highly in the media sector within Asia, emphasised by the audience-first data approaches of Star Media and Singapore Press Holdings. This is also the case at National Gallery Singapore, iCar Asia and Canopy, a Singapore-based fintech startup.