Technologies such as artificial intelligence, smart contracts and cloud computing are driving big changes in the legal field. Law firms that do not adopt new tools for interacting with clients and managing and analysing the vast amount of documentation involved in their case loads risk falling behind more innovative and efficient competition.
An emerging market for technology aimed at the legal profession, or legaltech, is starting to redefine how lawyers do their jobs. Legaltech aims to optimise the process of storing, accessing, and analysing the vast amount of information involved in legal work, as well as streamline interactions between lawyers and clients.
Law practices still often engage in procedures such as low-level paperwork in which the qualifications of lawyers and other staff provide no differential value. But technology including AI and a range of analytics software has advanced to the point where it is poised to take over at least some of the work traditionally done by legal professionals, leading to fears that a big portion of legal work will be commoditised, reducing law firm fees and putting lawyers out of work.
Rather than reject such technologies out of fear, lawyers should adopt them, urges Richard Susskind, president of the Society for Computers and Law and ubiquitous speaker on IT and the law. "Better and more efficient techniques for delivering legal services are now emerging and I urge the legal profession to embrace them," Susskind writes in his book, The End of Lawyers?. "Clients – from multinational corporations to individual citizens – deserve nothing less from their professional advisors."
Will AI replace lawyers?
Matthew Peet, CIO of UAE-based law firm Fichte & Co., appears to embrace this philosophy, noting that AI will not replace lawyers, but help them delegate tedious, commodity-type tasks to machines. In fact, Peet says, "The legal profession is much more protected from technology developments such as AI than other industries — mainly because it still requires a high degree of people skills (e.g., to deliver bad news to a client regarding their case)."
One ramification for lawyers is that they need to be highly developed in their people skills in order to bring value to their firms that technology can not, Peet notes.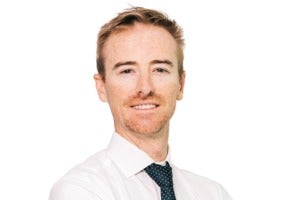 Launched in 2005, Fichte has offices in Dubai and Abu Dhabi, specialises in commercial law and risk advisory matters, and has the distinction of being the first law firm to successfully enforce an international arbitration award in the UAE courts under the NY Convention, an international law treaty adopted by the U.N. Clients have included government and quasi-government entities including ADNOC, Oman and Dubai Drydocks, and the Port of Fujairah.
Having joined Fichte in 2016, Peet has brought what he calls an "experimentation mindset" to the CIO role at the firm.
"At the moment there is still much room for improvement in the legal software market, but law firms should be looking at software that is used in other industries, and trying to implement (something) similar," Peet says. "Some of their clients might also not want to move to a new way of working (e.g., a client portal), but law firms need to trial these new types of services to see the full outcome."
Fichte is using AI tools offered in Microsoft's Office and Azure. "Outlook Insights is a useful tool to remind you about potential tasks and to follow up on them," notes Peet. In addition, the firm has started investigating Azure AI capabilities for more complex tasks: invoice analysis and automated processing.
Not all experiments work out. The law firm had a look at an AI package for analysing legal contracts but found that it was not trainable. "The essence of AI is that we should be able to train it," Peet explains. "We were under the impression that we could have our Arabic legal staff train it to be able to recognise key Arabic text."
Fichte has evaluated a few other options for contract analysis, but according to Peet "this technology still needs development."
Cloud has clear benefits for legal profession
Meanwhile, the benefits of the cloud have become clear. For lawyers, whose work depends to a large degree on efficient access to information, cloud technology allows them to have necessary documents and applications always available.
But even at a pioneering law firm like Fichte, whose stated ambition is to "shape the region's legal landscape and regulation," change can be met with some resistance. Careful auditing of the cloud providers was carried out, together with consideration of staff feedback. "Microsoft impressed our staff and management with their privacy, compliance, auditing and security policies, all publicly published," says Peet.
"I certainly had to overcome an 'anti-cloud' culture in my company when I first joined," he adds. "I was able to effect a cultural shift, by demonstrating real value to staff, through a few smaller projects. Lawyers still remain cautious about changing, but with good reason. Many of our top lawyers have their personal way of working, that has taken them years to optimise."
As a first small step to the cloud, Peet moved the firm to a cloud-based email security application, saving a significant amount of staff time due to the improved spam email detection.
Peet believes that the key shift, though, was to a new backup and disaster recovery solution. The firm had always experienced occasional issues with its on-premises tape-based system, Peet says, so he looked for other options, trying out Azure Backup for backup and disaster recovery.
"We finally ran into an 'imminent hardware failure' warning with our tape drive system," Peet says. "I was able to strongly suggest we simply commit a changeover to the cloud-based (Azure) backup solution. At that point, we effectively had a proven system ready to roll out. There was no implementation cost to the business other than pay-by-usage."
The law firm also uses Office 365, including SharePoint and OneDrive for document and file hosting, sharing and synchronisation. All of which is carefully managed under customised data protection controls.
Smart contracts: bane or boon for lawyers?
Ultimately, even though legaltech will eliminate some of the work legal professionals do, there will always be a need for human lawyers, Peet says. One case in point is smart contract technology – computer programs that automatically execute the terms of a contract. While a regular contract must be executed by legal practitioners or a court system, smart contracts can be performed without the need for human verification.
"I do not see smart contracts as a bane for the legal profession," Peet says. "I think there will always be work for lawyers with regard to contracts, simply because as soon as they are written there is often room for interpretation of the terms used, or issues occur that are outside of what the contract provides for."
However, legal knowledge alone will not be sufficient for lawyers in the future. Lawyers will likely need at least an understanding of the underlying techniques and methods used to support digital transformation.
"Lawyers should have some IT knowledge, even if it is just an issue of how to share a file with a client securely," Peet says. "Fortunately, as generation X and Y lawyers come into the industry, they already arrive with a better understanding of the benefits and potential options available through IT software and services."