When students at the University of Auckland Business School were recently asked for their ideas on potential ventures, they set aside 'get rich schemes'.
Instead, most of them presented ideas for ventures that address social and environmental problems.
Out of the 13 venture ideas developed during the 'Idea Bootcamp', five addressed environmental issues and three dealt with social interaction and mental health and wellbeing.
"There is indeed a shift amongst students to create new ventures that are as much about doing good, as making money," says Wendy Kerr, director of the business school's Centre for Innovation and Entrepreneurship, which runs the bootcamp.
This is something she has observed over the last three years as head of the centre.
"I have seen a steady rise in the proportion of socially-minded ventures being put forward by students," she notes. "They are not creating charities but high impact businesses with a compelling value proposition and a sustainable funding model."
Interestingly, she says, students do not make the same separation between a social venture and a commercial venture compared to older generations.
"They see that as solving very important and in some cases, personally relevant problems."
For organisations that want to hire them, one factor to consider is this group's "values based" approach to job selection.
"They will investigate the values of the organisation, and what its policies and commitments are in the social and environmental realms," explains Kerr.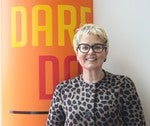 No caption
There is indeed a shift amongst students to create new ventures that are as much about doing good, as making money Wendy Kerr, University of Auckland Business School
"Their 'social' mindset is a positive for their future leadership style," she points out.
"Already, they are thinking more broadly about the world they live in, viewing situations with an empathetic lens, and having a solutions focused mind-sethellip;These are three excellent qualities for a strong leader!"
'Social warriors'
Sinead Watson, programme manager at the business school, says the continued themes from participants reflect the anxieties of the current generation around the state of the world and the desire to do something about it.
"Concerns about the environment are to perhaps be expected, but a surprising trend that has come through in recent venture creation programmes is a yearning to address the difficulties that the current generation experiences over social interactions," says Watson.
"People are more connected than ever through technology yet there is a sense of isolation," she adds. "And the way that students choose to address the problem is through applying technological solutions with a humanistic framework".
For instance, one of the venture ideas at the bootcamp was around building empathy and support strategies through an immersive VR experience of mental health symptoms.
Another venture was a platform for interacting with lecturers and an app for meeting like-minded students.
There was also a mentoring service for international students who are new to New Zealand.
On addressing environmental issues, one of the ventures involves a company that will recycle plastics and turn it into valuable solutions such as insulation boards for the housing sector.
The students also pitched a drone service to track litter at New Zealand beaches as a way to monitor waste.
Kerr says programmes such as the Idea Bootcamp allow the students to practice creative problem solving, take the first step in generating tangible solutions to global issues, as well as connect with others and form "a community of like-minded social warriors".
Sign up for CIO newsletters for regular updates on CIO news, career tips, views and events. Follow CIO New Zealand on Twitter:@cio_nz
Send news tips and comments to divina_paredes@idg.co.nz @divinap