Auckland ICT Graduate School has fully subscribed its entire class to Amazon Web Services' (AWS) Academy as part of its ICT skills curriculum.
The graduate school is a collaboration between the University of Auckland and the University of Waikato.
AWS Academy is a global community of over 1,000 institutions in more than 35 countries, which gives students a holistic understanding of how technology is used within industry so they can seamlessly transition into the workforce.
Gillian Dobbie, director of the Auckland ICT Graduate School, says implementation of AWS Academy is proving invaluable to its graduates, New Zealand's technology sector and the economy at large.
"So far, 30 students have gone through the course this year. By 2025, we expect to have prepared over 500 extra people for the NZ ICT sector, and around 300 of them will have AWS certification as part of their preparation," says Dobbie.
Aravind Madana Gopal, a recent Auckland ICT Graduate School student, was one of the first to complete the course and become an AWS certified cloud practitioner.
He is now an intern at Brave New Coin, a blockchain and crypto asset market data company.
"I took my AWS Certified Cloud Practitioner Certification exam the same day as my last round of interviews (with Brave New Coin)," says Gopal. "The interviewer was impressed that I knew how to use the AWS services before even starting."
Tim Dacombe-Bird, NZ country manager at AWS, says that AWS Academy is looking to grow the number of skilled IT professionals domestically through these types of programmes with academic and training institutions.
"In New Zealand, technology is our third largest export sector generating $7.9 billion in offshore revenue and yet the workforce is made up of only 120,000 employees," says Dacombe-Bird.
The New Zealand Digital Skills Forum, meanwhile, has reported that in 2016, 14,000 new jobs were created in the technology sector, yet only 5,090 students graduated from computer science or information technology studies the year prior.
"For tech companies to continue to grow and compete on a global stage, AWS is working with industry, government and educational institutions to grow the skills base and cultivate the next generation of technology builders," says Dacombe-Bird.
The school selected AWS Academy following a recommendation by its independent industry advisory board, which consists of representatives from New Zealand's top technology companies, including Datacom, ASB and Xero.
AWS says globally, companies are seeking job applicants with AWS Cloud skills, and 58 per cent of employers request these skills by name in listings that require "cloud computing" competencies.
Dacombe-Bird has earlier reported that a survey among technology practitioners in North America and Canada found that those with AWS certifications earn 25 to 29 per cent more than those who do not have these certifications.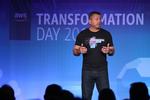 Tim Dacombe-Bird, country manager, New Zealand, Amazon Web Services
Sign up for CIO newsletters for regular updates on CIO news, career tips, views and events. Follow CIO New Zealand on Twitter:@cio_nz
Send news tips and comments to divina_paredes@idg.co.nz @divinap