Spark CEO Jolie Hodson says Leaven will help organisations shift to new and more digital ways of working.
"Leaven is an important element of our strategy in helping all New Zealand win big in a digital world," says Hodson, in a statement.
"Specifically, Leaven has been introduced to help organisations realise the benefits of digital transformation and put plans in place to get there faster."
Former Revera CEO Robin Cockayne will lead the new business unit.
Spark says Leaven will focus on three key areas: cloud adoption, operations and digital innovation, effectively establishing processes and technology enablers that underpin business transformation.
A team of 20 has been working under for the past few months to validate Leaven's approach, combining local experience with intellectual property exclusively licensed from Cloud Technology Partners (CTP), a Hewlett Packard Enterprise (HPE) company.
"We can offer organisations the best of both worlds: years of local experience combined with CTP's world class, proven IP," says Cockayne. "We believe this combination puts us in an ideal position to help New Zealand organisations transform how they work and the services they offer."
Cockayne says there is considerable executive and boardroom interest in Leaven's digital transformation offering.
"The volume of noise around cloud and transformation makes it tougher for some clients to get started," he says. "But that's one of the strengths of Leaven's approach – clarity."
"From the outset, we're geared up to deliver end-to-end cloud adoption services for enterprise, from assessment to cloud-native application development, to ongoing managed services."
Spark says Leaven will offer a cloud-agnostic approach to transformation and will work with three major public cloud platforms – Amazon Web Services, Microsoft Azure, and Google Cloud.
The partnership paves the way for HPE New Zealand to broaden the scope of its digital services in the local market, says Colin Henderson, managing director, HPE New Zealand.
"We've invested significantly in these capabilities aligned to our multi-cloud strategy with on premise and public cloud consumption models and are excited about Leaven's potential," says Henderson.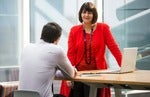 Spark CEO Jolie Hodson
Sign up for CIO newsletters for regular updates on CIO news, career tips, views and events. Follow CIO New Zealand on Twitter:@cio_nz
Send news tips and comments to divina_paredes@idg.co.nz@divinap