Spark-owned Revera and CCL are set to merge, forming an IT management and cloud technology services business spanning the country.
The move is designed to offer a broader mix of services and capabilities from a single engagement and support engine, according to Spark.
With work to amalgamate the companies officially kicking off today, the new CCL organisation will have 700 employees working from 11 offices.
Staff of the two companies were informed of the merger this afternoon, CIO New Zealand has learned.
Current CCL CEO Andrew Allan will lead the new business, with Revera CEO Robin Cockayne supporting the amalgamation of both companies before moving to another role within Spark Group.
"We're excited to deliver this news knowing that the merger creates a single organisation providing end-to-end IT management and cloud technology services unrivalled in New Zealand," said Allan.
Both businesses have recorded significant year-on-year growth since 2013, said Allan, in a statement.
"Both Revera and CCL have been extremely successful under Spark ownership. But the market is shifting to new modes of consumption and delivery," he added. "This move is based on the thing clients tell us they value most: the safe hands of a custodian.
"Combining Revera's deep platform experience with CCL's bespoke professional services delivers expert focus at every step in the management and modernisation of our clients' business technology."
Cockayne said that while the CCL name on the new business would surprise many, he believed the fit was right.
"Together these two businesses make a new promise about custodianship, which is bigger than the reputation Revera has forged in IaaS and cloud technology," he said. "So it makes sense to run with the challenger brand CCL as we write the next chapter on our combined businesses.
"Even so, I'm a little misty-eyed to see the Revera brand disappear from the mantelpiece, but proud of the job it has done and the principles it stands for."
Jolie Hodson, customer director at Spark, said the new CCL was the best form to leverage the company's investment in the two businesses – a move that effectively created Spark Group's IT managed services and cloud delivery engine.
"We want to extend our position as arguably the leader of IT management and cloud technology services in the country," she said. "Combining these two businesses delivers the seamless end-to-end services and expertise more clients demand, and ensures we put a panoptic lens to their businesses."
Spark acquired data centre company Revera in 2013, and Christchurch-based IT services firm CCL in 2015.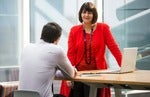 Jolie Hodson