It is augmenting, not replacing lawyers Andrew Poole, MinterEllisonRuddWatts
MinterEllisonRuddWatts and McCarthyFinch have partnered to create authorDOCS, an AI-powered tool to deliver faster contract drafting and review.
authorDOCS combines enhanced artificial intelligence with new collaborative team concept sharing and data segregation for information security and confidentiality.
It is powered by authorAI,an AI platform designed by McCarthyFinch with MinterEllisonRuddWatts as one of the major investors.
"This product will benefit any lawyer who is involved in drafting or reviewing contracts," says Nick Whitehouse, co-founder and CEO of McCarthyFinch.
"authorDOCS delivers quick wins for legal teams," says Whitehouse. "There are no complex IT projects and no changes to existing processes required. You can simply download and get started."
"The legal profession is facing disruption," says Andrew Poole, chief executive at MinterEllisonRuddWatts.
"We have a choice to be disrupted or be part of disruption. We are happy to be part of the disruption."
"We took a bold step," says Poole. "The first is to be part of AI and to be at the core of it, and understanding more about it, rather than be a bystander."
Related reading: 'If former US President Barack Obama were to enter law school today, he would most likely be studying the AI platform' – Dr Ayesha Khanna
"We are always looking at ways to deliver more value to our clients, and technology is an enabler," says Poole.
"authorDOCS is the latest demonstration of us acting on this promise."
"This cleverly designed AI tool combines simplicity and ease-of-use, and is an ideal choice for any legal team looking to make tangible steps towards greater efficiency and the use of technology in the management of contracts."
"It is augmenting, not replacing lawyers," he adds.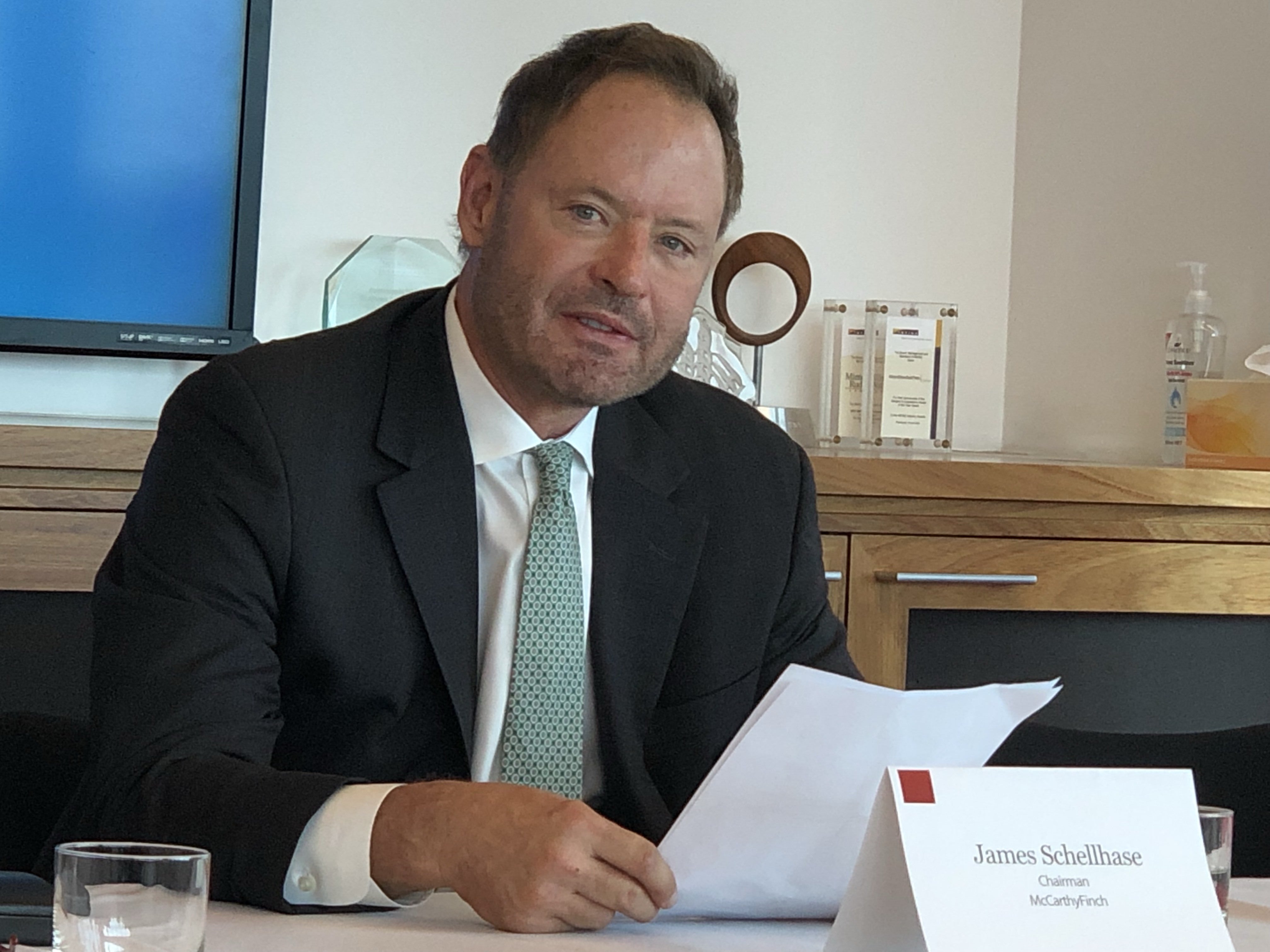 No caption
authorDOCS uses AI technology to accelerate legal work and frees lawyers to focus on higher value needs of the businessJames Schellhase, McCarthyFinch
James Schellhase, chair of the McCarthyFinch board, says legal teams are expected to be more responsive, flexible, and thorough in their legal work, while providing measurable value to the business.
"This is amid ever tightening constraints on legal spend and resources," he notes. "The quality and expediency of contract review and drafting are no exceptions, and authorDOCS uses AI technology to accelerate legal work and frees lawyers to focus on higher value needs of the business."
Whitehouse says authorDOCS is available globally via a subscription with optional review packs, including for everyday supply agreements, material contracts, and confidentiality agreements.
Whitehouse says authorDOCS is a user-friendly add-in for Microsoft Word.
"Its intelligence can be tailored to meet each team and user's specific needs, including specialised review packs for specific types of contracts and machine learning of user preferences to guide the tool's focus and suggestions it provides."
Bracing for an AI-fuelled future
Whitehouse says it will be difficult to imitate the intelligence underneath authorDOCS.
He says authorsDOCs is the culmination of two years of AI R D and the development of proprietary AI techniques.
"It was built on tens of millions of legal data points and hundreds of thousands of hours of expertise," he says.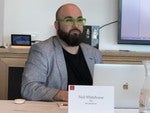 No caption
There are other business models that can grow out of new ways of working. This is a platform to achieve thatNick Whitehouse, McCarthyFinch
"authorDOCS learns from small amounts of data, allowing it to be applied into niche areas that traditional AI cannot serve, as they require large amounts of data to achieve requisite accuracy."
"It is learning as you work," says Whitehouse. "You have the ability to train it; as it is growing, it starts learning your style."
He says there are very few broad-based generalised legal AI products in the market that are used all day every day.
"Traditional AI is a 'blackbox' and this blackbox has drawn criticism, particularly in law and law enforcement," he points out.
"Every decision authorDOCS makes is explainable, which is crucial to its success in law."
authorDOCS is just the beginning of an exciting suite of McCarthyFinch products designed to change how law works, says Whitehouse.
"We're confident that authorDOCS will change the way lawyers do business, and perform drafting of contracts," he states. "This product has a big roadmap ahead of it."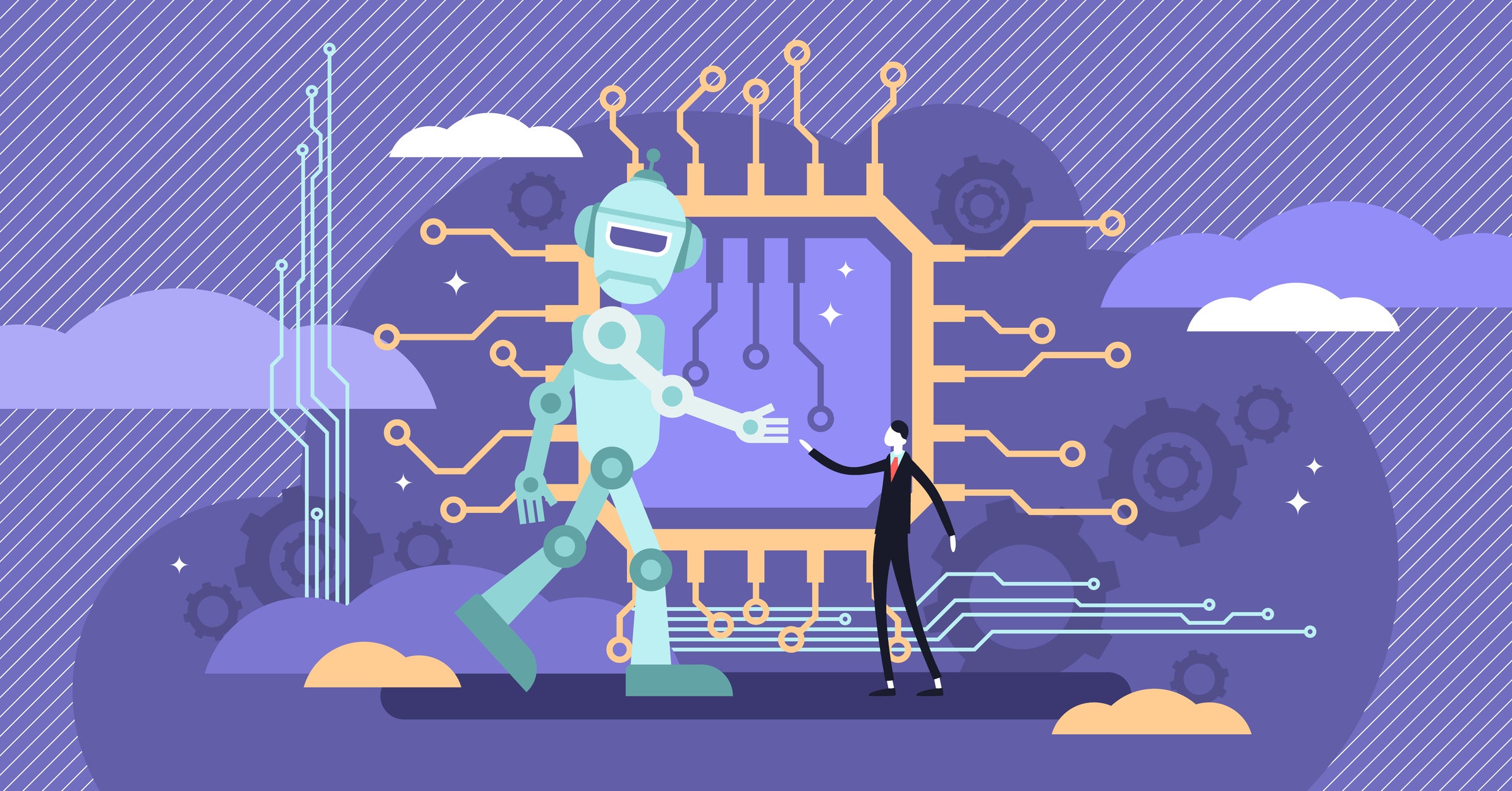 No caption
He says products that will be built on top of the authorAI platform include:
authorAPPROVE for contract approval automation: A legal AI workflow automation service that can be easily deployed by businesses to automate routine contract reviews.
authorDRAFT for contract drafting automation: Lets in-house lawyers and business users quickly draft common contracts via natural language instruction. authorDraft assists users by automating the creation of "smart" contract templates while utilising advanced conversational AI to draft contracts over email, from the web or in Word.

authorEXTRACT for legal information extraction: Legal information extraction from unstructured and structured data, including large contract sets.
authorTRIAGE, a legal virtual assistant: Enables triage and automation of frequently asked legal questions, be it related to the business or specific to contracts. authorTriage uses advanced intent detection to dynamically converse with users, identifying the issue area, capturing key information, directing users to the correct information or escalating to subject matter experts via warm handover (including information and references) or actioning the request (such as drafting a contract!).

authorINSIGHT for intelligent compliance reporting: Provides detailed reporting and insight into compliance, risk, and legal productivity across the organisation.
"There are other business models that can grow out of new ways of working," says Whitehouse. "authorDOCS is a platform to achieve that."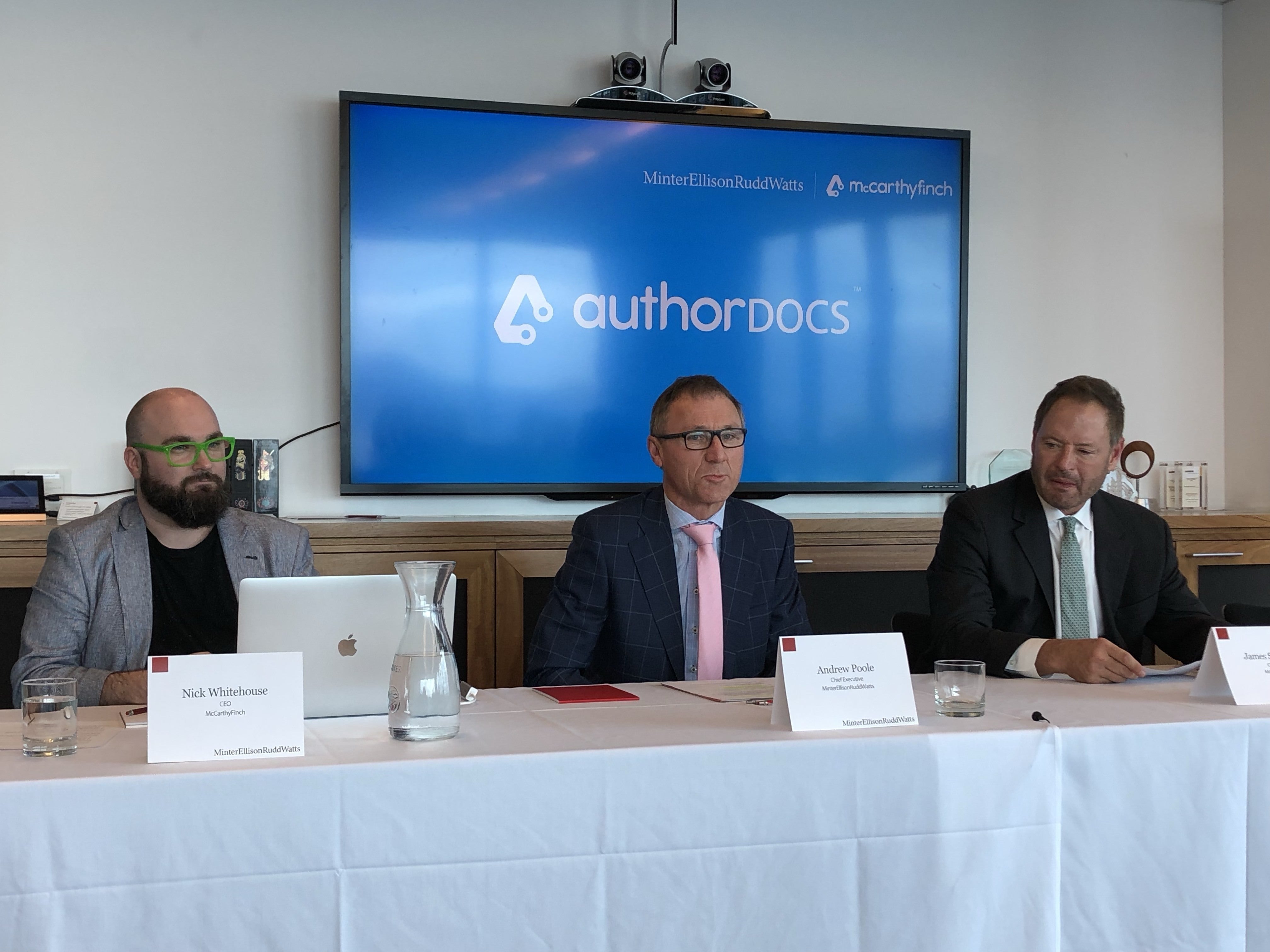 Nick Whitehouse, Andrew Poole and James Schellhase at the launch of authorDOCS
Sign up for CIO newsletters for regular updates on CIO news, career tips, views and events. Follow CIO New Zealand on Twitter:@cio_nz
Send news tips and comments to divina_paredes@idg.co.nz @divinap