Te Wānanga o Aotearoa has been cited for its user engagement programme in the annual awards by the Digital Workplace Group for organisations implementing high-performing digital workplace environments.
Grant Strang, executive director information technology (Tumuhangarau), TWoA, says the Māori tertiary education provider was given a special mention for its 'engagement and access to digital services', at the recent award ceremonies in Chicago.
"This award aligns to our value of Kotahitanga and shows that if we join and collaborate together we achieve great things," says Strang, who is one of the leaders in the 2018 CIO100.
Grant Strang
The awardees were chosen by a panel of judges that included Paul Miller, CEO of Digital Workplace Group, and senior digital workplace practitioners such as Pete Fields of Wells Fargo, Laura Opsahl of 3M and Kerry O'Donnell of Estee Lauder Group.
Grant Strang of TWoA: "One of our tauira (student) has been spending a lot of time over the past week using the design workstation. Mohe has been learning to use the Wacom screen to design a logo for his wh?nau. It hasn't taken him long to get the basics and grow confidence. He is fast becoming an expert."
Strang says the entry sent to the judges explained some of the work TWoA is doing in its goal to become one of the best indigenous tertiary institutions in the world.
He describes some key portions of their entry:
"We determined personas such as 'Tumu' (executives), 'Kaiako' (tutors), 'Kaiwhakarite' (Administrators), 'Kaiwhakahaere' (Managers) and 'Kaimahi' (employees), within the business and sought feedback from those personas.
"Because the interface was easy to create content pages, we were able to quickly develop the pages and get feedback from our personas and adjust the content to meet their feedback," he adds.
"Before going live, we had over 200 employees from 1600 who had already seen and had a say in the development of Te Kōpua. We created a Yammer group where we provided updates and every two weeks we had showcases which highlighted the progress."
Strang says TWoA was unable to send a representative to the awards ceremony this year, but the organisers have offered to fully fund a TWoA representative to the 2019 awards.
"We will have the opportunity to showcase not only what Te Wānanga o Aotearoa can achieve on a world stage but what M?ori can achieve," he says. "This also gives Te Wānanga o Aotearoa kaimahi impetus to attempt to excel in their own areas of expertise."
Grant Strang of TWoA: "We recently had an awesome day with the wh?nau in Porirua Campus working with them on their green screen setup. We had a number of kaiako (teacher) and tauira (student) come to a demonstration to try out the tools and to assess how to apply these tools in their teaching and learning environments."
Allan Frost joins Crown Research Institute GNS Science as general manager business services. His previous roles include group manager – organisational support at NZ Transport Agency and CIO at Ministry of Agriculture and Forestry.
Allan Frost
Alex Garkavenko is promoted to vice president product at Dexibit. She began as a data architect at the company, which provides analytics software to museums and other cultural institutions.
Alex Garkavenko
James Dickinson is now vCIO at Unisphere Solutions, following more than three years as CIO at BDO New Zealand.
James Dickinson
Sharron Botica has been appointed chief customer officer at AIA. Prior to this, she was with Sovereign, where she was CCO for nearly two years.
Sharron Botica
Peter Mangin joins Coretex as IT manager. Before this, he was CIO at realestate.co.nz.
Peter Mangin
Jon Cumming takes on the interim CIO role at London Borough of Islington. Before this, he was the chief digital officer at ACT Government, and was also CIO at the NZ Department of Corrections.
Jon Cumming
Dominic Quin leaves Fonterra as head of digital transformation and joins Foodstuffs NZ as general manager – marketing and customer experience.
Dominic Quin
Agile coach Kirstin Donaldson is now with Equinox IT as principal consultant, based in Wellington.
Donaldson joins from Flux Federation and Powershop. Prior to that she was the general manager of f Boost New Media, a recognised Wellington Agile coaching and web development company.
Kirstin Donaldson
"Implementing Agile practices helps teams build and deliver the right thing whilst maintaining quality in the leanest way possible," says Donaldson. "It's also about empowering teams and creating resilience through that empowerment."
Dave Howden, head of cloud for Umbrellar, has announced the company is adding Azure services to its suite of products available for New Zealand companies eager to make the leap into digital transformation.
Dave Howden
"With the Umbrellar Cloud powered by Azure Stack now generally available for Umbrellar authorised partners, and alongside our Azure and the Microsoft 365 suite of services, we are truly driving towards our vision of a truly Cloud-enabled New Zealand," says Holden.
Fuji Xerox New Zealand and New Zealand Office Supplies have announced they have deepened their existing partnership. Peter Thomas, managing director, Fuji Xerox NZ, says the new partnership will give their customers access to the best local office supplies offering in the New Zealand market coupled with excellent service levels. "It will strengthen the range of office products available and will provide all our customers with a fresh e-commerce experience."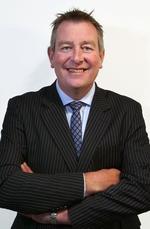 Peter Thomas
The change to the partnership will offer Fuji Xerox customers improved access to a wider range of high quality products. The partnership sees NZOS gain exclusive rights for the sale of Fuji Xerox branded papers including wide format and speciality papers.
Adrian Jones has been appointed executive vice president for Asia and Pacific and Japan at Automation Anywhere, a software provider in robotic process automation (RPA).
Adrian Jones
"RPA is already bringing to life a new, digital workforce designed to automate processes and elevate human work," says Jones, who has led strategy and sales with leading technology companies in Asia Pacific and Japan (APJ), including Hewlett Packard Enterprise, Symantec and Oracle.
NZ's best research-rich innovation
Winners of the sixth annual KiwiNet Research Commercialisation Awards, designed to celebrate impact from science through successful research commercialisation within New Zealand's universities and Crown Research Institutes, were announced at a recent reception in Auckland.
The 2018 KiwiNet Research Commercialisation Awards winners are:
Norman F. B. Barry Foundation Breakthrough Innovator Award for Dr Vlatko Materic?, Hot Lime Labs: Hot Lime' to increase greenhouse crop yields and help feed the world.
Baldwins Researcher Entrepreneur Award for Associate Professor Taehyun Rhee, Victoria University of Wellington: Taking New Zealand's virtual reality (VR) and augmented reality (AR) technology to the world.
MinterEllisonRuddWatts Research Business Partnership Award fpr AUT and the NZ SKA Alliance: Square Kilometre Array Radio Telescope (SKA) – NZ is a member of its first ever global mega-science project jointly undertaking research and design behind the world's largest radio telescope.
PwC Commercial Impact Award for Plant Food Research: Amarasate® Extract – 100% plant-based, world-first weight management extract.
BNZ Supreme Award for (judges' vote combined with public vote) for Dr Andrew Kralicek, Plant Food Research: Harnessing insects' receptors for commercial sensing
"The 2018 awards have given us more hope than ever before that the future of this country is through innovation and commercialisation," says lead KiwiNet Awards judge Dr Andrew Kelly, executive director at BioPacific Partners. He is joined on the judging panel by Helen Robinson (ONZM) executive chair at Organic Initiative; entrepreneur Paul Dyson; and Veronica Harwood-Stevenson, founder of humble bee and Spindle Fibre Films and a member of the Return on Science Momentum Investment Committee.
KiwiNet CEO James Hutchinson says, "The winners represent amazing teams from around the country who are creating commercial potential from their highly innovative science, which will help enable a higher achieving New Zealand. All of the finalists' research projects and new technologies we've seen today have the power to help solve global problems and kick-start valuable new companies."
No caption
The annual KiwiNet Awards are designed to recognise and celebrate impact from science through successful research commercialisation. Sponsorship support is provided by BNZ, MinterEllisonRuddWatts, PwC, Baldwins, MBIE, Norman F. B. Barry Foundation and Sciencelens photography.
The Kiwi Innovation Network (KiwiNet) is a consortium of 16 universities, Crown Research Institutes, an Independent Research Organisation and a Crown Entity established to boost commercial outcomes from publicly funded research by helping to transform scientific discoveries into new products and services.
No caption
Get the latest on digital transformation: Sign up forCIO newsletters for regular updates on CIO news, career tips, views and events.Follow CIO New Zealand on Twitter:@cio_nz
Send news tips and comments todivina_paredes@idg.co.nz@divinap