"I had just been diagnosed with cancer," says John Bell, when he received a phone call.
"Will you consider coming to Fletcher Building," the caller asked. It was for the role of chief information officer.
At that time, Bell had spent over 30 years at Deloitte, 20 as partner and had worked across New Zealand, Australia, and Canada.
He was soon to undergo an operation for bowel cancer with no clarity of future prospects.
"Because I was pretty sick, for the first time, I had time to think," he shares. "I have never been a CIO. However, I asked myself, what have I got to lose? I have all the right skills for the challenges they're facing. Why not give it a go? So I went back and said, okay, if you want me, I will put myself forward."
Bell was interviewed by members of the Executive as well as Fletcher Building chair Sir Ralph Norris and another member of the board of directors.
They offered him the job and he told Deloitte he was resigning.
"I basically started almost straight away," he says.
Bell reflects on this as he has just wrapped up his fourth year at Fletcher Building.
"I promised Robyne (my wife) I will do it for three years, but my whole premise was to develop people underneath me. So I went in there to lead the transformation, to engage people, and motivate them to grow."
He adds that, "You have to practice what you preach; you have to let people come through, to give opportunity for others to rise up."
In May, Fletcher Building announced that Bell is retiring from a full-time role.
Thus, In the last five weeks, he has been working on the handover of the CIO role to another Kiwi, Dan Anthony, former director of engineering projects at Google.
Bell says he is now in a similar stage when he got the call "out of the blue" to become a CIO after three decades of working as a management consultant, albeit, this time without the cancer.
"It may sound like a retirement but really it's not," states Bell, who wrapped up his work at Fletcher Building last week.
Speaking to CIO New Zealand about what's next, he says, "I genuinely don't know."
"It is like a clean slate, with the ability to write a new chapter," he says.
For the next six months, he and his wife will be travelling across the globe.
Their first stop is in Thailand, and then on to Antarctica and the United States, where they will also spend time with their daughter in Los Angeles and attend a conference on mid-century modernism architecture.
Then it is back to Thailand, where they own a vacation house, for a month before returning to Aotearoa.
Bell has been approached for other roles, but has not committed to any of them.
"I am using that time to be thinking what I'm meant to be doing with my life," he explains. "I describe it as a six-month sabbatical."
Making the most of 'good summers'
"I have loved the time at Fletcher Building," and adds with emphasis, "I absolutely loved it."
"It has gone incredibly well, but I am 64 and there are not so many people climbing Mt Kilimanjaro after age 80," he says.
This is a reference to the book Twenty Good Summers: Work Less, Live More and Make the Most of Your Money, by Martin Hawes, an investment banker.
Bell notes that Hawes wrote the book for 50 year olds but figured it's more like 60 to 80 now.
"You have got those 20 golden summers and need to make them count," he points out.
"I feel I still have other chapters to write in my life, and I am thinking about what is the next step."
"I have been privileged in my career. I loved my time at Deloitte, I loved my time at Fletcher," he says.
"Fletcher Building touches virtually every community in New Zealand," and employs around 16,000 people."
"It is a great company with an experienced leadership team. It has great values, and its people genuinely live those values," he states.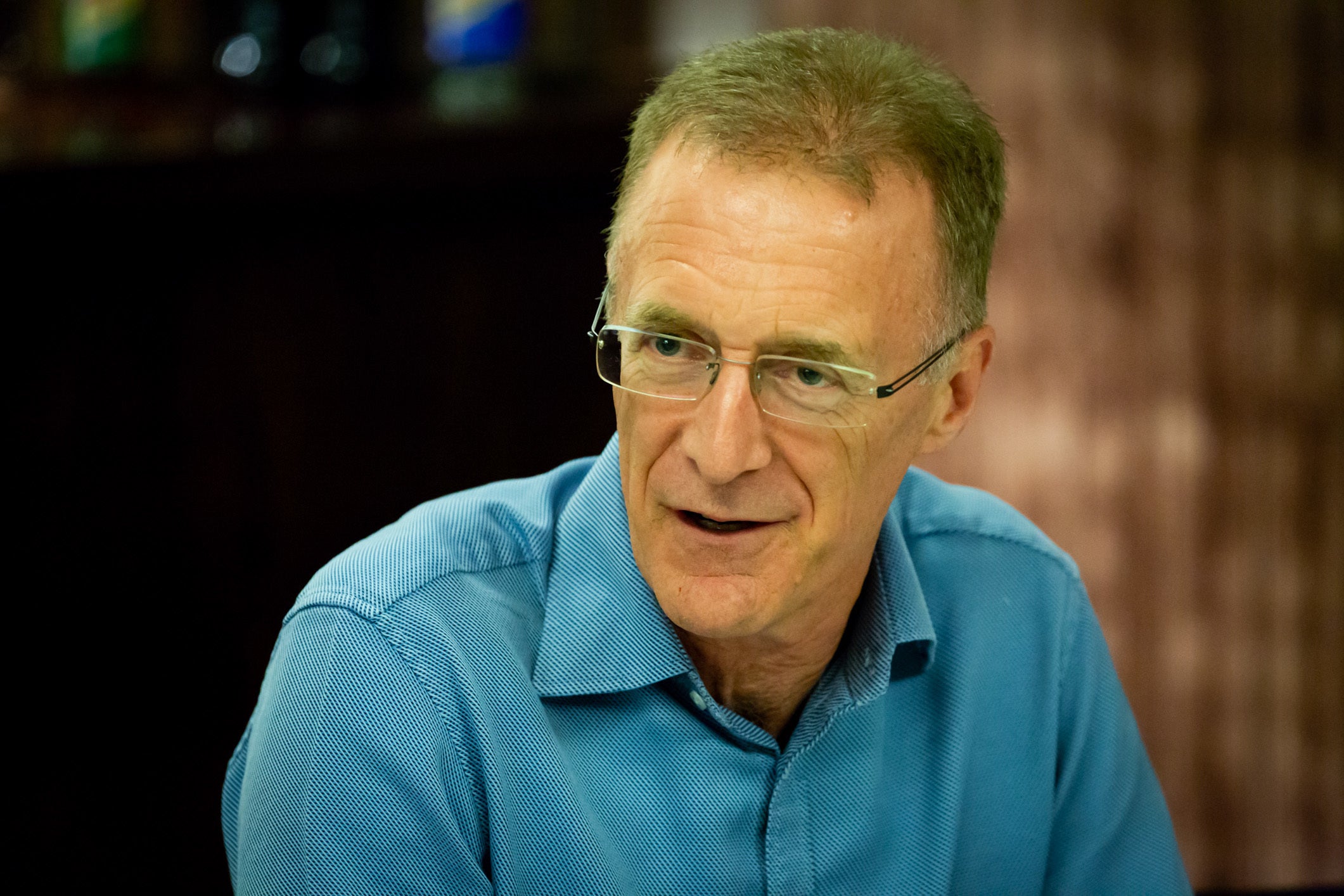 John Bell of Fletcher Building
"I have noticed over the years that companies with well established values, that they are genuinely committed to, always come through the tough times."
An area he is proud of during his time at Fletcher Building, is staff engagement. When he started, it was 61. "We have taken it up every year, and this year, we just hit 85."
"This is pretty unbelievable for an IT shop," says Bell, who led a team of 400 people from the Fletcher Building headquarters in Auckland.
On their Net Promoter Score, "Our customer satisfaction was minus 2 when we started and our latest survey hit 44, just as when l was leaving. The target is to reach 55."
Leading and listening
He says the biggest lesson for him at Fletcher was the CIO is a people-leadership role.
The ICT function has a global remit, which, until the sale of Formica, involved staff looking after 39 companies in over 900 locations. "You can't do it yourself."
"It doesn't matter whether you are the smartest person in the world – and I am not – you have to get it done through people and that is why I put a huge focus on helping people develop and bring their best selves to work everyday."
He stresses that, "I need people to be engaged. I need them to go the extra mile and not just be there doing the work simply to get paid. They have to do it because they want to do it, because they believe in the vision to transform the company."
"That is the role I was able to play, to provide leadership to a fantastic team of people who all enrolled to make this transformation happen."
He further explains that, "The transformation is about delivering a fit-for-purpose technology environment for all our staff. This meant staff bringing their best selves to work every day, and choosing to delight our customers – they're the only reason we have a job, they pay our bills."
As he puts it, "If we are here to serve customers, how do we make sure we have the right skills and people to do the job?"
Bell says the ICT team, for instance, is just finishing the deployment of Windows 10 and issuing new devices across the whole company.
We had 200 PC types and 40 SOEs (standard operating environments), he says.
"We put a programme in place to give everybody a brand-new device, so they never get more than four years old. Everyone would have a fit-for-purpose device, and they can do their job more efficiently and effectively."
"Can you imagine being on a service desk call, with 200 PC types and 40 SOEs and an environment containing more than 14,000 applications? It's not easy for our service teams confronting that degree of complexity."
"And now, we are down to six device types and one operating environment," says Bell. "That is just one of a whole range of transformation projects we have undertaken to deliver a fit-for-purpose technology environment."
He also cites a key trait of effective leaders.
"I have learned along the way that good managers, good leaders, are always listening to what their people are saying. And they are not too quick to react. They take on board the facts, then they make a reasoned judgment."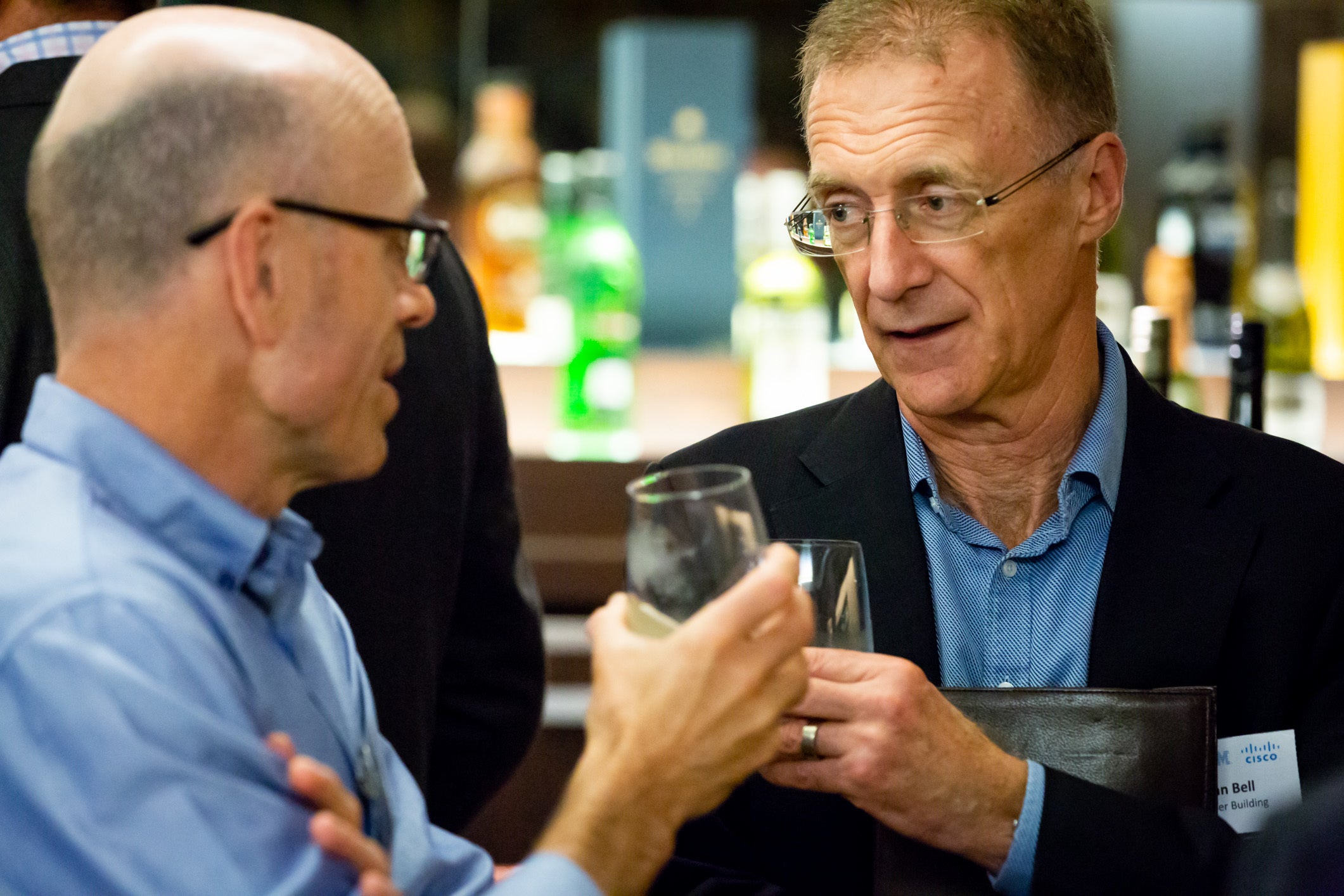 Roger Wanless of AUT and John Bell of Fletcher Building at a CIO NZ roundtable discussion
Into the startup world
Being involved in startups is another area he has enjoyed.
Bell discloses that he has invested in some start-ups such as Unleashed, an inventory management software, and Auror that helps retailers report, solve, and prevent shoplifting.
He says Auror is a Kiwi company that has developed software to help identify shoplifters and try to help catch or identify offenders before the crime happens. It is used by Kiwi retailers Briscoes, Farmers, and Z, as well as the NZ Police.
He is also involved in a healthcare company developed by an Australian medical doctor, whose research focused on preventing avoidable deaths in hospital.
Bell met the founder when they were both members of a running group in Melbourne. When the doctor told the members of the group about his work, they suggested, "Why don't you build an app to solve this problem?"
"He did, and we went in and invested in it together."
According to Bell, the app has found success in the UK and has now been bought by a company in Australia.

Sir Ralph Norris
True north
"I am leaving with a good heart," he states.
"We have set up one of the best IT teams in Australasia," he says. "If you go to talk to our staff, they would say it is not because of me, but what we have collectively done – they believe in our vision."
"Everything we do is based on integrity," he stresses. "What is the true north? What is the right thing to do for our customers and for our staff? They know that is what we have done consistently from the day I arrived."
"It has been about doing the right thing for people and it has created what I think is a healthy environment," he points out. "We have had to move some staff, but we have done that with integrity as well."
"And now, I am going into a sabbatical, and I am very excited about future possibilities, particularly those enabled by emerging technologies," he declares.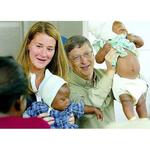 Melinda and Bill Gates
Bill Gates, Ray Kurzwell, Peter Diamandis, Warren Buffett and countless others …they are literally giving billions and billions of dollars to eliminate disease, solve intractable problems and all enabled by new innovations and technologies coming down the pipe
"Bill Gates, Ray Kurzwell, Peter Diamandis, Warren Buffett and countless others …they are literally giving billions and billions of dollars to eliminate disease, solve intractable problems and all enabled by new innovations and technologies coming down the pipe."
"To think we are in a generation where we are going to put people on Mars in our lifetime. And we likely have the option to probably live to 120-plus."
He adds that, "We are very lucky to be living in this time. We missed the war, we missed the depression. We live in a buoyant period in history and we live in New Zealand, which is so privileged."
"We have so much, and now we have these exciting opportunities that we can hopefully leverage and use to better New Zealand. That is very exciting."
"Because I had such a serious bout of cancer, I am very grateful for every day that I am given," he relates.
"I am a huge believer in helping people optimise their health, their wealth, their wellbeing, to be able to deal with the pressure of the roller coaster life we live, but also to optimise themselves to be the best they can be."
He also shares: "I get a huge deal of satisfaction in actually seeing people grow and develop and reach their potential and so that is another area that really excites me and possibly will be part of my future.
"I am expecting good things to happen. I have got a strong spiritual side and I know that there is a plan there."
Bell concludes that, "For the first time, I owe it to myself to let the universe talk about what I'm meant to be doing. I am genuinely open to what it reveals."