It is clear that operating the same old way will not cut it and it never has – think steam trains trying to hold back the introduction of powerful diesels and electric locomotives!Robert Linsdell, Emerson Network Power
Name: Robert Linsdell
Title: Managing director, ANZ, Emerson Network Power
Twitter handle: @bobblesFR (LinkedIn)
How long have you been in your current role?
One year, but I have worked for Emerson for more than five years now in commercial roles.
What business technology issue is your role focusing on?
Our focus is on keeping critical infrastructure always-on. Anywhere from hyperscale data centres, colocation centres, on-premises infrastructure and compute and network requirements at the edge of the network.
What are your interests away from work?
I'm a huge fan of sports – particularly team sports such as cricket and rugby union but I also quite enjoy tennis. Of the sports I still play, cricket is the main one. I think playing sports is an interesting way and reason to keep fit and can you switch off and take your mind away from work.
Technology is also of huge personal interest to me. It's constantly evolving and I relish the arrival of new products and developments emerging all the time.
My greatest interest though, is my family. We're very close and part of the reason I came to Australia was to settle down in an area where my three daughters could receive a good education and not have to move around so much. By the age of four, my youngest had lived in four different countries and I had to consider the impact this might have.
Luckily, I found Emerson – or they found me – and I'm working in a technology field where I know I can make a difference.
No caption
I'm working in a technology field where I know I can make a difference.Robert Linsdell, Emerson Network Power
What's the best piece of advice you've ever received?
It's an often-coined and simple piece of advice but – "Never give up!" It's been said to me by many people in my life but perhaps most notably by a Frenchman I worked with in Rohm and Haas named Patrice Barthelmes, now CEO of Groupe Unipex.
There were lots of shifts and changes happening in the manufacturing world at the time and many others simply gave up or could not adapt. His attitude was; "When in doubt, don't give up" and we drove each other through considerably difficult times to reach a successful outcome. I've adopted this mindset throughout my career and it's been very effective.
Professionally, who do you admire most?
Again, I am not alone in this thought but Bill Gates. He was consistently ahead of the game with technology throughout that era. What really impresses me though, is that he recognised when it was time to hand over the reins at Microsoft and move aside as the CEO – a true display of modesty and recognition someone else may do a better job.
His philanthropy is something to admire – he's certainly not alone in that regard when it comes to tech leaders, but the level to which he gives is incredible and a lesson to many of the modern billionaires.
How long have you been working in your field? How did you get into your role?
I've worked in technology all my life really. It's always been around me – my father was a radar engineer and sergeant for the Royal Air Force. We often had technology in our home before other friends and people and most of my siblings also work in a technology-driven environment.
If you weren't working in your field, what would you be doing?
It's quite different, but two areas that always interested me apart from technology were photography and television – the idea of camera work I guess. My first role involved working on printed circuit boards and semiconductors which both use photolithography as a major part of the manufacturing process, so that was a nice combination of introducing me to the business world and an item of personal interest.
I feel lucky to have ended up going the technology route – while television and the nature of camera work change and evolve, it doesn't happen to the extent that it does in the broader fields I have worked in. This, I guess, satisfies my hunger for change.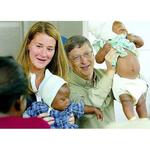 2007: Gates working in his new role and with wife, Melinda, through the Bill Melinda Gates Foundation, which they started in 2000. When Gates transitions into a heavier workload at the Foundation, its asset trust endowment will stand at $37.3 billion making it the largest charitable foundation in the world.
Bill Gates' philanthropy is something to admire – he's certainly not alone in that regard when it comes to tech leaders, but the level to which he gives is incredible and a lesson to many of the modern billionaires.
Can you share one key pointer for keeping abreast of business technology trends?
When it comes to trends, it's important to have an open mind. My father taught me that no matter how good you are at something, there's probably someone out there better than you, but you can have a real advantage if you embrace change.
As an example, my main outlets for keeping up have gone from traditional methods – going to conferences, research, etc. – to largely social media. I follow good sources of intel on Twitter and LinkedIn and by preprogramming settings it's easy to keep up. Posters are all racing to be first – it helps me keep ahead of the game.
You find that in IT, most people you meet are clever and there are tons of great ideas and solutions out there, but many people's innovative thinking and idea generation comes from a narrow pipeline. I've found that having an open mind and thinking outside the box can lead to ideas that otherwise might never have been considered.
Prepare to disrupt and be the disruptor – not the disrupted. How did you apply this insight to your organisation, or with a customer you have worked with?
I always try to encourage people to think bigger than the role they're in. This benefits the organisation because every bit extra you get from people in your team can equal huge additional value to the organisation.
Invariably, they have a greater depth of knowledge and all it takes is to unlock it and encourage them to use it. This way it is possible to stay ahead of the competition. It is clear that operating the same old way will not cut it and it never has – think steam trains trying to hold back the introduction of powerful diesels and electric locomotives!
When it comes to customers and prospects, I think it's important to remember you have two ears and one mouth and you should use them in that order.
There's no point in trying to demonstrate that you know everything about their business – you don't. Listen to what they need and then show how you can bring value to meeting those needs.
Follow Divina Paredes on Twitter: @divinap
Follow CIO New Zealand on Twitter:@cio_nz
Sign up for CIO newsletters for regular updates on CIO news, views and events.